Edinburgh fintech ePOS Hybrid smashes crowdfunding goal as it eyes US market
A tech start-up out to "revolutionise" the hospitality industry has surpassed its crowdfunding target to help broaden its client base at home and overseas.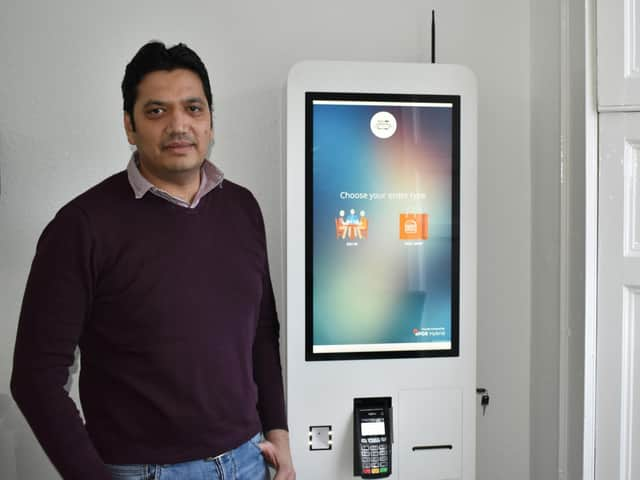 Founder Bhas Kalangi hailed the crowdfunding experience as 'one of the biggest successes' in the start-up's journey. Picture: Contributed
Edinburgh fintech ePOS Hybrid has raised more than £337,000 from 115 backers with a week left to go of its fundraising round, already beating its initial investment target by 34 per cent.
Pledges so far include £100,000 from an Australian investor and $50,000 from a Silicon Valley-based company, with ePOS citing this as an example of "countless opportunities" for market expansion thanks to its product's global appeal.
The start-up's customised electronic point of sale (ePOS) products provide advanced and personalised services for hospitality customers.
This includes options such as customer self-checkouts and supports the UK's only interactive "smart tables", which allow diners to play games, call a waiter and design their own pizza from their seat.
The business is projecting ambitious revenues of £22 million by May 2023, with an estimated 12,000 customer base. Currently it is taking on an average of 75 new clients each month.
Andrew Gibbon, head of growth at ePOS Hybrid, said: "Hitting and surpassing our investment ambitions so quickly marks a tremendous milestone in our company's growth.
"We're now overfunding and still have a week to go. The speed at which we hit our raise target demonstrates the level of interest and confidence among investors for what we're currently doing and our future."
As well as strengthening ties in current markets, ePOS Hybrid said it intends to use the investment boost to further scale and branch out to customers in the US and other major international markets.
Founder Bhas Kalangi added: "The entire crowdfunding experience has represented one of the biggest successes in our start-up journey so far.
"It's really highlighted how we've disrupted the market and our growing reputation as a game-changer in the hospitality industry."
The business claims its modular service is the "world's most advanced" ePOS platform for the hospitality industry, which will drive change in the way businesses operate and interact with their customers.
Since its product launch in April, ePOS Hybrid has built a portfolio of more than 200 ­clients across Scotland, England and Wales as well as further afield in Australia and India.