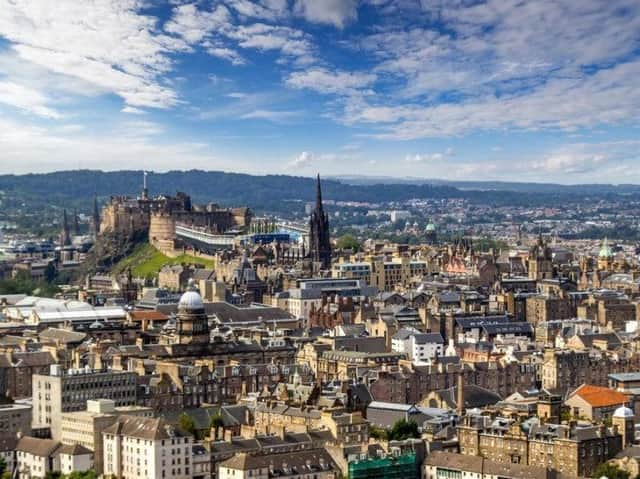 Picture: TSPL
The founding members of the Edinburgh Climate Compact, who met for the first time last week, have agreed to a pledge to take radical action in their organisations to help combat climate change.
Compact representatives span both the private and public sector, with Edinburgh Festival Fringe Society, NatWest Group, NHS Lothian, Robertson Group, The City of Edinburgh Council and The University of Edinburgh all signing up to the agreement in December 2020.
Since then law firm Shepherd & Wedderburn LLP has also become a signatory.
Clare Foster, one of the Edinburgh Climate Commissioners who played a key role in the founding of the Edinburgh Climate Compact, says that the model demonstrated that organisations were ambitious in their determination to work together for the greater good.
She said: "We have here a huge amount of intellectual capital in the organisations that have signed the Compact and we are looking at how we can use this in a way that will have a positive impact on the City of Edinburgh.
"We are not suggesting that these organisations don't have competing priorities but what is unique here is the recognition that tackling climate change and kick-starting a green recovery has to be at the top of everyone's list. The willingness to come together to see what might be achieved collectively is hugely powerful and something I have never seen before.
"If we can replicate this in every city across Scotland, just imagine what could be achieved? You would have organisations and companies sharing best practice and delivering results which would put an end to the need to continually reinvent the wheel through the eternal cycle of pilot projects."
Launched by the Edinburgh Climate Commission, the Compact outlines a list of commitments which organisations taking part will need to adopt to contribute to a green recovery and help Edinburgh reach its target of net zero emissions by 2030.
As part of their role in leading on climate action in Edinburgh, the signatories have agreed to 16 actions that will lead to clear change in their business practices in order to significantly reduce their greenhouse gas emissions.
The Scottish Government has made the green recovery a key priority and last month launched a £3.2m fund that will see 279 projects funded through the Community Climate Asset Fund, helping to deliver electric bikes, food growing equipment and glazing to improve energy efficiency.
Ms Foster said: "The green recovery is an enormous opportunity for job creation.
"There are two sides to this coin. One is trying to tackle climate change, the other is facilitating a green recovery which will create a huge number of jobs and help get the economy back on track.
"If you look at the issue of heat and the government's intention to phase out has boiler installations, and combine that with the challenges of fuel poverty and the housing stock out there that is not fit for purpose, there is a huge opportunity for the industry.
"The decarbonisation of heat is going to be a huge challenge but it is also an enormous opportunity to train a workforce to go in and improve those homes."
Ms Foster, who is head of clean energy at Edinburgh legal firm Shepherd and Wedderburn, said her own firm had carried out a root and branch review of its sustainability policy.
She said: "At Shepherd and Wedderburn, we overhauled our whole outlook towards sustainability and our new policy covers three core areas, our people, our clients and our business as we commit to achieving net zero greenhouse gas emissions by 2030.
"As a minimum, we expect our business activities to comply with, and exceed where practicable, all applicable environmental legislation, regulations and codes of practice. We will integrate sustainability considerations into all our business decisions and will report our greenhouse gas emissions and progress against our net zero target to internal and external stakeholders at least annually, using the greenhouse gas protocol corporate reporting stand methodology.
"When it comes to our people, it wasn't about preaching, but saying here's some ideas and asking colleagues to consider sustainable alternatives - for example carefully consider
whether business travel is essential or whether a Teams or zoom call would be just as effective.
"Do they have to take the car to go shopping or could they walk to a local shop and support an independent retailer?
"With clients, it is about engaging with all of them and ensuring that when we are speaking to them we are talking about sustainability and supporting them on their own journey."
COP26 will see over 30,000 delegates, including heads of state, climate experts and campaigners arrive in Glasgow in November with newly-elected US president Joe Biden expected to attend.
It will be the biggest international summit the UK has ever hosted, subject to Coronavirus restrictions, and is expected to agree a co-ordinated action plan to tackle climate change.
Ms Foster said: "The eyes of the world are on Scotland and the UK and I think Edinburgh has a huge part to play.
"Scotland has always had a reputation for leading the way in innovation and I think if we can demonstrate to people at COP26, the power of collaboration and the fact that these organisations are willing to work together for the common good then I think the compact is a brilliant example of what can be achieved when you put your mind to it."