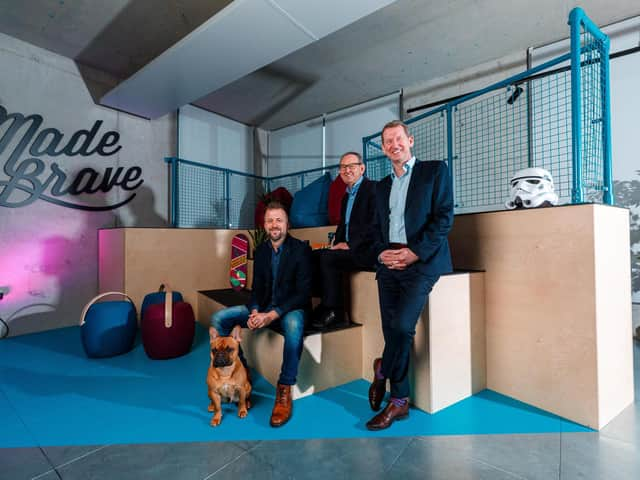 From left: Andrew Dobbie of MadeBrave, Clyde Gateway's Ian Manson and Lance Gauld of Cloud Cover IT. Picture: Contributed
Creative brand agency MadeBrave and IT solutions company Cloud Cover IT are both increasing their staff to 50 and 40 respectively.
The firms, which are both based at the Albus Building in Glasgow's Clyde Gateway, will also double their office space, taking the block's occupancy to 100 per cent.
Andrew Dobbie, founder and chief executive of MadeBrave, said the new office space – which has doubled from 3,138 sq ft to 6,556 sq ft - includes quiet pods for focus-time, brainstorming spaces, architectural light installations, interactive displays and wigwams.
He said: "I'm a big believer in the idea that the space you work in has a profound effect on inspiration, creativity, and how you feel in general, so we wanted to create a new space that would reflect our culture and provide an amazing environment for our team."
He said the new space would also include a new creative tech lab for experiential testing, a ­podcast studio, and a photography and content studio.
MadeBrave last year secured a key contract with the Dublin-headquartered C&C Group as it revealed turnover had more than doubled to just under £2.8 million.
Lance Gauld, director of Cloud Cover IT, which is increasing its office space from from 2,329 sq ft to 5,467 sq ft and boosting headcount from 31 to 40 by the end of the year, said: "The past year has been transformative for Cloud Cover IT, with significant funding secured from Scottish Enterprise, UK Steel and Business Loan Scotland, and many exciting business wins for our SharePoint and Power BI services.
"We've had a positive start to 2020 too, welcoming new clients from Africa, the USA and the Middle East, as well as continuing to help many local companies with their IT infrastructure. We have also appointed six new staff members, including two graduates, to bolster our growth and support young, local talent."
The company, which moved into the Albus Building in 2017, was last year awarded a total of £324,000 to fund its development plans, with backing from Scottish Enterprise, UK Steel and Business Loans Scotland.
It is targeting "huge potential" in the manufacturing industry where it currently supplies smart applications designed to help clients ­analyse production data, boost efficiency and reduce production costs. The Forth Bridge crossing project, Together Energy and Apex Scotland number among the firm's 150 clients.
Ian Manson, chief executive of Clyde Gateway, said: "It's been a thrill to watch MadeBrave, our first tenants at The Albus, and now Cloud Cover IT take such bold steps to successfully grow their business and expand their talent.
"Clyde Gateway is right at the heart of the Glasgow labour market and it's great to see that they are committed to the area and very much part of the success story of the regeneration of the East End of Glasgow as a place to live and work."
Clyde Gateway was established in 2008 following the announcement that Glasgow was to hold the 2014 Commonwealth Games.