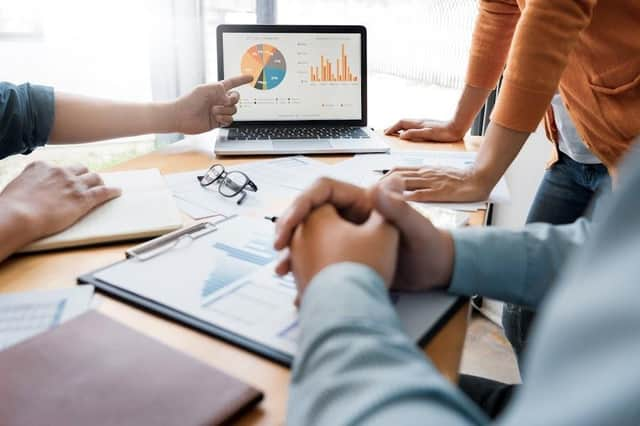 Do you really know if that £100 spent on Facebook boosts is doing the job? Is it worth it? Are people finding your business online? Does your company appear when people search on Google?
There are so many aspects to consider when building your company profile online that it can take you away from your core business.
That's something Brian Lonsdale understands perfectly. After a four-year degree in marketing and several years honing his craft Brian set up Smarter Digital Marketing.
Based in Glasgow the company, which now employs six people, works across the UK and beyond with clients ranging from sole traders to multi-billion pound concerns. From bricklayers to barristers they can find the right market for your product – and all with a no-nonsense approach to ensure clients know what they are getting for their money.
Cutting through the jargon
"We make it easier for people who do not necessarily understand the technicalities," explained Brian, who started Smarter Digital Marketing in 2014. "It's about getting results for clients so that they do not get too bogged down in the jargon and the process."
Clients will receive regular reports, monthly as a minimum, in an easy-to-understand format so that they know how their marketing is performing and doing what the customer wants, which could be to generate more leads, grow awareness or have a better customer experience on the website.
"It can be really confusing and we want to ensure that our customers understand what we are doing."
Smarter Digital Marketing works with a range of clients from lawyers to property management company, joiners and electricians to whisky investors.
Brian recalls his first ever client was the local Indian restaurant and during the Covid-19 pandemic, they won the marketing consultancy for Randox Health, a billion dollar business which supplied fit to fly tests and antibody tests during the pandemic.
They do have areas of specialism though, including property, healthcare, engineering, e-commerce and retail.
Your business could be looking to spend £20 a day on some Facebook advertising or £1,000 a day – you might need a website building or want to improve the performance of your company on Google searches.
"Google has changed massively," explained Brian. "It's always changing and Google knows what people are searching for – but the way it works is different in different countries."
Writing content for the US market needs a different approach than it would for the UK market – to ensure your company or service is found by the people who would use it.
Brian says so many customers turned to online shopping and research during the pandemic that businesses saw a huge upturn in demand online, and there is still a legacy from that boost, which can be harnessed.
Smarter Digital Marketing can look at the whole of your business and advise on whether it needs web improvements, e-commerce updates, more social media to create brand awareness or better text online to improve its SEO (Search Engine Optimisation) – vital to ensure customers can find you on Google searches.
Visit the website to find out more about what Brian and his team of online marketers, content writers, software developers and graphic designers could do for your business.