Deals: The path to ESG is well laid
Environmental, social and governance (ESG) has been high up the agenda for businesses for some time now, but it's no longer enough for organisations to merely pay lip service to it or just do the minimum to meet requirements. And when it comes to "greenwashing", this is something that should be avoided at all costs.
But rather than seeing the implementation of ESG practices as something that has to be done, businesses can reap the benefits of a proactive approach. It's therefore worthwhile putting thought and resources into this area and ensuring ESG is ingrained in your business strategy rather than being seen as an add-on.
At AAB our belief is that it's our duty to respect and repair the environment, invest in our team members and support our local communities. We have always been an ethical, forward-thinking and conscientious group. Last year's COP26 conference in Glasgow cemented our view that it was vital to formalise our sustainability strategy to achieve our ambitious ESG targets. Aligning with global initiatives such as the UN's Sustainable Development Goals helps to prioritise people and the planet, alongside profit.
We take the same approach to ESG when advising our clients. We generally start by explaining that there are myriad audiences to consider and it's important to engage with the entire range of stakeholders and meet their expectations. All stakeholders – from staff to new recruits and suppliers, to clients, bankers and insurers – are increasingly looking for corporate ESG data and performance. It's therefore vital to be prepared with an honest and clearly defined ESG profile that includes an assessment of relevant performance and activities. You should also have a realistic improvement plan to ensure businesses are ready to respond to stakeholder inquiries.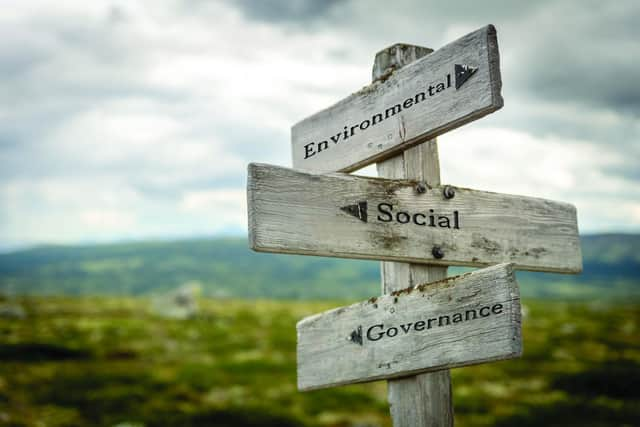 Greenwashing – spending more time and money on marketing yourself as a green organisation than on actually reducing your environmental impact – should be avoided at all costs. Businesses should also steer away from setting unrealistic targets that are doomed to failure from the outset. Taking small steps on the sustainability journey and demonstrating commitment to change is better than attempting huge leaps and not delivering.
I like to explain to clients that there is a strong business case for implementing ESG practice and having it at the heart of everything they do. Paying close attention to ESG can deliver optimised profitability and efficiencies. For example, this can be through reducing energy consumption or the digitalisation of processes and activities, such as using video conference technology in place of frequent international travel.
Potential employees are looking to work for companies that have a clear social purpose and sustainable footprints. Demonstrating and delivering commitment to ESG issues can lead to better recruitment, higher retention and greater staff engagement. In a competitive jobs market, a commitment to sustainability and the ability to explain what you are doing to meet green targets could be what gives you the edge over other employers in your sector.
Company branding can be greatly enhanced by demonstrating good ESG practices and commitment. This can deliver a more attractive market profile which can lead to new growth opportunities. And you need to remember that your marketing should be truthful in how it explains your approach to ESG.
When it comes to a business that is preparing for investment or disposal, I advise clients they should be ready with high-quality and well-prepared business information and data. This is now crucial to any successful investment or sales process. It is clear today that, along with good financial, commercial and technical data, investors and acquisitive companies alike are looking to fully understand the organisation's ESG profile.
ESG is a key consideration in any investment decision, and it has rapidly climbed to close to the top of agendas. Businesses can increase their chance of success in investment and disposal processes by understanding what ESG criteria is being sought and being ready to respond with a compelling and honest case. Delivering a strong business case and reducing costs through good ESG practice will not only capture the attention of a potential investor or acquirer, it can also help improve value expectations by demonstrating greater sustainability and growth and increasing profitability.
Finally, with rising energy and input costs being a concern for many businesses, particularly those in capital intensive industries such as energy and manufacturing, focusing on sound ESG practices will have a positive impact on the bottom line. This will benefit businesses looking to raise capital or ahead of a potential disposal.
So, whatever the size and stage of your business, and regardless of the sectors in which you operate, ESG should be at the core of your organisation if you want to stay competitive while meeting your responsibilities to protect the environment.
- Chris Thompson is director of the corporate finance team at AAB.