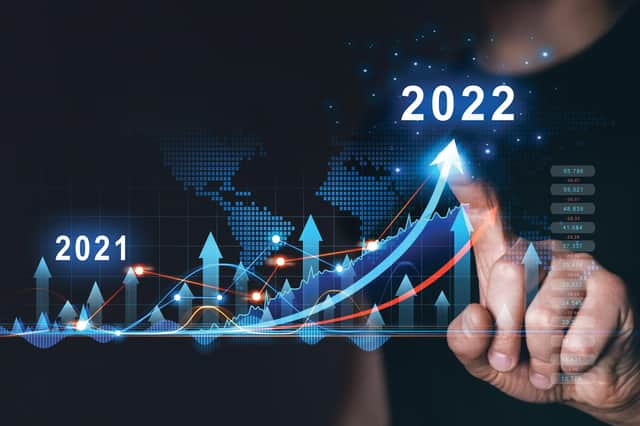 After a stall in investment at the start of the first lockdown in March 2020, confidence has been returning and money is being spent. In particular, sectors seen as relatively recession-proof, such as medical technology, are attracting attention, according to experts.
Neil Burgess, partner who leads the corporate and commercial practice at Brodies, says: "There was quite a contrast between 2020 and 2021. The focus in 2020 was initially on maintaining liquidity, shoring-up balance sheets and making sure businesses could trade through the pandemic, and that impacted on the number of new investments being made.
"That situation gradually eased off in the latter part of 2020 and into 2021, and we're now seeing more new investments taking place. There has been a real up-tick since the start of 2021, with some semblance of normality now returning to the private equity market."
Doug Crawford, corporate partner at Brodies, who specialises in private equity, describes the height of the pandemic in 2020 as a period of "intensive care" for investment, with the focus on looking after existing interests rather than new ones. And, as activity started to rise – especially at the smaller and mid-sized end of the market – the focus tended to be on bolt-ons rather than new investments.
Lyn Calder, AAB managing partner Edinburgh and head of deals Central Belt, says that at the pandemic's peak it was difficult for private equity houses to understand how much money the businesses they were looking at were actually making.
She explains: "When you value businesses, you typically do so on the basis of sustainable profitability. If you don't know this because there's been a dip during the pandemic, it's hard to put a value on that business, and to be sure you're not overpaying. As a result, deals stalled for a while but private equity houses now have to get money out the door."
Burgess makes a similar point, saying that there are record levels of capital now waiting to be deployed and, with market confidence returning, companies are again willing to make strategic investment decisions that might have been put on hold earlier in the pandemic.
He adds that private equity houses are targeting sectors that are resilient and have not been too badly affected by Covid-19.
He says: "The obvious sectors are the likes of technology, e-commerce, telecoms, fintech, IT support, digital transformation and businesses that are seen as disruptive or innovative.
"Some of these sectors have either not been affected by the pandemic, or to various degrees have benefited from it. The likes of healthcare and life sciences have also been able to offer more immediate solutions to the crisis."
Calder says that consolidation is driving activity in several sectors. "Private equity houses will buy what is called the platform business, or invest in a business that has decent scale in a sector, and buy smaller businesses to bolt on to create a much bigger group," she explains.
This trend is being seen in sectors that are more recession-proof and critical, such as dentistry.
The technology, media and telecoms (TMT) sector has long been attractive for "buy and build" strategies, and in recent years IT-managed service providers have been a very attractive proposition. Calder gives the example of Kick ICT, a leading Scottish IT services business, which took on £8.7 million of investment from BGF in November last year to support its ambitious growth plans.
Crawford says there are also opportunities to invest in businesses that are well placed for the energy transition to renewables, such as some oil services firms. He adds: "There's a great opportunity for private equity and a lot of interest in energy businesses in the wider sense, such as those with a clean energy tech focus or big assets like onshore windfarms, and businesses that have managed to make the transition when it comes to environmental, social and corporate governance [ESG]."
Brodies has been advising Scottish renewables firm Orbital Marine Power on investment rounds to allow it to scale-up its highly innovative tidal power technology and project pipeline. As well as successfully crowdfunding on Crowdcube, it has secured investment from TechnipFMC, an energy services and technology provider to traditional and new energy industries. Crawford says this funding is known as "corporate venturing" – where a firm takes a stake in other businesses and acts in a similar way to a private equity house as it supports and accelerates the investee company's growth trajectory.
Burgess adds that COP26 reinforced the market opportunities aligned with the green agenda, and private equity firms are increasingly prioritising investment in companies that have good sustainability practices.
"Private equity can be a force for good in accelerating progress throughout industry around sustainability, ESG compliance and issues such as diversity and inclusion," he says.
Calder supports this view, saying that more investors who are putting their money into private equity funds are treating ESG to be a key consideration when making their decisions. According to Calder, investors are looking for commitment in advance that businesses will be ESG-focussed.
"It's not just about the return any more," she says. "I've heard of investments being turned down because ESG wasn't a strategic priority. Investee companies are being expected to report on ESG and what they are doing in terms of performance against own targets.
"It doesn't mean that non-environmentally friendly businesses are off the agenda. What is important is for firms that have a high carbon footprint to show investors what they are doing to reduce it. If they can't do this, it will be difficult to secure investment."
Chris Thompson, senior manager in the corporate finance team at AAB, believes that private equity can also be a force for good because it can drive economic growth.
He says: "Private equity is providing funds and supporting businesses to grow in a way they couldn't organically. The ability to speed up business growth is a positive thing. Private equity houses can also act as a sounding board when a business is making key operational decisions, and make introductions to the right calibre of executive management or board members."
An increasing amount of inward investment in Scottish assets has also been seen in recent months, including interest from private equity in mainland Europe, including Germany, the Nordic countries and the US. Crawford says: "It's a very competitive, international marketplace and price expectations – if not valuations – are quite high.
"Investors aren't that concerned about location and where the business might be if good relationships can be established and controls can be put in place."
Another notable development in private equity, according to Burgess, is some investment valuations now being based on forward projections rather than solely historic trading performance, partly because of a scarcity of assets in the market.
"The mid-market, in particular, is increasingly competitive and many private equity houses are finding it difficult to source new investment opportunities," he says.
Looking ahead, commentators are feeling generally positive about the future of private equity in the face of continued uncertainty around Covid-19.
Burgess says: "The market has moved beyond the response phase, through the recovery phase, and is now looking at growth. We are confident of continuing to see an upward trajectory."
And Calder concludes: "I believe current trends will continue. For example, I think we'll see more private equity houses looking for platform businesses and consolidation will continue at pace as a result."