David Lee: Scotland's building bridges worldwide through fintech
David Lee examines why fintech is an industry that seems created for the pandemic age, enabling virtual partnerships that cross national boundaries and overcome the limits of physical distancing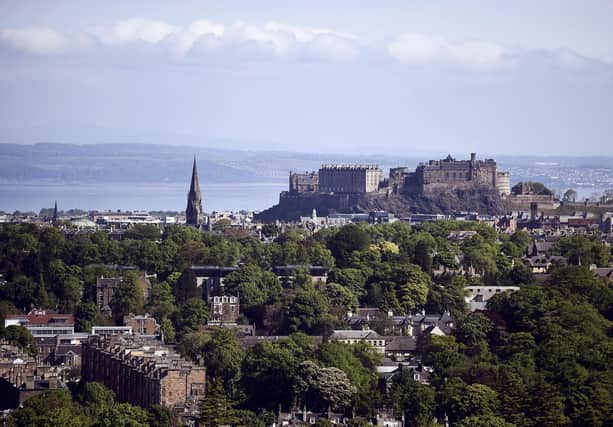 Covid-19 has spawned a whole new vocabulary – from furlough, bubble and social distancing to PPE, self-isolation and a later arrival, air bridges.
These are the corridors between countries that won't impose movement restrictions on travellers and force them into quarantine. Yet building bridges is nothing new in the world of financial technology.
Collaboration lies at the very heart of fintech – an industry built for the pandemic age, enabling virtual partnerships that cross boundaries via global fintech bridges. Scotland is looking outwards to the rest of the UK and to the far side of the world, and other countries are very interested in Scotland, with its financial services heritage, strength in data, deep talent pool and increasingly sophisticated fintech community.
Despite the global pandemic, US firm Access Fintech has set up a base in Glasgow, while Moutoux from New Zealand has sited its European head office in Edinburgh.
"There is still huge interest in global fintech firms coming here," says Stephen Ingledew, chief executive of umbrella body FinTech Scotland.
To reach international markets and make overseas collaborations work, Scotland's fintech ecosystem is growing deep roots within the UK. The decision by UK Research and Innovation to commit more than £20 million and to site the Global Open Finance Centre of Excellence (GOFCoE) in Edinburgh was significant.
Welcoming the decision, Ingledew says: "With engagement across Scotland, UK and globally, the initiative will further reinforce the inclusive international approach in developing the fintech cluster which is focused on delivering better consumer financial outcomes and sustainable economic growth through innovation."
In February this year, FinTech Scotland formed a partnership with online hub Fintech Alliance to work together on topics including investment funding and
global engagement. And earlier, in April 2019, FinTech Scotland joined forces with FinTech North – its equivalent agency in the north of England – and membership organisation Innovate Finance to create the FinTech National ­Network.
The network aims to bring together innovators from throughout the country to connect with one another and form multiple fintech hubs and centres of excellence. The idea clearly had a lot of appeal as FinTech Northern Ireland, FinTech Wales and FinTech West joined the network formally during its inaugural meeting in Manchester in July 2019.
The action switched to Glasgow in October 2019 for the network's maiden symposium. The guest list for the event at the University of Strathclyde's Technology & Innovation Centre hinted at the network's themes, with attendees from organisations including the Financial Conduct Authority, Scottish Development International, the UK Department of International Trade, and the Treasury.
Key themes that have been explored by the network during its early months have included skills and talent, capital and investment, and international issues connecting members not only to other nations and regions within the domestic market but also opening their eyes to opportunities overseas. Speaking with one voice is helping the network to send out to the wider world a more coherent message about opportunities in the UK.
Those international connections have become even more important during the pandemic, with Scotland again leading the way. Last year, ­FinTech Scotland became one of the ten founding members of the European Fintech Discovery ­Programme, alongside B-Hive in ­Belgium; ­Copenhagen Fintech; ­Holland Fintech; Innsomnia in Spain; The LHoFT in Luxembourg; Portugal Fintech; TechQuartier in Germany; Fintech District in Italy, and Le Village in France.
Initially, the aim of the network was to organise trips for companies to visit each of the hubs. Participants would be able to meet with between five and eight start-ups and scale-ups from each hub, learning about their companies and their wider ecosystems and potentially starting to do business together.
One of the strengths of the programme is the ability to tailor trips to specific fields, ranging from artificial intelligence (AI), blockchain, and cryptocurrencies through to cybersecurity, smart payments, and related areas like insurance technology and regulatory technology. Fintech's spread from banking into alternative finance, tax, and wealth management have also been highlighted as topics for potential trips.
During the coronavirus lockdowns across Europe, FinTech Scotland has been in constant communication with its partners across Europe. Together, they have been developing a European-wide fintech response to Covid-19.
Scotland's prowess on the European stage has also already been acknowledged formally. In January, the Scottish fintech cluster became the first in the UK – and only the third in Europe – to receive bronze accreditation as a "cluster of excellence", with the European Secretariat for Cluster Analysis taking 36 economic indicators into consideration before making the award. Stephen Ingledew of FinTech Scotland has already said he wants to move from bronze accreditation to gold.
A further string to Scotland's bow is the links FinTech Scotland has created with some of the world's largest companies. Its formal partners include credit reference agency Equifax, computing giant IBM, and insurance firm Prudential. The partners were chosen for both their strong presence in Scotland and their international reach, which is expected to open doors for the Scottish fintech community on a global scale in the years ahead.
Scotland's fintech links to Japan exist at both a local and a national level. Last year, FinTech Scotland signed a collaboration agreement with both the Fintech Association of Japan and Fintech Tokyo to develop innovation opportunities. In March, five Japanese fintech players – Credify, Crowd Realty, Keychain, Moneytree, and Soramitsu – visited Scotland for a two-day programme organised by Scottish Development International. Their visit was part of the UK government Department for International Trade's inaugural JP-UK Tech Rocketship Awards for entrepreneurs in Japan. During their trip, the delegates visited the Bayes Centre, the University of Edinburgh's innovation hub for data science and artificial intelligence; IT company Fujitsu's office in Edinburgh, and Royal Bank of Scotland's Gogarburn head office.
Innsomnia, the first fintech and insurance technology accelerator in Spain, has already proved to be a useful partner for members of FinTech Scotland, not only offering opportunities on the Iberian Peninsula but also in the Latin American market.
Innsomnia operates the Bankia Fintech Programme, which allows start-ups from around the world to work with Bankia, one of Spain's largest banks, on projects including blockchain, machine learning and cybersecurity. Innsomnia has also set up Red Link, the first collaborative fintech accelerator in Argentina, which is helping more than 40 banks in Latin America to digitise their products and services by partnering with European start-ups.
FinTech Scotland has a formal partnership with Findec, Sweden's fintech hub. Findec aims to grow the country's fintech ecosystem through networking, knowledge, and collaboration. A decentralised approach lies at the heart of its work, which also covers regulatory technology and insurance technology. Sweden already has more than 400 fintech companies, with more than 100 of them signed up as members of Findec. The country has a 74 per cent survival rate for start-ups after three years, the highest in the world, with its fintech companies raising a combined $174 million (about £136m in today's prices) of investment capital in 2018.
One of the first international links forged by FinTech Scotland was with the New Zealand Financial Innovation & Technology Association (FinTechNZ). The formal partnership between the two organisations was unveiled in February 2018, just weeks after FinTech Scotland was created. The two bodies are working together on areas including innovation, collaboration and inclusion. Scotland also has a very specific connection with the country through fintech giant FNZ, which was founded in New Zealand in 2004 and opened what is now its head office in Edinburgh the following year. Last year, FNZ was valued at more than
£1 billion, making it Scotland's first fintech "unicorn" and only its third tech unicorn in total after flight comparison website Skyscanner and fantasy sports outfit FanDuel. The strength of the bridge was illustrated in March, with the arrival of Montoux, which has grown from its Wellington home into New York, Sydney and now Edinburgh. Its Scottish office will be the base for further expansion of its operation, which helps life insurers make better, data-driven decisions and improve business performance using a cloud-based platform.
Comments
 0 comments
Want to join the conversation? Please or to comment on this article.