Data Capital: Positive signs of inclusion see deaf engage
BSL GLOSSARY: David Lee meets Ixone Sáenz Paraíso, driving force behind the creation of a richer 'data language' to better support the non-hearing community's engagement with one of the economy's fastest-growing sectors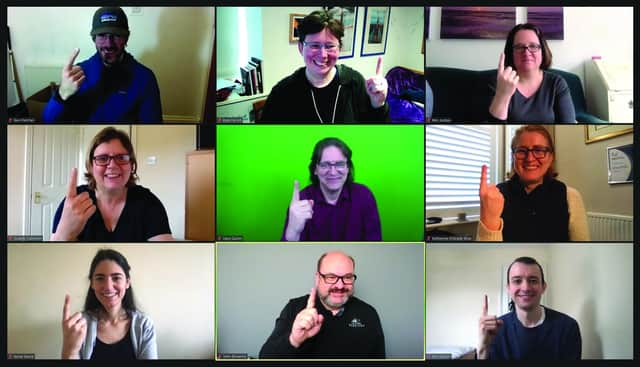 Ixone Sáenz Paraíso: "As technology moves on, language has to follow – sign language has to develop in that way too"
Ixone Sáenz Paraíso always enjoyed finding patterns, and seeing how information links together to understand the bigger picture ­– so she decided to study data science at university.
"There were lots of barriers," recalls Paraíso. "Being deaf, I had a very different experience to my classmates, and needed lots of coping strategies.
"Firstly, there's not the terminology in sign language to address detailed subject matter in data science. Interpreters could be reluctant to work with me or, if they did, they wouldn't have the subject knowledge. MA-level data science is a lot to expect people to understand."
One challenge she came across was that some terms employed in the field were already an existing word in common usage, but meant something different in the context of data science.
"That can be very difficult," says Paraíso, who was born and brought up in Bilbao, in the Basque region of Spain, but now lives in the UK.
"Python, for example, is a software platform, but interpreters might use a different sign – like a snake! That was very confusing. You try to figure it out with the interpreter, but by that time, they'd be way behind with the lecture being delivered.
"There are many more examples where there aren't signs to represent data terminology. We had to be creative and use our own informal signs. That could be confusing.
"Quite often, I would have to decode what the interpreter signed to me, and translate it into something that made sense. I didn't have a regular interpreter, which was challenging as you can't build up that rapport."
Luckily, Paraíso found a communication support worker who was very interested in data, with good knowledge. She recalls: "They were able to break down information, although they weren't amazing at signing. I had another very good interpreter, who had no idea about IT and data science, but made a good team with the communication support worker.
"If they couldn't clarify something because they didn't understand, I'd write it down for a Spanish classmate and ask them to ask the question. That was a useful coping strategy. "There was a huge amount of teamwork – but it was laborious!"
Others might have thrown in the towel, but not Paraíso: "I'm far too determined to give up. That never really crossed my mind."
After finishing her MA course, she looked for work. It was tough, but during the early months of the pandemic, Paraíso got a job in a local authority in London, gathering information about Covid infection rates in the local community, where she was able to use her data skills.
Then Paraíso got involved in the BSL (British Sign Language) glossary project, alongside experts from the University of Edinburgh.
More than 500 signs were developed, covering computer science, cyber security, data science and software development, to support people in the deaf community to access qualifications and careers in one of the economy's fastest-growing sectors.
"Thinking back to university and how I struggled, and how some signs weren't appropriate, the project really interested me," recalls Paraíso.
"As technology moves on, language has to follow – sign language has to develop in that way too. And it's so important to have language for learning – so people can engage with the subject and learn it.
"If you don't have specific language to describe the subject matter, it's difficult to engage and becomes more of an exercise in trying to decode English. When there isn't a sign, you might spell it on the fingers, but then it's not really visual anymore. You're losing the meaning behind it. It's not really sign language."The glossary project had to grapple with the complexity of terms in the data and wider technology field.
"Sometimes you might have two different signs for one particular word," explains Paraíso. "We wanted to clarify that and make sure we had agreed signs for each different term.
"The word 'variables', for example, is commonly used in data science, so I'd sign it in a particular way – but it means something different in computing. So the sign has to be different to capture the visual meaning."
Paraíso hopes the BSL data glossary will widen educational opportunities for young deaf people – and help BSL interpreters too.
"Without language to describe what we're talking about, how do we expect young people to learn?" she asks. "I hope the glossary will encourage more deaf people to be involved in these fields.
"Also, interpreters coming into this complex field can be confident they have signs to describe what's going on. In my work, I use interpreters and I can say: 'Have a look at this glossary to help you with the kind of terms we will be using.'"
The glossary gives not only the sign for the word, but also a full definition in sign language, allowing interpreters to understand what it means and to relay the information better.
"For me, it really clicked having a definition in sign language – something visual," says Paraíso. "The glossary will hopefully solve or simplify a lot of things for people, enrich the lexicon of BSL and make it a fuller, richer language."
Paraíso hopes it can make a long-term difference: "Hopefully, it will encourage more deaf people to look at careers in data; it's such a broad career and there's so much you can do. I don't want people to have a view that their career choices should be limited by the fact that they're deaf."
Paraíso is currently working as an IT support technician and data engineering officer for a remote interpreting firm, but she would like to focus more on coding, and to educate interpreters. She is also interested in becoming a teacher of deaf children with a focus on data and similar subject areas.
"I'm passionate about deaf children having strong role models, and female role models," she says. "I think it's important for deaf girls and young women to have someone to look up to if they aspire to study computing and data science."
Paraíso Sáenz Paraíso will be one of the speakers at The Scotsman's Data for Diversity conference on Thursday, 29 September at the University of Edinburgh.
Heeding the call for an ever-evolving tech toolkit
The BSL data glossary project has been funded by Skills Development Scotland and is supported by the Scottish Sensory Centre, and members of the Data Education in Schools (DES) team at the University of Edinburgh.
DES forms part of the wider Data-Driven Innovation (DDI) Skills Gateway, funded as part of the £1.3-billion Edinburgh and South East Scotland City Region Deal.
A UK-wide team of eight deaf people, who were also technology experts – including Ixone Sáenz Paraíso – spent eight months with sign linguists developing and testing the new signs for the glossary.
Team member Ben Fletcher, principal engineer with the Financial Times, and pictured top right in the main picture, above, says: "I've studied and worked in computing throughout my whole life, but tech and BSL have often been a difficult combination.
"There's a huge list of computing terms, very few of which have dedicated and widely recognised signs, and others I just had to make up. It was very frustrating."Popular tech words and phrases now covered include ethical hacking, firewall, data breach, machine learning and phishing.
Phil Ford, head of digital technologies and financial service at Skills Development Scotland, says: "This will help deaf people get jobs in tech, while enhancing inclusivity – with the ultimate aim of plugging the skills gap in a sector vital for Scotland's economy."
The full list of signs can be found on the Scottish Sensory Centre website but Kate Farrell, of the Data Education in Schools initiative, is keen to keep adding to the list.
She says: "Like the technology itself, which is constantly changing, the accompanying language has to evolve – we therefore welcome the continued input from technologists."