Professor Bruce Whitelaw says One Health - studying human health, animal health and our environment in a coordinated way - had huge potential.
Prof Whitelaw, a geneticist and senior academic at the University of Edinburgh, discusses OneHealth in detail in the latest Data Capital podcast by The Scotsman and the Data Driven Innovation initiative.
In the podcast - Can One Health unlock the secrets of future pandemics?, he says: "I'd like to see us being able to predict what the next specific virus, what the next likely outbreak, will be. Not only would we be able to predict it, but put in place a whole variety of aspects to mitigate it: drug development, better surveillance to see which animals are better able to resist the virus, and therefore, less likely to transmit it - and policies and strategies to help society adapt."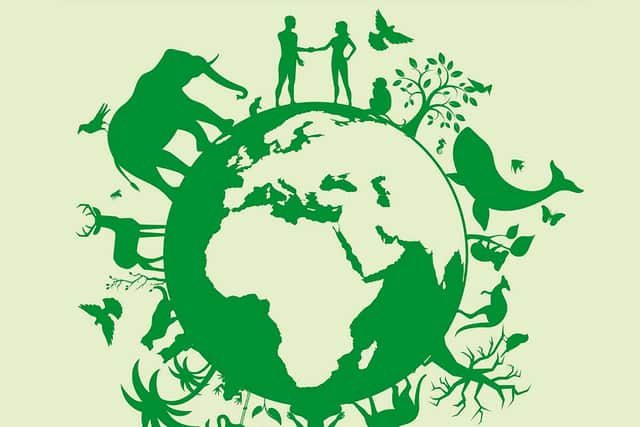 Prof Whitelaw says there are different ideas of what One Health is, but he feels it is "the interconnection of the health of us humans, and the health of other animals on our planet and that entire ecosystem that we find ourselves in".
He adds: "We need to look after all three pillars of that - ourselves, animals and the environment to achieve One Health and reap the benefits
Data is "absolutely essential" to OneHealth, Prof Whitelaw stresses.
"It will require countless data sets to be generated and used to give us the awareness and knowledge to mitigate future OneHealth challenges," he says. "It's not having individual data sets which is key, it's the ability to layer them and fuse them together, even though they may come from very different sources."
Edinburgh can really excel in the field because of its supercomputers and "wealth of academics and industries all looking at how to collect, curate, analyse, and store data better than we've done before", Prof Whitelaw believes.
"We have pretty good datasets around disease in ourselves, we are getting much better at disease in animals (farmed animals, or companion animals). There is still quite a journey ahead with regards disease within wildlife, and I think there's real opportunities there for Edinburgh to contribute to that."
He continues: "But I can't overstate the importance of communicating our data analysis in a meaningful way to ensure there aren't inequalities - and that whatever solutions come out are fair across our populations."
Edinburgh is committed to becoming a One Health hub and has expertise to do it in a wide range of fields as well as data. Prof Whitelaw says: "It's public health, ageing populations, disease transmission and disease biology, and all the genetics around that, whether it's the genetics of the pathogen or the genetics of ourselves or other hosts that take up the pathogen. Also, our social science, our ability to contribute to government policy and regulations. These are areas where we can really make an impact."
He says Edinburgh wants to be a One Health hub , both from a research and teaching and learning perspective, but also the exploitation and translation of commercial activities: "The overall package we have in Edinburgh is very, very powerful. The MSC course is a sort of different beast within the academic portfolio and lecturers from different parts of the university contribute to it. That gives it a unique flavour.
"What excites me most about OneHealth is its transdisciplinary nature. It is not simply a biologist, a sociologist, or a policy developer. It's actually fusing data together, fusing people together, layering these different skills upon each other."
Edinburgh also has to work across Scotland, the UK and globally to rise to the OneHealth challenges, says Prof Whitelaw.
"When it comes to the impact of research and its translation, no organisation can do it themselves. We have to work in partnership, across the UK and across the world. Partnerships will be with governments, academics and the commercial sector. Only through that network of activity can we achieve the translational effort required to be ready for the next pandemic, to be able to offer fair and equitable solutions to health issues across the world.
"This could help us be "better prepared to actually know what is out there. Within the foreseeable future, five years maybe, I think we'll be able to see what is likely to be the next Coronavirus, what is likely to be the next influenza - so we would be able to predict it and put in policies to reduce the impact."