CyberScotland Week launches to shine light on growing cybersecurity sector
With levels of internet scams massively up during lockdown, David Lee introduces Cyber Scotland Week, which targets businesses, organisations and individuals with the aim of building awareness and resilience against online criminal activity.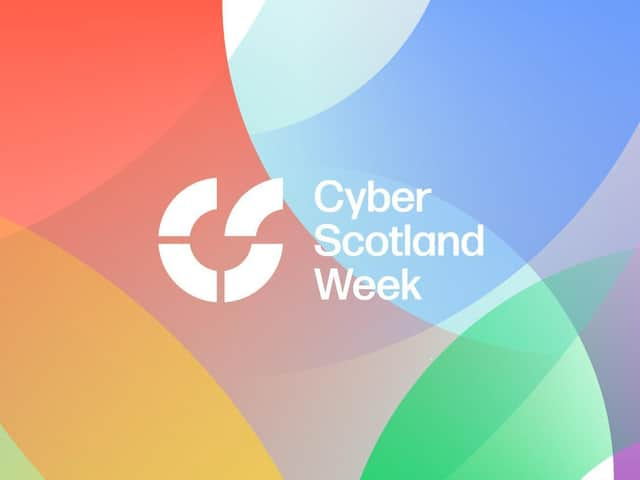 Picture: CyberScotland Week
The explosion in remote working and online communication as a result of Covid-19 measures has led to a surge in cyber security attacks.
The number of incidents rose by an estimated 20 per cent in 2020, compared to the yearly average since 2016, with almost half of all UK firms reporting a cyber attack –
and some surveys suggesting the true figure is much higher.
As well as examining all aspects of cyber resilience, the week will focus on the economic opportunities presented by Scotland's growing status in the field.
A report published last month by ScotlandIS Cyber stated that the Scottish cyber cluster currently includes approximately 230 companies, with about ten new Scottish cyber firms set up every year for the last five years.
Ciara Mitchell, head of cyber at ScotlandIS, who will speak at The Scotsman event, said that the report demonstrated the country's real strength in depth, with companies ranging from small start-ups to large corporates. She added: "As well as attracting inward investment from the likes of Cisco and Corero, there's a wide range of high-growth home-made businesses that are starting to attract a lot of attention."
The report showed that university spin-outs remain important sources of growth. Edinburgh Napier University has spun out two big names in Cyan Forensics and Zonefox, while newer firms attracting interest include Strathclyde spin-out Lupovis, Glasgow's PRC and Napier's Memcrypt.
Cyber Scotland Week will shine a light on the career opportunities presented by these and other exciting businesses, including an event called How Do I Get Into Cyber?
The week is targeted at businesses, organisations and individuals with everything from detailed knowledge of the subject to very little. It aims to increase cyber awareness and resilience by bringing together experts, influencers and the next generation of talent to educate, inform and support, and it is built around three key pillars:
- Protection – improving cyber resilience, knowledge, behaviours, awareness and practice.
- Innovation – showcasing all the innovative work across Scotland's cyber sector.
- Skills and careers – the wide range of opportunities in cyber.
John Swinney MSP, Deputy First Minister for Scotland, said: "The cybersecurity industry is an important contributor to our economic growth and Cyber Scotland Week is the perfect opportunity to showcase the innovative and exciting work happening across the sector."
Swinney's colleague Ivan McKee MSP, Minister for Innovation, Trade and Public Finance, will address The Scotsman's event and is expected to reveal exciting news about the cyber sector in Scotland.
Cyber Scotland Week has something for everyone, with straightforward learning opportunities including What on Earth is Cyber Security? and How to Create Strong Passwords, alongside events delving much more deeply into specific aspects of the cyber world, including Is Your Business Ransomware Ready?
There are events offered by a large range of organisations, including large banks and educational organisations, including event partners Education Scotland and Skills Development Scotland.
And the third sector is also well-represented, with events organised by the Scottish Council for Voluntary Organisations and even Neighbourhood Watch Scotland.
There are numerous practical events, including Exercise in a Box, an online tool from the National Cyber Security Centre which helps organisations test and practise their response to a cyber attack.
The Scottish Business Resilience Centre (SBRC) is offering workshops focused on Exercise in a Box, including a working-from-home scenario. It also offers a "phishing attack that leads to a ransomware infection" storyline.
Jude McCorry, chief executive of SBRC, who will also be a speaker at The Scotsman event, said: "The extension of the scenarios explored within our workshops provide businesses with more opportunity than ever to extend their cyber resilience.
"The specificity of the scenarios which are explored provides attendees with the opportunity not only to see how they might respond to such a situation but also hear how others might, which opens their mind to new approaches and processes."
The website cyberscotlandweek.com has a full list of the events, helpful resources, and details of how to find out more if you think a career in cyber is for you.