Could Kilmarnock Halo development be a step change towards greener housing development?
An innovative and forward-thinking urban regeneration project in Ayrshire is being hailed as a blueprint for the future development and sustainability of towns across the UK.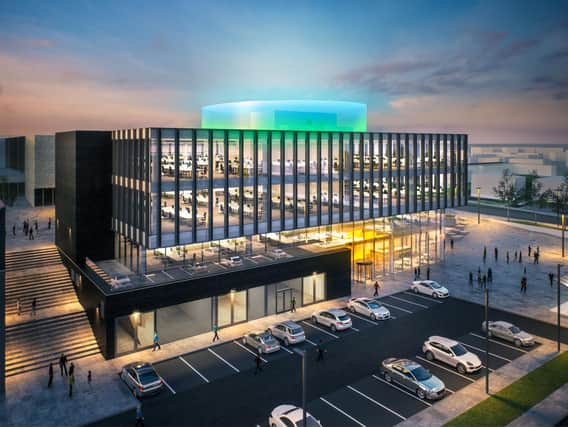 Halo Kilmarnock promises to be the first town-centre located, net-zero carbon energy development in Scotland.
It's claimed that 1300 new jobs will be created and more than £200m in GDP will be generated for the Scottish economy.
The 23-acre site, formerly the home of whisky giant Johnnie Walker's the bottling plant, is set to include a Enterprise and Innovation Centre, with 46,000 square foot of work space and 210 so-called smart homes.
Join The Scotsman's Sustainable Scotland group on LinkedIn >>The homes – available for "affordable rent" – will take the form of modular units using sustainable building components. Developed in partnership with Construction Scotland Innovation Centre (CSIC), they will operate with 100 per cent renewable energy, including low-carbon heat pumps.
In addition, a low energy "Halo Transport" system will be developed on the site, including electric buses, electric vehicle charge points, e-bikes and e-mobility clubs.
Meanwhile, economic sustainability is being created through education and skills training for local residents, especially young people, with a cyber and digital training and learning facility, in partnership with energy company Scottish Power.
The founder of Halo is Marie Macklin CBE, who grew up in the same postcode area as the project. It has been her personal crusade over the past 11 years, after Diageo transferred bottling production to Fife, to create a sustainable and economically robust solution for the town.
The former Scottish Business Woman of the Year said: "Kilmarnock, like many UK towns, has long needed an economic boost – and even more importantly now. It grew up on a wave of industry, mainly based on coal, in the first industrial revolution, but then that disappeared and it has struggled ever since.
"Today, so many UK towns are market failures, where build costs are higher than the potential rent levels. Also, governments have not invested, so the situation for locals worsens.
"My ambition for my home town is to be at the forefront of a 'fourth industrial revolution', one based on digital and technology skills and enterprise, and even more critically, on green resources."
Macklin describes Halo Kilmarnock as "a one-stop shop for people to live, work, learn and play". She added: "It's unique because there is an under-pinning sustainable focus on low energy use, better health and a future for enterprise."
Earlier this month, construction started at the town quarter near Ayrshire College Campus and Kilmarnock Railway Station. It's hoped both commercial and residential tenants will be able to move in next year.
With a total investment of some £65 million at Halo Kilmarnock – delivered in the main thanks to Macklin's own drive and determination – critics have questioned the financial viability.
Macklin is quick to respond. She said: "This is a new model and I argue that it's sustainable – and it's the best opportunity we have.
"This is not about developers making big bucks but about creating towns with an economic future.
"The partners and funders of the Halo project need to have a vested interest in creating a new economy, not just making a profit."
When Diageo donated the site for £1, it was on the proviso the land was used for a community regeneration project. The company also pledged £2 million in funding.
A further £3.5 million came from the UK government, £5.3 million from Scottish government and £2 million from East Ayrshire Council, plus major investments from the private sector.
The partnership with Scottish Power will see £5 million invested over five years in a training and education hub.
Macklin said: "The collaboration with Scottish Power brings benefits to the local jobs market and also allows for the collection energy use data, which can be used for future strategy. Halo is a test-bed for other urban, sustainable quarters."
The latest partnership with CSIC is mutually beneficial. CSIC's role is to connect Halo with the right expertise and knowledge, based on its own innovation work at its R&D facility in Blantyre, North Lanarkshire, as well as innovative businesses, academic experts and public sector organisations in the field of green construction.
Lucy Black, Director of Innovation and Engagement at CSIC, said: "Working on a project like this with a forward thinking and progressive company such as Halo, is the core of what we do – to support innovation and drive transformational change for not only the good of industry, but the good of society in Scotland.
"We must significantly improve the energy efficiency of our buildings and make heating of buildings zero-carbon if we're to meet [Scotland's Climate Change Bill] 2045 net zero carbon targets.
"Our aim is to help the Halo create a future-proof model that is scalable and a leading exemplar in the industry."
Macklin said: "Together, our ultimate vision is a net zero dynamic commercial, educational, cultural, leisure and lifestyle project. If it can work in Kilmarnock, I believe we can recreate the same elsewhere.
"Developments are already in the pipeline in the UK, in Belfast and Ballymena in Northern Ireland, in Lancashire in England and also Wales. In the future, the model could go global, too. I really believe in the potential."