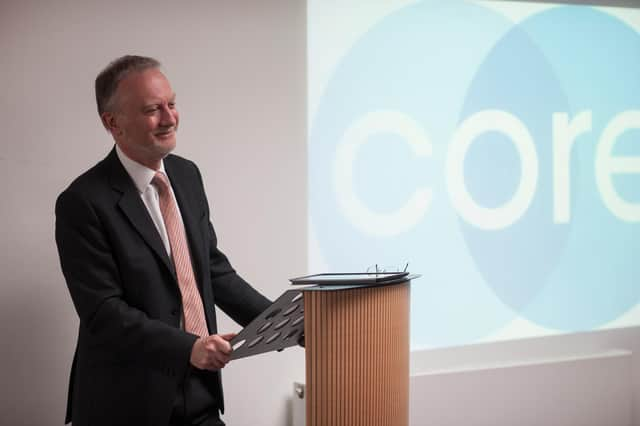 On Thursday, Core's founder and senior mediator, John Sturrock QC, will be interviewed on Zoom by his friend, colleague and fellow mediator, Liz Rivers, in a conversation to celebrate and reflect on those 20 years.
Achievements in 20 Years?
When Core started out, mediation in Scotland was limited largely to family disputes. There was virtually no mediation in the commercial world in Scotland nor in other non-family civil disputes whether in the public or private sectors.
John Sturrock had a vision: that mediation could be brought to these sectors in Scotland. And that lawyers, business leaders, public servants and other professionals could be trained in how to resolve disputes and differences in non-adversarial ways.
He himself had trained in negotiation under the leading negotiation expert Professor Roger Fisher at Harvard, whose seminal book Getting to Yes transformed Sturrock's thinking about how to deal with conflict. After nearly 15 years at the Scottish Bar as a specialist litigator and, having launched and led the Bar's innovative advocacy training programme, he decided at the turn of the millennium to make the change.
Starting with one mediation in year one and four mediations in year two, Core built the market over a number of years. Now, mediation is a regularly used process in Scotland for all sorts of disputes: business contracts, management issues, boardroom fallouts, employment issues, workplace conflict, major construction projects, intellectual property and IT issues, allegations of professional negligence, insurance claims, property and tenancy problems, damages actions, banking and financial matters, agriculture, oil and gas, sports, local government and national government issues and many more.
As Core approaches 1,000 mediations, Sturrock himself has mediated in many hundreds of different matters over the years, mostly in Scotland and also in England (where he is a mediator with the leading chambers, Brick Court), Ireland, mainland Europe, the Middle East and even Africa.
Sturrock says: "I had left my practice at the Scottish Bar. We had to promote mediation as an idea, Core as a credible business and the mediators as competent professionals.
"That we managed to do so is a real achievement and there is still much to do. Mediation is much better acknowledged now but in some ways, given its tremendous success rate, it is still surprisingly relatively rarely used. As a major report by an expert group recognised in 2018, many more people and businesses could benefit from more widespread use of mediation."
Highlights from 20 Years?
As a Distinguished Fellow of the International Academy of Mediators and identified last year by Who's Who Legal as a "Global Elite Thought Leader" in mediation, for Sturrock one highlight was hosting a conference for mediators from all over the globe in May 2018, culminating with an event in the Scottish Parliament at which world-renowned mediator and co-author of the book Getting to Yes, William Ury was the keynote speaker, followed by Scotland's First Minister, Nicola Sturgeon.
"That was a great occasion" says Sturrock. "The Chamber and the galleries were full and the speeches were excellent. And the conference delegates signed the Edinburgh Declaration which set out the principles by which mediators are guided. It remains a singularly important document."
For Sturrock, another highlight was his involvement with many of the medallists, coaches, performance directors and others involved in governance before, and after, the Olympic and Paralympic Games in London in 2012.
"What a privilege; I was asked to help train people in managing conflict and difficult situations, to mediate some very tricky disputes and to help in some tough decision-making. I saw what it takes to achieve genuine world class performance."
Most demanding challenge?
In 2019, Sturrock conducted a review for the Cabinet Secretary for Health into allegations of bullying and harassment in NHS Highland. His report has been commended throughout the health sector and beyond. In line with his calling as a mediator, he emphasised the need for building better relationships and good communication, along with people-centred leadership which showed kindness and embraced a cooperative mindset in which staff worked together.
That apart, Sturrock reckons that the onset of the pandemic last spring was as big a challenge as any. "Our business was hugely based on personal contact and physical presence. I had little interest in online mediation or training," he says. "Things went off a cliff for a while. I thought that maybe the Core journey was finished.
"However, remarkably, towards the end of 2020, we were as busy as we have been for quite a few years with the success of both online mediation and training. I think these are here to stay and certainly they offer a whole new way of doing things which fits with our need to reduce travel and other carbon intensive activity."
Sturrock has been involved in a number of initiatives in and around politics and policy making over the past 20 years. He has worked with both the Scottish Government and the Scottish Parliament and was, for a while, a special advisor on dialogue to the House of Commons Public Administration and Constitutional Affairs Committee.
In the past year, he has been an active member of the Stewarding Group for Scotland's first Citizens Assembly.
He also founded Collaborative Scotland at the time of the referendum on Scottish independence in 2014, an initiative designed to try to bring non-partisan respectful dialogue to Scottish politics and public affairs, and he was the author of its Commitment to Respectful Dialogue, to which hundreds of people signed up.
Sturrock writes a lot – he has contributed a column to The Scotsman for a large part of those 20 years and in 2020 he published a book entitled 'A Mediators Musings' which collected a number of his recent articles and blog posts, covering a range of topics from negotiation and mediation to politics and climate change.
A message from the Editor:
Thank you for reading this article. We're more reliant on your support than ever as the shift in consumer habits brought about by coronavirus impacts our advertisers. If you haven't already, please consider supporting our trusted, fact-checked journalism by taking out a digital subscription: www.scotsman.com/subscriptions