COP26 offers chance to get back in America's good books - NIck Freer
Joe Biden's inauguration as the 46h president of the United States of America last week was a day of high emotion for many, and I admit to getting caught up in it all. Having spent four formative years living in a university town 50 miles west of Detroit, Michigan, singing the national anthem on regular occasions at elementary school, a small part of me will always be American.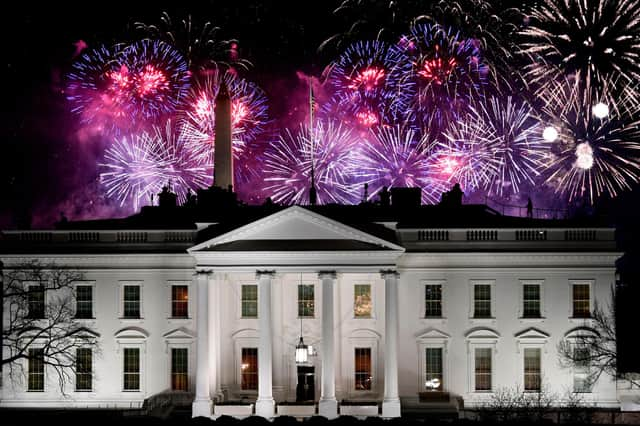 On an Amtrak train from Chicago to Portland for an aunt's wedding, I remember my father waking my three brothers and I up to see our first ever sight of the Rocky Mountains, with the sun rising behind towering peaks as we raced from the Great Plains across the Continental Divide. As abiding memories go, it's right up there for me. And if it had a soundtrack, it would be Aaron Copland's Appalachian Spring.
That same aunt, my Dad's sister, had a baby girl a couple of years later, who grew up in Oregon, went on to study International Relations at the University of St Andrews and now works at the Pentagon in Washington DC. Watching the incredible firework display above the Washington Monument on the city's National Mall during Biden's inauguration, I thought about my cousin and her own family as the greatness of the United States of America was on display for all the world to see.
Somewhat worryingly, the US media reported last week that Britain's "special relationship" with the States could be on thin ice following a power shift to the Democrats, in no small part due to Boris Johnson's "cozy" dealings with Trump, an op-ed Johnson wrote in 2016 when the then London mayor branded Barack Obama "part-Kenyan" with an "ancestral dislike of the British empire", and the Democratic Party's well-documented reservations about Brexit. So, it sounds like Whitehall's mandarins could have their work cut out to get back into Washington's grace and favour.
With climate change near the top of Biden's agenda, perhaps COP26 in Glasgow this November offers a chance to regain a bit of goodwill and put our country's best foot forward as the world tunes in.
While Edinburgh's high street took a knock with news of the closure of Jenners, a longtime institution in Scotland's capital, it was encouraging to read that the building's owner, Danish billionaire businessman Anders Holch Povlsen, and his team are making positive noises about a reimagined Jenners offering on the site in the future. Still, the loss of 200 jobs in the meantime is a bitter pill to swallow.
Povlsen's global retail group Bestseller is perhaps best known for being the largest shareholder in fashion site Asos, which stands for As Seen on Screen. Asos recently reported year-on-year sales up by a third, benefiting in the UK from the high street closures of Primark, H&M and Zara.
In retail, bricks and mortar has shifted seismically to bricks and clicks, and to a large extent no bricks at all, as commentators always said it would, only much quicker than anyone would have forecast pre-Covid.
While the web has become an even greater enabler during the pandemic, people want to get back to human connections, particularly as we face an extended mid-winter lockdown. Hopefully, as some philosopher or another said, the darkest hour is just before the dawn.
Nick Freer is the founding director of strategic corporate communications agency the Freer Consultancy
Comments
 0 comments
Want to join the conversation? Please or to comment on this article.