Contrasting fortunes for two companies behind Scotland's new gold rush
Two firms searching for precious metals in the Scottish Highlands have had varying levels of success.
Scotgold Resources, which is behind the Cononish gold and silver mine near Tyndrum on the West Highland Way, said it had kicked off a third-party review of its operations after "disappointing" production results in recent months. This will initially encompass an assessment of the mine design, schedule and production forecasts and the company is withdrawing its 2023 production guidance until the findings have been analysed.
The firm has had a challenging time at Cononish over the years but remains confident that its transition to a new mining technique, called long hole stoping (LHS), will bear results. As a result of development being halted, production for the first quarter of 2023 was "severely impacted", totalling just 758 ounces of gold for the period. With the commencement of long hole stoping at the start of April, gold concentrate production steadily increased in the second quarter, with a total of 1,556 ounces of gold being produced.
On the sales front, second-quarter gold concentrate shipments totalled 269 tonnes with a sales value of £2 million and first-half concentrate shipments amounted to 437 tonnes with a sales value of £3.5m. Scottish gold doré sales made to Scottish jewellery companies during the first half totalled £183,478.
Interim chief executive Sean Duffy said: "[The first half] has been disappointing in terms of gold production and development of the underground mine at Cononish. We have begun a mine plan review following reconciling Cononish's mine development and production over the past six months. This review will allow us to recalibrate our current 2023 mine plan to best optimise LHS going forward as we continue to develop the mine with a view to achieving full production in the long-term."
Duffy was appointed to the interim role after last month's announcement that chief executive Phil Day was resigning as chief executive, citing a "desire to spend more time with his family members in Australia". In May, Scotgold raised £2m but stressed yet again that its ability to continue as a going concern was "entirely dependent" on the quantity of ore that is produced from now on.
Sheldon Modeland, an analyst at house brokerage Shore Capital, noted: " Over the short term, we continue to note that the company's ability to continue as a going concern remains dependent on the quantity and grade of ore being mined and processed. As such, our financial and production forecasts remain under review until the third-party review of the current mine plan is completed."
Meanwhile, Canadian company Galantas Gold Corporation has announced positive results from its first exploration drill hole at its Gairloch project in Wester Ross. The drill hole is part of a programme of six holes aiming to test the Kerry Road deposit which has seen limited historical drilling and has never had a resource estimate.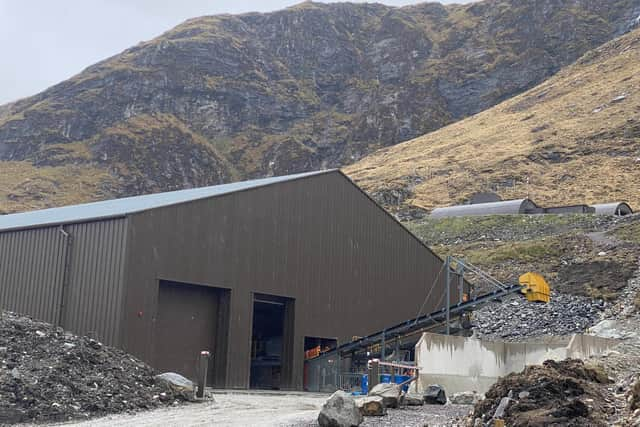 Galantas chief executive Mario Stifano said: "This is a fantastic result for our first drill hole in Scotland demonstrating significant polymetallic grades. The discovery of new critical minerals is a major development for the project and we look forward to reporting further results as they become available."
Comments
 0 comments
Want to join the conversation? Please or to comment on this article.