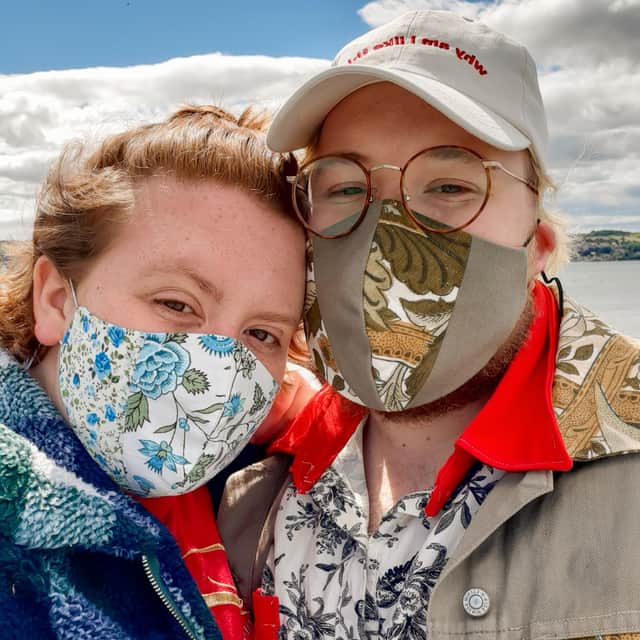 Catrin Evans, pictured with her partner Coren Childs, wearing masks she has made as part of the sewing business she started during lockdown.
A poll found that the average person had seen their income drop by a quarter since the coronavirus pandemic hit - and had turned to side businesses to make up the difference.
The most popular money-maker was offering services such as social media marketing and selling items online to make extra cash, however some people took on diverse ways of earning money such as beekeeping - which was taken up by five per cent of those polled - becoming a quiz master and working as a video games tester.
Other people were selling photos, while some had taken up blogging to earn extra cash.
The poll found that 35 per cent of people in Scotland admitted that their drop in income meant that they had been unable to pay all their bills and outgoings.
Selling clothes from home was the most popular option for side hustlers in Dundee, while in Edinburgh, multi-level marketing was the top choice for making an extra few pounds.
In Inverness – 25 per cent of those who said they had started a side business said they had started upcycling furniture, while Glaswegians started making homemade crafts.
Lucy Askew, spokesperson for home interiors firm Hillarys, which carried out the research, said: "2020 has been a tough year for everyone and whilst job losses, redundancies and pay cuts are sadly an inevitable part of the economic recovery, the fact that so many Britons are now looking into alternative ways of sourcing income to stay financially afloat and pay their bills paid from home should be highly commended.
"Thousands of workers have reaped the multitude of benefits that flexible working brings; and so it is inevitable that we will see home-based working a much more common options in the months and years to come."
The study found that 53 per cent of respondents had been furloughed during lockdown, 19 per cent had been made redundant, nine per cent had been forced to take a pay cut, and 19 per cent continued to work their normal jobs but with reduced hours or shifts. Almost a third also admitted their income had been affected due to a lack of childcare and needing to stay home to look after their children once schools, childminders and nurseries were closed in March.
Catrin Evans, from Dundee, was furloughed from her job in marketing at the city's Discovery Point after lockdown hit.
"I got a sewing machine for Christmas and I had always been interested in learning, but had never had the time. When lockdown started and I was furloughed, I started learning.
"The first thing I made was masks for the other people living in my flat. Another friend saw them and asked if I could make some for her too - and she paid me for them. It was then I realised that I could keep on doing it.
"Since then, I've set up my own Instagram page, @sewlongstitches and I share them on Facebook too and I've had a lot of orders, I sew every day. It's mainly masks at the moment, although I am starting to get commissions for larger items too - I got a commission for my first pair of trousers the other day. I think masks are a good thing to make at the moment, so I'm happy with that.
"I don't know what is going to happen to my job long-term, as I am still on furlough, but either way, I would love to expand my sewing business further. As soon as I started doing it, I figured out that this is what I have always wanted to do."