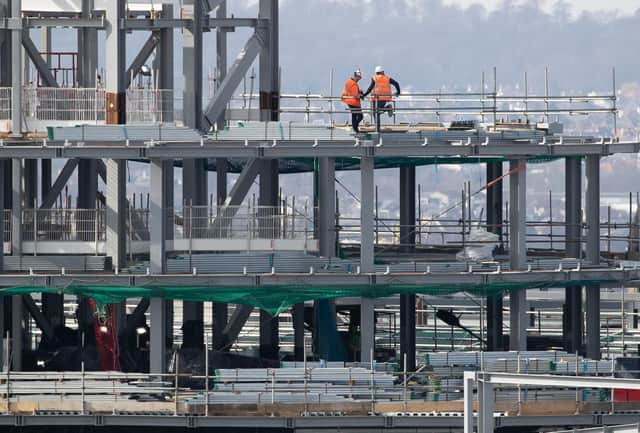 Construction workers on the site of the new St James' Shopping Centre that is being built in Edinburgh city centre
More construction workers have told of the unhygienic - and non-covid compliant - conditions they face on Scottish building sites, amid fears that the virus could spread unchecked in the industry, which has been allowed to continue despite the latest restrictions.
First Minister Ms Sturgeon reiterated today that there was a "need" to continue with non-essential construction if possible, but said the situation would be reviewed if the risk was deemed to be too great.
A Scotsman investigation last week revealed that many staff on building sites across Scotland are scared to go to work due to fears they may catch coronavirus. Some say that social distancing and mask wearing is non-existent on sites, while workers travel from all over Scotland and beyond to work together in close conditions.
One worker based at a construction site in Drumchapel said that the toilets froze in recent cold weather, meaning staff had no hand washing facilities, forcing workers to travel off site to use supermarket toilets.
He said: "Over the last few weeks, anytime the weather has been cold, the toilet facilities have frozen. This means no running water or washing facilities.
"The cleaner lady who is supposed to clean the toilets after every use had a bucket of snow next to a heater so she could get water to clean with. Some of the workers have been travelling off site to a local Asda just to use the toilet. People are coming from all over Scotland to work on a site and then having to travel into the local area to use the toilets in supermarkets."
Another worker who works at sites in both Edinburgh and Glasgow, said: "Most sites I walk onto consist of a single entrance/exit with a turnstile barrier followed by tight corridors and many bodies. Once through the initial barrier, it's often more a case of spot the person wearing the mask rather than spot the person that isn't.
"In the working environment with all the background noise of cutting, hammering and drilling, the masks stop you being able to communicate in a safe way, hence most drop it to protect their neck instead of their nose and mouth after ten minutes of work."
One man said his mental health had suffered.
He said: "Going to work everyday during this period off the pandemic has increased my anxiety levels. I try to mitigate the risk by following my company's Covid policy but it doesn't give me 100 per cent reassurance that I need."
Speaking at today's coronavirus briefing at Holyrood, Ms Sturgeon said: "We came to a judgement last week that with all of the stringent mitigations which construction are obliged to follow, the balance of judgement was not to bring a stop to non-essential construction. Non-essential construction is things like house building and there is a need if we can possibly do it. But the safety of people in construction is paramount and cannot be compromised, so if we think at any stage that if the levels of transmission that the risk we are seeing in construction mean that can no longer continue, then of course, we will take that decision."
A message from the Editor:Thank you for reading this article. We're more reliant on your support than ever as the shift in consumer habits brought about by Coronavirus impacts our advertisers.
If you haven't already, please consider supporting our trusted, fact-checked journalism by taking out a digital subscription.