A waste plant in Ayrshire is set to take in broken and obsolete wind turbine blades for recycling, providing materials for reuse, generating green power and saving tonnes of material from ending up in landfill.
New figures from National Grid show that wind power is now the UK's second-largest source of electricity, supplying more than a quarter of demand in 2022 for the first time ever.
But many of the earliest wind farms are now reaching the end of their operational lifespan – which is usually around 25 years.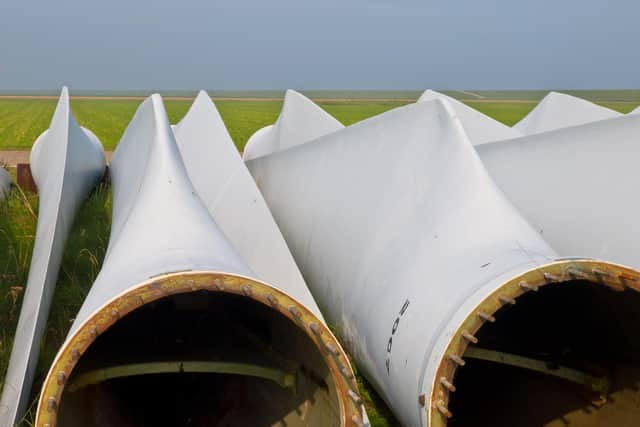 Estimates suggest around 25,000 tonnes of wind turbine blades will be retired across the UK and Europe each year by 2025, with this figure rising to 52,000 tonnes by 2030.
Up to 90 per cent of a wind turbine's total mass can be recycled but not all parts have been easy to process.
There are established procedures which deal with recovering materials from foundations, towers and components inside the nacelle – which holds the gearbox, shafts, generator and brake.
But turbine blades have traditionally been challenging to recycle due to the composite materials used in their manufacture.
And rotors can be massive. Some of the most modern blades measure up to 118m long – longer than a football pitch – so they are also cumbersome to move about.
While various technologies have been invented that can be used to break them up and reuse useful parts, these solutions are yet to be widely available and cost-effective.
This presents a major problem, with broken and decommissioned blades mounting up in rubbish dumps across the world.
Now waste firm Enva, which has been testing out disposal methods for the giant propellors, is rolling out a solution that will cut the environmental impacts of wind farms.
Specialist equipment will be used to cut down blades into 50m lengths prior to them being transported to Enva's Middleton depot in Beith.
The chunks will then be crushed and shredded to enable reusable materials such as steel to be recovered.
Leftover material will be used as a replacement for climate-polluting fossil fuels in energy from waste (EfW) facilities, used to power the manufacture of cement.
Michelle Scott, operations director for the company, said: "Enva is committed to bringing at least one new recycling process to market every year and the opening of our wind turbine blade recycling facility is another tangible example of this innovation and investment.
"The increased use of alternative energy sources will result in new waste streams which will each require managing in a way that enables us to unlock their circular economy and commercial value.
"We look forward to continuing to work with the wind sector and other energy companies to help them realise these benefits."
The strength of wind turbine rotors is also their weakness.
The components have been designed to be durable so they can withstand the harshest weather conditions, and are not biodegradable so do not break down in landfill.
Various solutions have been tried as a way of keeping them out of the ground.
In some cases, the blades are shredded and used to produce alternatives to standard cement.
Other techniques involve separating out fibreglass and polymeric resins to make reinforced industrial products.
And a wide variety of innovative upcycling solutions have seen old blades redeployed as footbridges, poles for electrical distribution and transmission lines, mobile phone towers, streetlights and signs, as well as noise barriers for motorways, bus shelters, glamping pods and partitions and feed bunks on cattle farms.