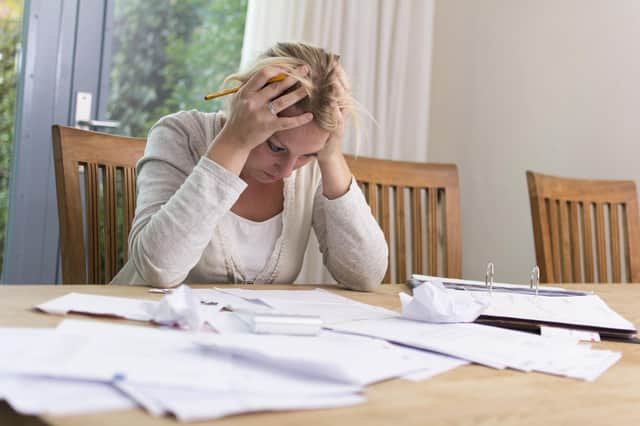 National debt counselling charity Christians Against Poverty (CAP) has launched a campaign to urge people affected by the pandemic in Scotland to get debt help now, amid concerns that many people struggling financially because of Covid-19 may not know where to turn for free help.
The charity said many people may be racking up debts as initiatives to support people in financial need may be masking the true extent of the problems they are facing.
In Scotland, CAP found the average client household owed more than £16,000 at the peak of their debts. On average it would take people 30 years to repay what they owed.
One client of CAP, Gaynor, from Inverclyde, said she wished she had sought help earlier.
She said: "I would say the minute you feel those pressures and as soon as you start to feel like you're sinking, just seek that help right away.
"It's not something to be ashamed of, to come out and ask for help. For me it snowballed so much as I was too ashamed to tell my family or close friends that I was in a bad way and I was terrified. The pride and the shame completely overtook me.
"If I'd got help right away – perhaps I would have kept my home, who knows. The debts would not have snowballed to the same level. A lot of that was sheriff court cost and things that kept accumulating.
"In a nutshell, as soon as you feel like you're out of your depth – and it doesn't matter what that looks like, it will be completely different for everyone – but if you feel out of your depth at any point, get help."
Citizens Advice Scotland financial health spokesman Myles Fitt said: "There is a perfect financial storm brewing for many people in the months ahead. A combination of income support measures such as furlough and payment support measures will come to an end, leaving a backlog of arrears plus on-going payments to meet, but with less or no income due to job losses of reduction of hours.
"The CAB network is bracing itself for this storm to hit and to be dealing with clients struggling with debts built up during the pandemic, including essential bills such as rent and council tax, placing huge pressure on the financial wellbeing of many thousands across Scotland."
"We echo calls for people to seek help as soon as possible and not to wait until their situation becomes unmanageable. Local Citizens Advice Bureau will provide this help and people can also use our new online Money Map tool, which signposts to all the best sources for increasing income, reducing costs and saving money."
Emma Jackson, CAP's national director, said: "We know that because of the pandemic, many people are experiencing debt for the first time and for others debts are growing.
"So many people are experiencing financial worries right now, so you're not alone in your struggle.
"You won't be judged in any way. Help is available to support you through this difficult time and into a brighter future. Getting help as early as possible can make a big difference. We don't want anyone going into the winter and towards Christmas worrying about how they'll manage."
A message from the Editor:Thank you for reading this article. We're more reliant on your support than ever as the shift in consumer habits brought about by Coronavirus impacts our advertisers.
If you haven't already, please consider supporting our trusted, fact-checked journalism by taking out a digital subscription.