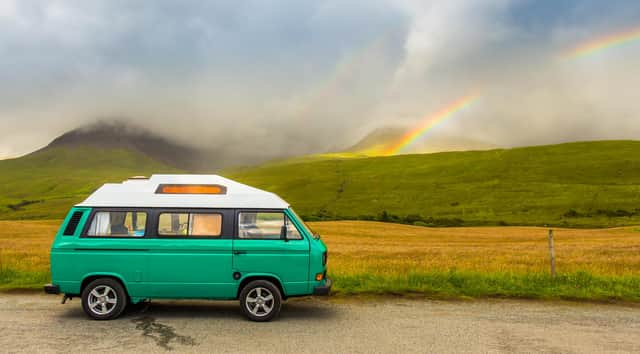 An old green camper van in the shadow of the misty Cuillin mountains and a rainbow, at Glen Brittle on the Isle of Skye, Scotland
Some sellers report waiting lists of a year for new vans as more people opt for holidaying at home.
Alistair Duncan, of Duncan Caravans in Wishaw, said that until recently the typical caravan buyer was a couple in their 50s or 60s, but that younger people, especially families, are now looking to caravan holidays.
He said: "The touring caravan market had been supported primarily by the same category of people for some time: their kids had moved out, they had paid off their mortgage, usually in their late 50s and early 60s. Now, that person still exists, but there is also a massive number of enquiries from the younger generation."
Kate Gold, from Edinburgh, bought a campervan last summer.
"I think the thing with a caravan is it's a mobile isolation unit. From a hygiene point of view, it's as sanitised as you can get. If you go to a hotel, or even a holiday cottage, you don't know how well it has been cleaned, but if you have your own caravan it is up to you. In my opinion, it's one of the safest ways to go on holiday at the moment."
Caravan manufacturers have warned that production has been hit by coronavirus, with the number of vehicles available expected to be around 15 per cent lower than this time last year. In addition, it is believed that the usual waiting time for a new caravan has doubled from eight weeks to 16, and could increase further.
Simon Poole, co-founder and director of East Lothian-based Jerba Campervans, said that a customer who ordered a campervan this week is unlikely to get a delivery until early next year. The company fits out modern VW vans for sale.
Simon Poole runs Jerba Campervans in East Lothian.
He said: "We have seen an enormous increase in demand. July and August are usually quiet times for orders, as people are away on that year's holidays and are not planning for next year yet. We'd usually get just three or four orders, but in August alone, we got 23. Traffic on the website has also been double what it usually is. Normally at this time of year, we would expect that someone ordering a new van would get it by July, but someone who ordered one this morning, as one man did, won't get their completed van until next February.
"While it has been a terrible time for a lot of industries, we are one of the few who has benefited and we are actually expanding a little. We have taken on two new apprentices over the past six months. It is a direct result of the fact that people can't go on holiday abroad. We're definitely seeing interest from people who wouldn't usually buy a campervan, people who usually spend a few thousand on a holiday abroad and who have maybe not been so much into camping before. They don't know how long this is going to go on and think 'I want to do something different'.
Nick Page, group commercial director of campervan maker Swift, which sells new vehicles and also rents out vans to holidaymakers from its depot outside of Edinburgh, said rental bookings were doubling every week as the summer season approaches, while online sales were at a record high.
He said: "In the last couple of weeks we have seen a discernible rise in consumer confidence and the prospect of a staycation holiday this summer. Bookings through Swift Go motorhome hire are almost doubling week on week at our Scottish depot, with the average length of stay increasing by an extra two to three days.
Skye, Scotland - July 5th 2016: An old green camper van in the shadow of the misty Cuillin mountains and a rainbow, at Glen Brittle on the Isle of Skye, Scotland
"And while showrooms are closed, our dealers continue to offer support virtually, with online sales of Swift caravans and motorhomes now at an all-time high."
'The van has been a lifesaver during this very strange year'
Kate Gold, a Tibetan and ayurvedic healer from Edinburgh, bought a secondhand van last summer and has since used it - as well as a holiday home - as a mobile workspace, parked next to her shared garden, as well as in picturesque locations just a few miles away to comply with covid regulations.
She said: "The van, which I call Popsi, has been a life saver during this very strange year and has brought me so much joy. I've visited every beach and wilderness down the east coast now and even through Dumfriesshire to the Samyle Ling monastery and over to Argyll. I live on my own and I just felt I wanted to get out. Even when there was a five mile limit on travel, I would take it out for day trips and park somewhere picturesque to meditate.
"Recently, the lockdown has been more strict, so I have decided that I have 'furloughed' it for now and I'm not going anywhere, although I sometimes park it at the end of the shared garden and use it to work.
"There was a time when they could, when people used to come and join me for a cup of tea, I would make the tea in the campervan kitchen and they would sit on a chair outside the door and chat to me."
A message from the Editor:Thank you for reading this article. We're more reliant on your support than ever as the shift in consumer habits brought about by Coronavirus impacts our advertisers.
If you haven't already, please consider supporting our trusted, fact-checked journalism by taking out a digital subscription.