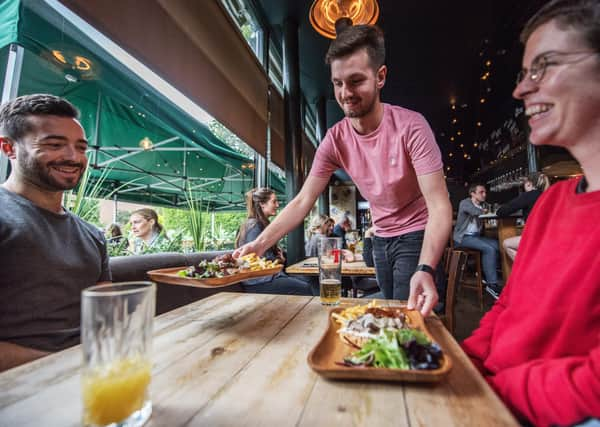 The "buy local" trend – which grew during lockdown as hundreds of small businesses turned to selling their products online almost overnight – could prop up the Scottish economy if people can be encouraged to continue to shop from Scottish suppliers.
Business groups said the move could be a "significant lifeline" for Scottish firms hit hard by Covid-19.
One in seven Scottish small businesses "innovated" during the crisis – such as a restaurant providing takeaway food or a bakery launching a delivery service – according to Federation of Small Businesses (FSB) Scotland figures.
James Withers, chief executive of Scotland Food and Drink, said that whisky exports alone had dropped by £600m in the first half of this year compared to the same period 12 months ago – while sales of Scottish salmon to other countries were down a third. Overall, the food and drink sector is worth £15 billion a year to the Scottish economy.
He said: "Around £120bn is spent in the UK on food and drink every year. You don't have to do the sums to know that a small percentage of that going to Scottish products makes a potentially transformational difference. The opportunity is absolutely there. It's about selling Scotland in Scotland."
He added: "I think the food and drink sector has a huge role to play in driving the recovery. It has been badly hit by Covid and certainly for sectors that were very export focused such as whisky and seafood, as well as those which relied on hospitality, such as selling to hotels, bars, restaurants and airlines – they've been really hammered.
"Assuming we get on top of Covid and get back to a gradual reopening, even if it is a stuttered start, we should be able to regain some of that ground. Ultimately from a Scottish perspective, people are still wanting high quality food. I think that trend will stay."
Over 70 per cent of Scottish consumers polled by Scotland Food and Drink stated that they want local food when they go shopping or out for a meal.
At the beginning of lockdown, the organisation built a website listing 350 Scottish food firms which offered home delivery due to demand for local produce.
Mr Withers said: "We have definitely seen a spike in that over the past few months, so Covid has brought a lot of financial trauma to businesses, but there has been a silver lining within it from a local perspective."
A recent survey carried out by Scotch Lamb PGI found that nearly two-thirds of people in Scotland intend to buy more from local suppliers as the nation emerges from lockdown, with over a third increasing their consumption from local suppliers since lockdown began.
Stuart MacKinnon, spokesman for FSB Scotland, said many companies which previously did not operate online at all had had to accelerate plans to work digitally and adjust their markets to serve customers under lockdown.
He said: "We feel that this is a silver lining of the pandemic. Companies that were trading only a little online, or weren't trading at all online, due to the circumstances they found themselves in realised if they were going to sell things, they would have to do so. We have tried to help businesses lock in those gains and professionalise what they are doing."
Mairi Spowage, deputy director of the Fraser of Allander Institute, said that Scottish manufacturing businesses could also look to localise their supply chains due to problems securing products from abroad during the coronavirus crisis – and as uncertainty continues over Brexit trade deals, which have still not been confirmed.
She said that the "risk-adjusted" price of securing components locally could prove more financially secure than buying cheaper products from overseas.
She said: "There is definitely a feeling of 'buy local' which has come out of lockdown. But it is not just consumers, but businesses as well. If businesses buy into Scottish processes in manufacturing and consumers buy more Scottish products, it will help the Scottish economy. A lot of supply links have been broken during this period.
"It may be that that idea keeps going – in that it may be that buying from a Scottish business is more expensive, but there is less of a risk to Scottish supply chain and then the risk-adjusted price is better."
Scottish Chambers of Commerce welcomed the trend but warned that companies needed to continue working with international partners to grow in the long term and raised fears over Brexit.
A spokesman said: "Businesses largely welcome trends for 'staycationing' and buying local. This could yet prove a significant lifeline against difficulties currently faced by companies in the tourism and hospitality industries. Already many in the manufacturing sector have incorporated local suppliers into their supply chains where possible. For some this is a matter of building resilience in case of border disruption caused by Brexit.
"However, there are also risks to this strategy – protectionism can be a double-edged sword. If we exclude our international trading partners, they could be tempted to do the same."