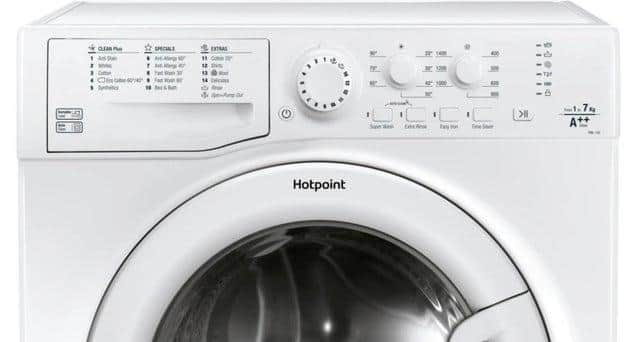 More machines manufactured by Whirlpool have been recalled.
Customers have been told to check their Hotpoint or Indesit branded machine against a list of affected models and if found, stop using the appliance immediately.
The recall is the third time and adds a further 21 models to the list of potentially dangerous appliances, taking the total to 45.
Sue Davies, head of consumer protection at Which?, said: "It's really concerning that Whirlpool has announced that there are tens of thousands of additional unsafe washing machines in people's homes. Whirlpool customers are being drip fed information and serious questions need to be asked about why it took almost five months for this to come to light.
"Some Whirlpool customers may be understandably concerned about dealing with this problem during a nationwide lockdown. Whirlpool has provided reassurances that it has suitable safety measures in place so customers should report their affected machine to the company as soon as possible."
She added: "The OPSS must take control of this situation and ensure that all affected machines have now been identified so there are no more nasty surprises in a few months' time."
Jeff Noel, vice-president of Whirlpool, said: "With people spending more time at home under the current social-distancing measures, it's more important than ever that this safety issue is tackled swiftly.
"We are deeply sorry to our customers for the concern and inconvenience this recall may cause but we continue to take action because people's safety is our top priority."
Lesley Rudd, chief executive at Electrical Safety First, said: "It is alarming that five months into this recall we are only now hearing of these extra models which pose a risk to owners. This new discovery throws into question the robustness of the original investigation.
"This is the second time Whirlpool has discovered more defective models following the publication of the original list – this is not only confusing for consumers, but it means that anyone who had previously contacted Whirlpool to be told their machine posed no risk will now have to check again. It's vital that these machines are removed from people's homes as soon as possible."
She added: "We urge consumers to check their machines to see if they are affected by this fault and to get in touch directly with Whirlpool."