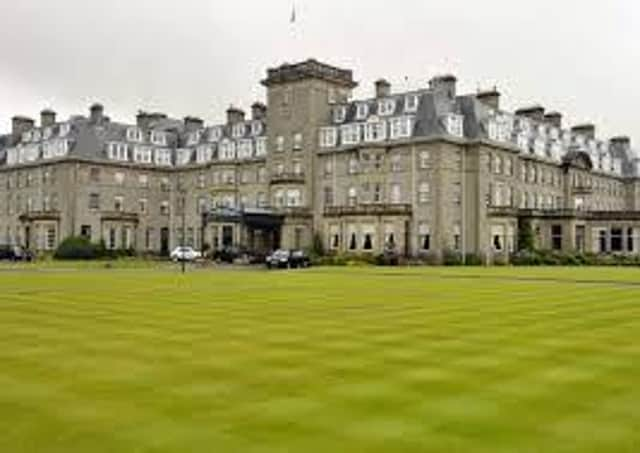 Gleneagles is one of the major Scottish hotels to already announce its closure due to increased restrictions.
Marc Crothall, chief executive of the Scottish Tourism Alliance, said that travel restrictions, combined with the fact that hotels in many areas are unable to serve alcohol in their restaurants, has left a large number unable to trade, with many planning to close their doors until at least the end of January.
The warning comes just days after luxury hotels including Gleneagles and the Old Course Hotel in St Andrews announced they are to shut due to increased restrictions. A travel ban for people living in level three and four areas of Scotland will become law from Friday, making it impossible for large numbers of Scots to holiday within Scotland. Hotels within level four areas are only allowed to open for "essential customers", which includes people travelling for work, or to attend a funeral.
Mr Crothall said he had spoken to many hotels since the new restrictions were announced on Tuesday, when eleven council areas were moved into the highest level of restrictions – level four.
Russell Imrie is managing director of Queensferry Hotels.
He said: "All, regardless of which tier they are in, are faced with a situation where their footfall is largely wiped out due to the travel restrictions and the fact that alcohol can't be served in the majority of hotel restaurants which means that they are not able to offer an experience in line with customer expectations. This is leaving many with no option but to close, some for the three week period, many for beyond that period and well into the new year."
"There's obviously a great deal of uncertainty around what tier these hotels might go into after the three week period when restrictions are reviewed, coupled with the fact that businesses are losing what would have been a significant amount of income in the run up to the festive period; many I believe will close their doors over the next couple of days until the end of January as the costs of remaining open with trading at such an unviable level are just too high."
Mr Crothall said many guests were cancelling bookings for both the near future and those made well in advance.
He added: "The hotels I've spoken to have told me that the cancellations are already flooding in too as guests remain unsure of what will or won't be possible so all are running the numbers to establish whether it is viable to stay open and with demand already at a very low level for this time of year, it would seem highly likely that most will close for at least the next few months.
"This is undoubtedly the most desperate time for our industry since the crisis unfolded with all businesses keen to learn the detail of the Scottish Government's support package, the headlines of which were announced yesterday and I am hopeful that by tomorrow we will have more clarity on that and a timescale for businesses to apply for funding."
'Our business has evaporated'
Russell Imrie is managing director of Queensferry Hotels, which owns the Bruntsfield Hotel in Edinburgh and the Keavil House hotel near Dunfermline. He is also regional director of the Best Western group, which has around 40 hotels in Scotland, including the two in the Queensferry Hotels group.
He said: "We have lost business from Scotland, as people are not able to travel from the tier three and four areas, and in England, they are also not allowed to travel – which is a big proportion of business for a lot of hotels in the central belt of Scotland. Our business has evaporated. It makes it almost impossible to be financially viable.
"My hotels are currently running the numbers as we speak to decide if it is viable to stay open or not. If the cancellations start coming in in any bulk, we will have to close. We have already started to see some cancellations – it happened as soon as the new restrictions were announced. We have seen the same every time new regulations have been announced, it is immediate.
"No hotel has made a profit since March. Like many hotels, we are surviving this period by taking on debt. Some hotels may not be in a position to do that and as a result, may decide to exit, sell up or close down. It is not just the business owners who will be affected when this happens, but the staff, who have families and mortgages to pay.
"If and when hotels close, it won't just be for the next three weeks. The Christmas and New Year period, which is usually a busy time for hotels and restaurants, will be non-existent. Even if we can open, as it stands, we won't be allowed to serve alcohol with meals. There are no events going on in city centres. Most places will stay shut until January or February."
A message from the Editor:Thank you for reading this article. We're more reliant on your support than ever as the shift in consumer habits brought about by Coronavirus impacts our advertisers.
If you haven't already, please consider supporting our trusted, fact-checked journalism by taking out a digital subscription.