Timberyard – a family-run restaurant on Lady Lawson Street – and fine-dining establishment Heron on Henderson Street in Leith were both awarded one star in the 2023 Michelin Guide published on Monday evening.
The additions bring the number of stars held by Scottish restaurants to 12 in total.
Timberyard's star comes just over a decade after the restaurant first opened, with the Radford family – Ben, Jo, Abi, Andrew, and Lisa – marking first launching the Old Town venue in 2012.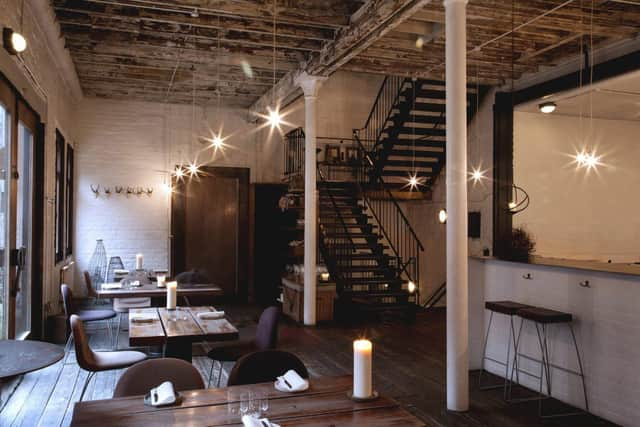 The 60-cover restaurant and bar was created on the site of a former warehouse and timber yard, from which it took its name.
On receiving the restaurant's first Michelin Star award, Ben Radford said: "The entire Timberyard team is delighted and couldn't be more proud of such a tremendous achievement.
"Timberyard has always aimed to be at the forefront of both Scottish and British dining. The Michelin Star gives Jimmy and our team the recognition they deserve. The award also helps to firmly establish Timberyard's place at the highest level of the country's fine dining scene.
"To be included amongst great Edinburgh and national restaurants such as Martin Wishart's and Lyles in London is a huge honour."
Heron, which enjoys views of the Water of Leith, first opened in 2021.
The accolade is a major reward for Heron chefs Sam Yorke and Tomás Gormley, who at age 25 and 28 respectively are the youngest chefs in Scotland to receive a Michelin Star.
Mr Yorke said: "To say that I'm delighted would be an understatement … it's a real testament to the unwavering focus and dedication of the entire team, without whom we wouldn't be where we are today."
The Michelin Guide had previously said of the venue: "Cool, modern furnishings sit beneath an ornate period ceiling and floor-to-ceiling windows make the most of the view. Confidently prepared dishes follow a less-is-more approach and flavour combinations are appealing."
The new Michelin Stars for 2023 were announced at the first in-person event for three years, taking place at the Silverstone Circuit in Northampton.
The 2023 Michelin Guide sees 20 new restaurants awarded one star, which shows that the restaurant is considered "very good in its category", has a quality menu and prepares cuisine to a consistently high standard.
There were three new two stars and no new three stars.
Alongside Heron and Timberyard, the other restaurants in Scotland to boast stars in the 2023 guide are: Restaurant Andrew Fairlie, Condita, The Peat Inn, The Kitchin, The Cellar, Cail Bruich, Restaurant Martin Wishart, Loch Bay, Glenturret Lalique, Unalome by Graeme Cheevers.