It is often hard to believe what started out as a driver's guide to the best places to stop on a road trip has morphed into one of the leading markers of fine dining across the globe.
The Michelin Guide was created in 1900 by Andre and Edourd Michelin, the founders of the Michelin tyre company. It wasn't until 1926 the guide began to award stars to fine dining establishments, starting with one star only.
After five years, the addition of two and three stars were included in the guide, which went global during the rest of the 20th century. The stars represent a high quality of food and whether the restaurant is worth a journey. According to Michelin, one star is reflective of a very good restaurant in its category. Two stars show excellent cooking that's worth a detour and three stars are awarded for exceptional cuisine that's worth a special journey.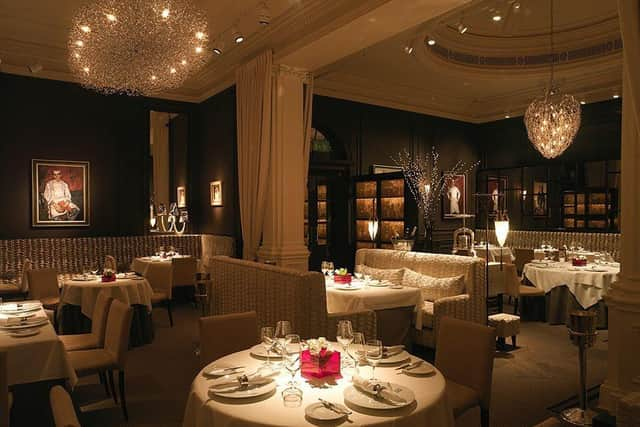 The original aim of the guide, to get people to travel for a good meal, still holds true for some of Scotland's Michelin-starred restaurants, as Geoffrey Smeddle chef patron at Fife's Peat Inn says.
"The thing about a place like the Peat Inn, is that it's in a remote location," he said. "I think it's slightly different if you're in the middle of a bustling town. But if you are in the countryside in a remote location, it does require a deliberate journey to get here as you're going to be very unlikely to stumble across us. So from that point of view, it has always felt quite important for us to have a star."
Smeddle has been running the Peat Inn for 16 years, so it is well established as a Michelin star holder, but what about the newer restaurants? Graeme Cheevers opened his first restaurant in 2021, Unalome by Graeme Cheevers, and was awarded a star last year, a second for Glasgow after Cail Bruich was awarded one in 2021. These accolades are, to many, reflective of Glasgow's changing dining culture. But as Smeddle points out, it's not just restaurants with stars that are in the guide and, in 2022, 16 Glasgow restaurants featured – from street food style dining to the higher end of the scale.
Of his Michelin Star, Cheevers said: "It was a great feeling as we'd only been open for a short period of time. It's the third time I'd done it [won a star], but this time it was my restaurant so it was more sentimental. It was what I set out to do and I achieved it, so it was a great feeling for me and my team."
Stars make headlines and, arguably, put bums on seats, so do all chefs aspire to them? Not only do they not, but they shouldn't, said Billy Boyter, head chef and owner of The Cellar in Anstruther.
He said: "I hope to be honest, I don't think people should be driven by accolades. For me personally, that's kind of the wrong way to kind of go about it. We've never, at The Cellar, cooked to try and win accolades. We do it for the love of cooking and we work with fantastic ingredients, and make our guests happy. That's always been our main focus and accolades off the back of that are a bonus – they're fantastic."
Stevie McLaughlin, head chef at Scotland's only two Michelin-star restaurant, Restaurant Andrew Fairlie, agrees, saying: "I don't think all chefs want a star. And more importantly, I think it's wrong to only speak in terms of stars, as there is more to consider than awards in isolation.
"From the outset we wanted to cook with the very best local produce, to the highest standards possible. Chasing stars is the wrong outlook – you should cook the food that you love and that your guests love – and if as a result Michelin love it too, that's a bonus. If you're so lost in the chase for what you think deserves a star, but you have an empty restaurant, you've already lost."
In recent years, some high-profile chefs have said they don't want stars, including Gino D'Acampo and French chef Marc Veyrat. So how is the pressure when it comes to maintaining a star or stars?
Stevie McLaughlin said: "Nobody wants to be perceived as worse than they were, so the thought of dropping a star has a degree of pressure. We've always put a lot of expectations on ourselves – and are our own biggest critics. This is a constant motivator, and I feel we have a good radar as to whether we are meeting or exceeding our own standards – but this has to be day by day, and month by month. It can't be purely about inspection – we have guests dining every evening with high expectations who deserve the best."
Smeddle adds in the first year, he felt extreme pressure, but then took a practical approach. He said: I remember sitting down to write some new menus because it was coming into springtime and that was the point when it really hit me. I found writing that first menu very hard, and I had to really step back and say to myself 'the star was awarded for what has been done in the past', because obviously, they observed the restaurants and then decide on the award.
"It's like any guidebook essentially, it is always retrospective. So I had to really step back and say to myself that they're not giving anyone an award for what you might do in the future, it is very much for what you've done in the past. You just have to try to find some confidence in that and relax. And after a while it just becomes second nature."
Boyter said: "There is pressure, though I normally tend to forget about it until January time. [Then] you start thinking about the guide coming out and getting a bit twitchy."
Restaurant Andrew Fairlie has been Scotland's only two Michelin-star restaurant for almost 20 years, and general manager Dale Dewsbury explains what that's been like, saying: "As a team we all take a huge pride in what we do. To have this recognised by Michelin – and particularly over a long period of time, if we maintain our two stars in the 2023 guide it will be 18 years consecutively – is obviously a source of professional satisfaction.
"Throughout all this time we are seeing a constant improvement in the culinary standards throughout Scotland, and the UK, so we will concentrate on doing what we do as well as we can do it, and I'm sure we'll see some more company at two stars in Scotland soon."
With these chefs cooking at the top of their game, using the best seasonal ingredients, do they know what the inspectors are looking for, or even recognise them?
Every chef said that they had no idea who the inspectors were, with Dewsbury saying: "Maybe earlier in my career I would have said yes, but these days it's much harder to spot as the profile is much more diverse, and more international.
"We try not to worry about it – if the standards aren't high all year round, you're not going to suddenly pull out a great service just because we think we've spotted an inspector. We have to be consistent in our cooking year-round and be confident that if we suspect we're being inspected, it has to be 'business as usual'."
Both Smeddle and Boyter agree that, when it comes to misconceptions, many people think if a venue has a star, it is a stuffy restaurant that is unaffordable for some.
The Cellar has a laid back, very warm and inviting restaurant space and both The Peat Inn and Unalome are open for a reasonably priced lunch meal. Ultimately the inspectors are looking for accuracy of cooking and clarity of flavour, as well as consistency.
Smeddle said he feels some young chefs – and customers – think Michelin are looking for dishes that are extremely complicated, showing loads of technical skill, which can end up becoming food that is rather fiddly and fussy. He also points out the highest quality, freshest ingredients are best, and they're not always the most expensive pointing to local, budget friendly fish such as mackerel, which he uses in the summer.
As we await this year's stars, I asked if it'd impact a restaurant negatively if they lose a star.
McLaughlin said: "There is a lot of scrutiny that comes with an award, so it's natural that there is at least a similar amount for a deletion. It's hard to imagine that this isn't perceived negatively – as the message is ostensibly that your standards are not as high as they were. I don't think anyone wants to be judged less favourably than they were."
Dewsbury added: "Every year it comes to the point that however much hard work our brilliant team put in, there is still that nervous wait to see if the Michelin inspectors see what our guests see year-round. Here's hoping."