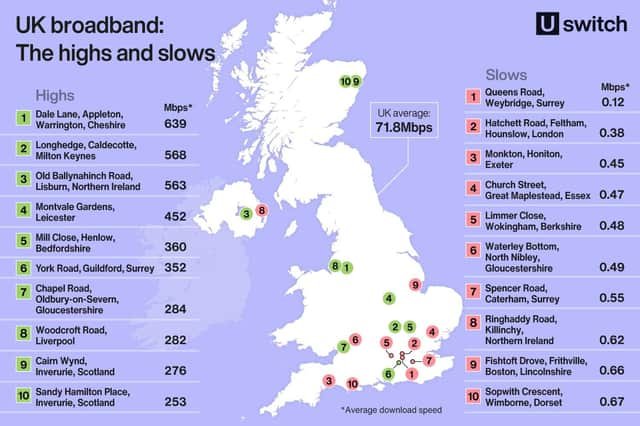 But now the idyllic Highlands area of Glen Shiel has been singled out for the downside of its remote location as it has been named as the spot with the slowest broadband speeds in Scotland.
The slowest internet speeds in the country, with an average download speed of 2.06Mbps, are found in the village of Aultachruine on Loch Duich in Glen Shiel, according to a report from uSwitch.com.
The average speed achieved is 134 times slower than Scotland's fastest street, Cairn Wynd, in Inverurie, where average speeds reached 276.4Mbps over the past year.
However, Scotland does not boast the slowest broadband speeds in the UK, with England taking the majority of the bottom ten spots, with one in Northern Ireland.
Uswitch.com said it would take the residents of Aultachruine almost seven hours to download a two-hour HD film and more than two and a half hours to download a 45-minute HD TV show. By contrast, the people of Cairn Wynd would take just three minutes and six seconds to download the same film or a mere one minute and nine seconds to download the same show.
However, residents of the picturesque village of Aultachruine said they did not have a problem with their broadband speeds.
Cliff Garnham, owner of Kintail Crafts, a shop in the village, said: "I don't think the broadband here is too bad at all, I haven't noticed a problem. I think possibly places that are further away from the exchange - down the road towards Morvich may have more of an issue, whereas we are on the main road.
"They are working on getting fibre broadband put in soon in the rest of the village, which will speed it up."
He added: "We use our broadband quite a bit for the business, including a small amount of online retailing, and we have found it fine."
The UK's slowest broadband — 0.12Mbps in Queens Road, Weybridge in Surrey — 5,330 times slower than the UK's fastest street, Dale Lane in Appleton, Cheshire, where average speeds reached 639.67Mbps over the past year.
Last year the UK's worst street was only 830 times slower than the fastest street, suggesting that the nation's digital divide is growing with the rollout of full fibre broadband that is bringing ultrafast speeds to parts of the country.
Ernest Doku, broadband expert at Uswitch.com, said: "The digital divide that runs through Britain has grown dramatically in the last year, with the fastest street's broadband more than 5,000 times quicker than the slowest's.
"It's great that more of us are enjoying ultrafast broadband, but we don't want to see large swathes of the country left behind on shoddy connections that aren't suitable for modern life. With millions of us working from home and watching more streaming TV at the moment, a good broadband connection is more important than ever."
He added: "One of the biggest obstacles stopping people from getting faster downloads speeds is the lack of awareness regarding superfast and ultrafast broadband.
"For example, some people on Scotland's fastest street, Cairn Wynd, enjoy speeds above 800Mbps, while others only get 8Mbps."
A message from the Editor:Thank you for reading this article. We're more reliant on your support than ever as the shift in consumer habits brought about by Coronavirus impacts our advertisers.
If you haven't already, please consider supporting our trusted, fact-checked journalism by taking out a digital subscription.