Here's how to shop safely on Black Friday
With Black Friday just a few days away, shoppers are hoping to get their hands on some Christmas bargains.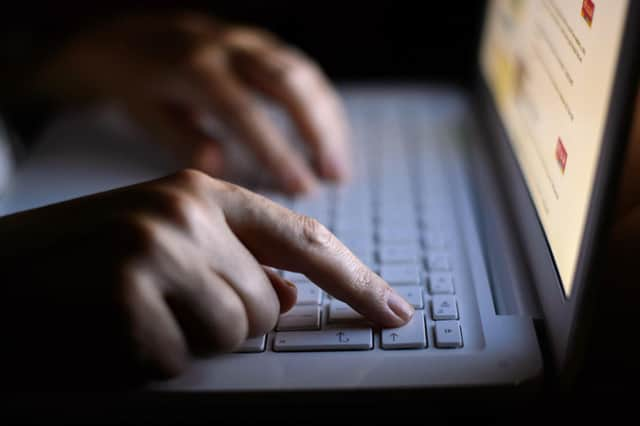 Major online retailers and local stores alike are set to slash prices in a year which promises to be one of the biggest ever for internet shopping, due to ongoing coronavirus restrictions in some areas.
However, experts have warned that consumers shopping online may find that among the cut-price presents, some bargains which seem too good to be true may not be genuine The vast majority of Black Friday "deals" are the same price or cheaper before the day itself, according to a Which? investigation.
Meanwhile, internet fraudsters are looking to prey on internet shopping customers - many of whom may not have shopped online until the pandemic. A separate report, from identity intelligence specialists GBG found that one in in people had had their identities stolen this year online, while 24 million could be targeted by fraudsters during the festive shopping period.
Due to local lockdowns – such as those areas in level four restrictions in Scotland and the full lockdown in England, where all non-essential shops are closed – experts have predicted that high street Black Friday sales are likely to be lower than last year for the first time since the American trend appeared in Britain a decade ago.
Physical spending down due to lockdowns
Using current debit card spending data to predict consumer behaviour, Nationwide Building Society forecast that its members are still expected to make more than six and a half million transactions on Black Friday – up to a 20 per cent drop compared to what the Society had previously forecast. Despite the Amazon Prime Day taking place last month, Amazon and other online only retailers maintain top spot to shop for six in ten of people on both Black Friday and Cyber Monday. The other main places to shop include electrical retailers, department stores, clothing stores and online marketplaces such as eBay and Facebook Marketplace.
Beware of deals which not be what they seem
Consumer watchdog Which? tracked the prices of 219 popular products advertised as 'Black Friday deals' across Amazon, AO.com, Argos, Currys PC World and John Lewis and found that almost nine in 10 of the so-called 'deals' were actually cheaper or the same price in the six months before.
Only one per cent of the items tracked were at their cheapest price of the year on Black Friday.
Out of the retailers Which? looked at, Currys PC World was the most likely to have its Black Friday 'deals' cheaper or the same price in the six months before. This was the case for 47 out of 49 products. John Lewis was not far behind with 70 of the 78 Black Friday deals Which? tracked cheaper or the same price ahead of time.
Natalie Hitchins, Which? Head of Home Products and Services, said: "With many of us stuck at home this Black Friday it might be tempting to scour the sales for a bargain, but we've found that you could get the same deal - or an even better one - at another time."
"Deals that look too good to be true often are, so don't fall for time-limited offers and if you are looking for something in particular, do some research first. That way you'll know a genuine bargain when you see one."
John Lewis said: "As a participating retailer in Black Friday, we offer hundreds of deals across technology, home, beauty and fashion. In addition to the variety of offers we have instore and online during the promotional period, our Never Knowingly Undersold price promise means that we continuously monitor and match the prices of our high street competitors throughout the year. As such, we offer our customers the best value on the high street all year round, including during the Black Friday period."
Currys PC World did not respond to a request for comment.
There were 2,418 incidents of internet shopping and online auction fraud cases reported to Police Scotland between January and October this year totalling £1.4 million – £579 a person – according to Specops Software, which analysed data from the National Fraud Intelligence Bureau. During this period, June, with 325 cases, was the worst month. Whilst January saw the least number of cases at 134.
The report said: "The closure of non-essential shops for the best part of this year has significantly contributed to the increase in online shopping. This trend is set to surge come Black Friday and throughout December as people shop online for Christmas presents. However, consumers need to be wary of opportunistic fraudsters who could exploit their intentions to find bargains online."
The organisation has offered some tips to avoid being scammed by fraudsters during the Black Friday shopping period.
Be cautious with login credentials:
If you create an online account with a retailer, don't write down the login credentials or share them with others, but do consider using a reputable password manager tool to help you store and remember your details. Likewise, even though it can be a pain, try using a unique password for each retailer you make an online account with.
Learn to self-audit websites:
If you are unsure about the authenticity of a retailer's website, then ask yourself these simple questions: Is there a green padlock icon in the URL bar? Do the graphics/images on the website look 'normal'? Are there obvious spelling/grammatical mistakes on different pages of the website? If the answer is not favourable to one or more of these questions, then do not make a purchase as the website is likely to be untrustworthy or not genuine.
Avoid using bank transfers
Do not pay for goods and services online using bank transfers. Bank transfers offer no protection if you become a victim to internet shopping and online auction fraud.
Enable multi-factor authentication
A lot of established online retailers now offer multi-factor authentication. Multi-factor authentication is where an individual must provide at least two pieces of evidence to prove their identity (ie username/password + security question or SMS 'pin' token or email 'pin' token). If an online retailer you have an account with offers this service, then opt in for an added level of security and peace of mind.
A message from the Editor:Thank you for reading this article. We're more reliant on your support than ever as the shift in consumer habits brought about by Coronavirus impacts our advertisers.
If you haven't already, please consider supporting our trusted, fact-checked journalism by taking out a digital subscription.