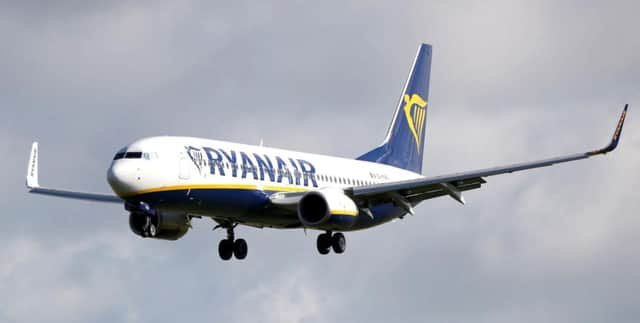 Ryanair is among a number of airlines which have offered vouchers to customers in lieu of refunds.
The group of countries has asked the European Commission to temporarily axe the clause which gives customers the right to cash refunds for cancelled flights in a move which consumer groups have warned could set a dangerous precedent for UK travellers awaiting reimbursement.
Belgium, Bulgaria, Cyprus, Czech Republic, France, Greece, Ireland, Latvia, Malta, the Netherlands, Poland & Portugal have written a statement to the EC stating that the outbreak "places airlines in a difficult situation where they are facing a serious cash flow challenge" and have asked for a "a temporary amendment" to regulations to allow airlines to issue vouchers instead.
It said the EU needed to work to preserve the future of the European air traffic market. If successful, it could mean that customers may not be eligible for the cash refunds they have applied for.
Consumer groups have called for the UK Government to confirm it will stand by British customers' attempts to be refunded for cancelled flights.
While the UK is leaving the EU, any rules implemented before the end of the transition period which lasts until the end of the year would apply in Britain.
Many airlines have come under fire from consumers who have applied for a refund for flights cancelled due to the Coronavirus outbreak, but have instead been offered refunds.
The joint statement said: "Many airlines have been criticised for issuing vouchers to travellers rather than cash refunds. The COVID-19 pandemic has had an unprecedented impact on international transport, including air travel. An immense number of flights have been cancelled. Air carriers are no longer generating passenger business, yet they continue to incur high running costs.
"Because of this, Regulation EC (No) 261/2004 and its obligation to reimburse cancelled tickets in cash, if the passenger so decides, places airlines in a difficult situation where they are facing a serious cash flow challenge. When the wording of the regulation was conceived, the current global crisis and its impact on air travel could not have been foreseen."
It added: "The goal shared by the European Union and its Member States must now be to preserve the structure of the European air traffic market beyond the current crisis, while considering the interests and necessary protection of passengers."
Rory Boland, editor of Which? Travel, said: "It's incredibly concerning that a number of EU member states are asking to temporarily suspend consumers' legal right to cash refunds for cancelled flights amid the coronavirus outbreak, not least when so many people are now in difficult financial situations of their own and need their money back.
"Not only would this move be bad news for consumers, it would be a disaster for tour operators waiting for payments to be returned by airlines in order to fulfil their own legal obligations to refund customers. The UK government must urgently confirm that it will continue to support consumers' right to cash refunds, and step in with support for the industry to allow them to fulfil this legal obligation."