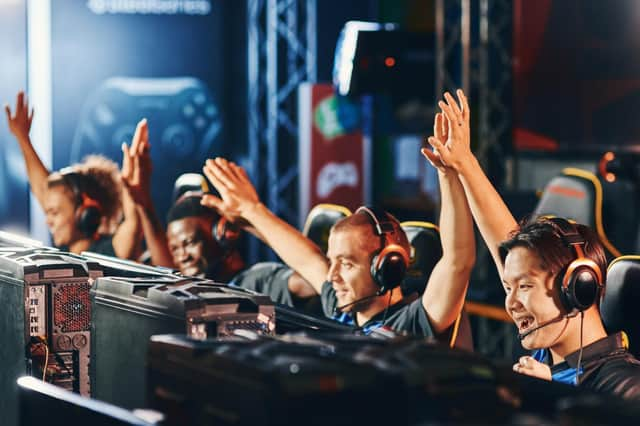 Are you involved in esports? Need legal advice on everything from contracts to ticketing?
The tournament was a game-changer, and its impact shouldn't be under-estimated, according to Joe Fitzgibbon, Associate in the media and technology team at Shepherd and Wedderburn, as well as a member of the law firm's dedicated Esports Group.
Esports is a form of competitive video gaming where individuals, teams or leagues of players compete to win tournaments. Professional players train for competitions in a similar way to professional athletes, with top performers earning millions of pounds each year.
As video gaming moves from virtual get-togethers to sold-out physical events, Scotland is getting set to play a starring role. Dundee's state-of-the-art 4,000-seater esports arena is expected to open in 2025 and this summer saw the launch of Scotland's first Esports Summer Camp at Dundee and Angus College, in partnership with Esports Scotland, bringing young players together to learn new skills, train as a team and grow the community.
"It is not traditional capital cities which are swallowing up these events; it is smaller towns and cities grabbing the opportunity"
"It's the natural evolution of people gaming at home by themselves and transitioning that into a competitive gaming environment," says Joe.
"We're still at the early stage but the pace of development is rapid: the development in Eastern Europe and in Asia has been quicker and it's accelerating in the States as well, so we are just catching up with that."
And there is plenty of scope for Scotland to take its place on the world stage as the burgeoning industry becomes more established.
"Scotland has a rich history of video games development, both in Edinburgh and around Dundee where Grand Theft Auto and other games were developed. We already have a good reputation and that is something that Scotland could capitalise on, as we are seeing in Dundee," he adds.
"The idea that something could be built with video games specifically in mind like the Dundee arena is a significant step forward, it is a huge capital infrastructure project. There is potential for other venues like the SSE in Glasgow to hold similar events.
"Here in Scotland, having hosted COP26, the Commonwealth Games and major concerts, we are very used to inviting in international delegations and making them welcome. There is absolutely no reason why Scotland can't capitalise on this in the esports field."
In particular, there is potential for smaller venues to gain a higher profile on the esports scene: "What we are seeing in other countries is that it is not the traditional capital cities which are swallowing up these events; it is smaller towns and cities that have identified this opportunity and are taking advantage of it.
"It provides a chance for places that haven't otherwise been able to host large sporting competitions to be able to host esporting events that require less by way of infrastructure. They don't need the equipment, the tracks, everything else that sits alongside it; instead, you need big screens and superfast internet connections.
"That is why futureproofing venues is essential – to ensure the infrastructure is up-to-date and able to work both now and going forward."
Establishing the rules of engagement
As it's a nascent sector, the rules are still being laid down – and this presents a unique set of challenges. There is a need to establish a sound legal footing from the outset, whether that's for venues interested in hosting gaming events, teams looking to negotiate sponsorship deals or big-name players keen to be made aware of potential contractual pitfalls.
For example, younger people making the transition from gaming alone at home to performing for a far wider audience may not be aware of the finer details surrounding that and, similarly, fledgling venues may need advice, Joe cautions.
"It's similar to what has been seen in the music industry: people who have got talent signing up to bad deals, and increasingly so," he explains. "Some of these esports stars are real superstars and it is important to state the need to make sure that your contracts are in place and serving your needs.
"Individuals need to make sure they are protected while the esports teams will want to make sure their talent is locked into exclusive periods when they can only play for that team, because ultimately teams will be looking to commercialise those rights and leverage those big online followings."
Tournaments with their own rules
With offices across the UK, Shepherd and Wedderburn advises clients on all legal aspects of broadcasting, marketing, sponsorship and venue operations, as well as high-profile disputes and sports-specific regulatory issues.
And though the parameters are still being established, there is much crossover with traditional sporting laws, says Joe, ranging from branding and sponsorship to tech and intellectual property rights.
"In most sports, there tend to be governing bodies that create the rules of engagement, and that can vary from country to country. What we're seeing now with the development of the Commonwealth Games test events is that the rules of the games vary because they don't directly align: it's not just football versus football, esports variation is not like for like.
"We will increasingly find within the industry that there will be different tournaments with their own rules, so rules will vary from country to country and tournament to tournament.
"But a lot of the usual questions will apply, such as whether you need visas or immigration advice to travel to different countries to compete. Can we enter the country to play? What is our tax position if we win money?
"The rules around online access are very relevant: are individuals streaming online? Do they have to have a subscription? What about the data privacy aspects that need to be taken into account? Are there going to be doping rules? We will see the evolution of all of this as things continue."
Get the legal advice you need
The Shepherd and Wedderburn team advises a number of international computer gaming and software development clients on a range of intellectual property matters, for example, and has extensive experience providing the type of support commonly required by clients organising large-scale events.
"Although esports is a new world, once you get into the details then it is strikingly similar to how traditional sporting events and teams are run and, as a leading UK-wide law firm, we have the expertise to handle that," Joe adds.
The support available can include, but is not limited to:
Venues: advice on everything involved in hosting an event of this scale, from sponsorship rights to issuing tickets, along with addressing privacy concerns.
Esports teams: how to enter into sponsorship and commercialisation agreements with third parties, either with brands or by licencing the rights to use the footage created by their players; ensuring contracts are in place with top talent (similarly to how football teams operate).
Esports players: making sure contracts are clear and stars are able to get paid for the services they are providing; also considering their separate gaming endeavours and how that relates to their contracts.
To find out more about how Shepherd and Wedderburn could help your esports team gain expert advice, or your venue become a leading esports destination, visit shepwedd.com/expertise/sports-law
Representatives from Shepherd and Wedderburn will also be at the Esports Insider conference on September 6 at BOXPARK Wembley, at which more than 600 delegates from over 30 countries will discuss expanding commercial revenue streams and investment opportunities.