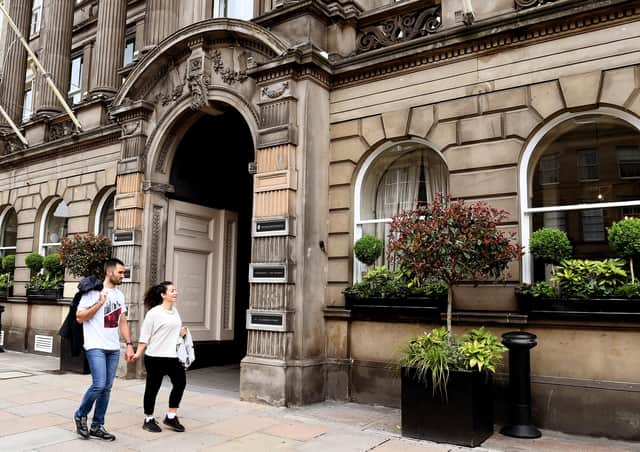 The impact of the pandemic means the iconic hotel will remain likely closed until 2021
More than 240 staff at the George Hotel on George Street have been told they are at risk of redundancy and have been invited to re-apply for their jobs alongside staff from sister hotels the Kimpton Charlotte Square (formerly the Roxburgh) and the Crowne Plaza* on Princes Street.
The three city centre hotels have been closed since the lockdown went into effect in March. Most of the hotel staff have been furloughed.
The George is part of the fabric of the Capital's hospitality industry and is part of the origna, New Town design. It has been through various incarnations, renovations, name changes and ownership but the premises have been a hotel since at least 1860. Among the many famous guests to have crossed the threshold are Holywood icons Liz Taylor and Omar Sharif.
But is understood that bosses at parent chain Intercontinental Hotels (IHG) expect the younger weekend traveller market catered to by the Kimpton, situated just yards away at the other end of George Street, and the Crowne Plaza, will pick up sooner after the July 15 re-opening date signalled last night by the First Minister Nicola Sturgeon.
It is feared the much larger George, which specialises in weddings, conferences and other large scale events will take much longer to find its feet again after the shutdown.
A skeleton staff of between 12 and 20 is expected to be retained at the 4-star £190-a-night location, but insiders believe it could be well into 2021 before the doors of the famous hotel are properly open for business again.
One member of staff who asked not to be named said: "It is disgusting. We have all been told to reapply for our jobs . We were told the Kimpton and the Indigo will remain open but with drastic redundancies in both, and that the George would not be opening any time soon. We understand that means next year but we have not been given any firm date."
IHG would not confirm 2021 as an opening date for the George but did confirm that it was anticipated The George would be the last of its portfolio of hotels in the city to re-open and that consultation over job losses involved all three outlets.
A spokesman for IHG said: "This is a very difficult time for our industry, and we have done everything to protect and retain jobs for as long as possible.
"Our hotels are currently closed and while we are looking forward to welcoming guests back when we can reopen, it will take time for travel and tourism to return to pre-coronavirus levels.
"As a result, we have launched a consultation to restructure our hotel teams, which unfortunately is likely to involve some redundancies."
* An earlier edit of this story erroneously referred to the Hotel Indigo Edinburgh – Princes Street as being a sister hotel to the George Hotel. The Hotel Indigo Edinburgh – Princes Street is not associated with this story in any way. We apologise for any confusion.