Aidan O'Neill KC made the comments in advice sought by a group of distillers, over the deposit return scheme (DRS), which is slated to launch on August 16. Mr O'Neill said the Scottish Government may have to delay the DRS until the UK-wide scheme launches in 2025 due to trade barrier concerns and stressed this should come as no surprise to the Scottish Government.
He said there were "well-founded" concerns the scheme would create a trade barrier between Scotland and England, as it required different prices to be charged for the same product in each country. This, he said in a legal opinion, could contravene the UK Internal Market Act 2020, although economic evidence would be needed to confirm this.
Mr O'Neill said importers of single-use drinks containers could not have legal requirements of the scheme enforced on them, meaning Scottish producers would be at a disadvantage. All this, he said, should "not come as any surprise to the Scottish Government" as they were warned of potential legal difficulties in 2020, by a University of Cambridge law professor's briefing paper.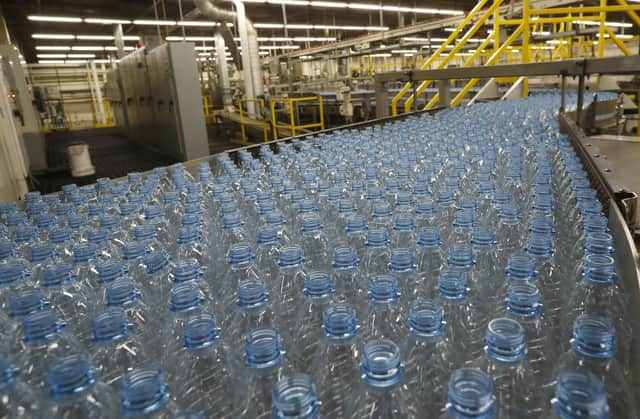 The scheme has come under widespread criticism as critics fear it will cause price hikes and reduce consumer choice, with some producers outside Scotland already ceasing imports.
Under the DRS scheme, shoppers will pay a 20 pence deposit when they purchase a drink that comes in a single-use container made of plastic, steel, aluminium or glass. They will then be reimbursed when they return empty containers.
The Scottish Government said it would continue to "work closely" with the other administrations across the UK.
Fiona MacEachern, co-founder of Loch Lomond brewery, is one of many small businesses that has criticised the complexities of the scheme and the Scottish Government's timetable for its implementation.
"We know we need to get to net zero," she told the BBC. "We know businesses need to make changes, but the deposit return scheme is just too complicated for smaller firms. They're not listening to smaller businesses. They're listening to bigger business."
Ms MacEachern also said of unanswered questions about the scheme: "This is one of the most difficult schemes of its type in the world, which makes it one of the most expensive and most difficult to negotiate. We still don't have all the answers we need to complete everything. It's not a simple process. We need another 18 months to let the system settle down, before smaller businesses are involved."
Last year The Scotsman spoke to a range of businesses about the scheme and their concerns, including Jamie Delap from Fyne Ales, who said: "We need to get to net zero, but will this scheme make a meaningful impact with all the complexities and changes that have come about since it was first suggested?" A lot of decisions still need to be made, which need time to feed through the supply chain. This is going to be a very high-profile environmental initiative and if it is an expensive failure, it will do no favours when it comes to achieving net zero."
The Scottish Retail Consortium (SRC) said despite "enormous investment" into the scheme, it did not believe the plans could be launched successfully this summer unless businesses received the "key information" necessary to put infrastructural changes in place.
Scottish Labour's Colin Smyth said: "Like a lot of government policy, this scheme is big on spin and light on the details. The legal implications appear to be yet another consequence that the SNP-Green Government have not properly thought through- along with the impact on small businesses.
"We want to see a successful deposit return scheme in in Scotland, but everyday there are more and more questions with few answers from ministers
"The SNP-Green government need to start listening, fix the mess they have made, and deliver a scheme that works for businesses and the environment."
Scottish Conservative MSP Maurice Golden added: "The deposit return scheme is falling to bits before it's even launched. The possibility that it might breach UK internal trade rules seems to be just one more aspect the SNP-Green Government hasn't bothered to consider. Proper planning could have produced a world-class system, but instead it's been badly bungled by the SNP/Greens."
Circular economy minister Lorna Slater said: "Bold action in the face of the climate emergency cannot wait. Scotland's deposit return scheme will recycle billions of bottles and cans, cut emissions, tackle littering and address public concerns in Scotland about the impact of plastic and other waste.
"The formal process for excluding the deposit return scheme regulations from the Internal Market Act is well underway. This is the same process we went through to protect Scotland's ban on many single-use plastic products. I expect a decision from the UK Government as soon as possible given that this is what is needed to give industry absolute clarity."
A UK Government spokesperson said: "As the Scottish Government is pressing ahead with their own deposit return scheme, the UK Government is working with them to ensure as much interoperability as possible between the schemes across the UK."