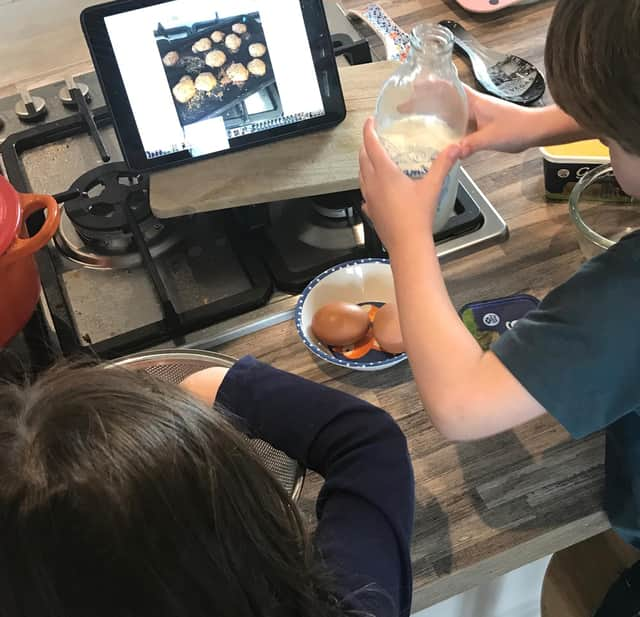 More people have been baking at home since the lockdown.
Now one Scottish dairy has revealed that demand for butter has doubled since the lockdown began as consumers celebrate a renaissance in home baking and cooking.
Robert Graham, managing director of Graham's Family Dairy, said that the business had been forced to up production on butter - its second biggest selling product - to seven days a week from a usual four days a week to meet demand from retailers. In a typical year, the dairy sells £10 million of butter a year.
He also said that demand for ice cream is also up as consumers treat themselves at home at a time when they cannot eat out in cafes and restaurants, while sale of sour cream have soared as more people cook dishes such as fajitas and chilli at home.
Mr Graham said: "My feeling is that maybe people who didn't bake or cook as much at home before are rediscovering the pleasure and the ritual of it. It is a great thing for people to rediscover as a family.
"Butter is the second largest product for us after milk and usually accounts for around 10 per cent of our business – that will certainly be well up for April. Even taking into account that the restaurant trade has fallen off, we are having to produce a lot more than usual."
He added that a trend for more natural ingredients had been augmented by the Coronavirus crisis, when people had time to consider what they are eating.
He said: "Dairy is a foundation of health. The natural trend and to eat less processed food has been going for some time and people are now making more food from scratch and doing baking and cooking more at home."
The dairy has launched an online campaign #CookingTogetherApart to encourage families -including grandparents and their grandchildren – to keep connected and bake together via technology.
Mr Graham said that sales of ice cream had begun to increase earlier in the season than usual.
He said: "We have had a good weather week so that has increased ice cream sales - we have seen a significant lift. We are very busy trying to keep up with demand. People are treating themselves to ice cream while they are stuck at home. Sour cream sales have also risen as people cook from scratch at home."
Chef Mark Greenaway, who runs Grazing restaurant in Edinburgh, said: "I think baking has increased due to the fact people have a lot more time on their hands so can dedicate that time to hobbies- also baking is something the whole family can get involved in. A lot of people have cupboards full of equipment they have never had the time to use before."
Meanwhile, another dairy said it had seen a surge in demand for doorstep deliveries with 4,000 customers signing up in a day - and has hired nearly 50 drivers as a result.
McQueens Dairies, which has a bottling plant in Glasgow and depots around Scotland, has seen an increase in orders since the lockdown was implemented on 23 March. The business saw 4,000 new customers sign up in a day during the lockdown – a total of 30,000 - and has taken on nearly 50 new staff members, mostly drivers.
Director of McQueens Dairies, Calum McQueen, said: "It started right at the beginning of the lockdown. We saw a huge demand in people's shopping habits. They were wanting to source what they can and guarantee they get it delivered."
He added: "It's mainly been milk but we've seen a huge increase in eggs and orange and apple juice."