Customers flock to the shops as people urged to #supportlocal
Crowds queued outside newly-opened stores in Scotland's cities from the early hours yesterday morning - desperate to begin some retail therapy after three months of lockdown closures.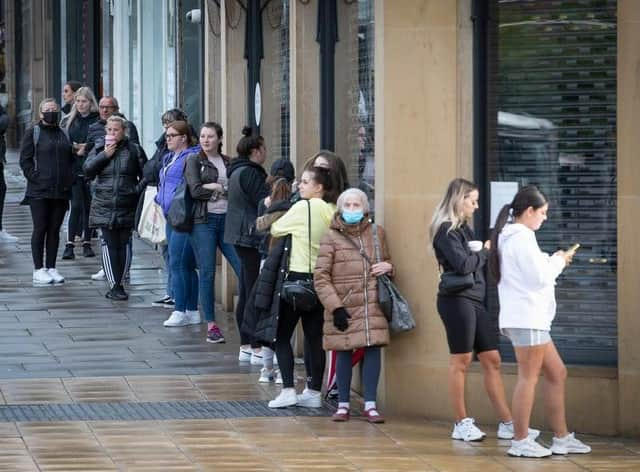 Shoppers take to Scotland's cities to shop for the first time since March.
First Minister Nicola Sturgeon urged shoppers to act responsibly and not to "squander" virus progress by crowding together while queuing, as the Scottish Retail Consortium (SRC) encouraged people to follow five rules during their shopping trips.
The openings come as The Scotsman launches its #supportlocal campaign, in a bid to secure the future of independent shops as the country comes out of lockdown.
Some experts have claimed that smaller independent shops and local high streets could potentially benefit from lockdown as more people got into the habit of shopping locally during the period.
However, in cities across Scotland, bargain clothes store Primark was the first point of call for many shoppers hungry for their retail fix.
Shoppers waited from shortly after 5am in Glasgow, while queues also formed on the capital's Princes Street. At the chain's branch in Edinburgh's Fort Kinnaird retail park, around 50 shoppers were waiting outside Primark by the time it opened its doors at 9am. Nearby Hobbycraft had also attracted a crowd, fuelled by increasing numbers of people taking up crafts during lockdown.
Leigh Sparks, professor of retail studies at Stirling University, said: "We've all seen the queues outside Primark and the like, however town centres are not fully open - cafes and restaurants are still shut. It will take time. In England and Wales, where shops have been open longer, footfall figures are just half to 60 per cent what they were this time last year."
He added: "We are seeing a lot of failures in large retailers at the moment, which is often because they have overstretched themselves by expanding too fast. However, we are seeing a lot of individual shops having good trade, because people have been doing their shopping locally. We also might see some producers moving into the retail space as they continue the success they have had during lockdown online into bricks and mortar.
"One thing to consider is what will happen if people continue to work from home long term. Smaller towns and high streets may well benefit from that as people will be closer to home and have more time if they are not commuting."
The Scotsman campaign hopes to encourage shoppers to support small businesses, which have been forced to diversify by the Coronavirus crisis. Many companies which previously relied on face-to-face trading have started delivery services through online orders, while some producers, which sold through small retailers or markets, have begun to supply consumers directly through online retailing.
Editor Euan McGrory said: "The Covid crisis has changed our lives in all kinds of ways. It has made many of us take stock of what we value most in our lives and within our communities. That has seen a growing awareness of the many benefits of supporting local businesses and our local high streets.
"It would be terribly sad, if, just as many of us are starting to value them more than ever, lots of the independent traders went to the wall. Stop and imagine for a moment, your local high street without your favourite independent traders. It would not only be a far less vibrant place, it would force more people to get in their cars to do their shopping.
"The Covid crisis means our local traders need our support more than ever. Please think about supporting them whenever you can. It really is as simple as the old advert used to say, if we don't use them, then we will lose them."
Shoppers admitted they found the experience "a bit surreal" due to shops implementing new measures to protect customers and staff against Coronavirus.
Anya Gonzalez, from Portobello, queued up outside Primark in Princes Street with her sister Erica, 20.
"I just can't wait to actually try something on before I buy it," the 24-year-old said. "It's been efficient buying things online, but when it comes to clothes it's actually such a faff and I prefer trying things on before buying them.
"It's weird seeing people out and about like this to be honest, it's a pretty big moment for the country I think because with shops reopening brings back a sense of normality that we have been needing."
Edinburgh resident Nigel Cree visited the Apple store in Princes Street for the first time since lockdown. He said: "Staff take your temperature before you head in, which is a little bizarre," he said. "You're then given the option to wear a mask, but I had my own already."And there was a new space outside for social distance queuing, so it's certainly a different experience back at the shops. It's all a bit surreal really."
However, at one Glasgow Cash Converters' store on Renfrew Street, customers were not buying - but selling - as they used the opening as a chance to free up some cash. A recent study from the Jospeh Rowntree Foundation found almost a third of Scots' incomes have reduced in lockdown.
The SRC, along with trade union Usdaw and the Scottish Government, is encouraging people to follow five steps for "considerate shopping".
Customers are told they should queue considerately, maintain social distancing, follow instructions inside and outside shops, follow hygiene measures and be respectful to staff.
David Lonsdale, director of the SRC, said: "It has never been more important to play our part in keeping our towns and retail destinations vibrant. Every visit we make helps support jobs in retail and throughout the supply chain.
"Retailers have been working around the clock to create a safe shopping environment, so their customers can have the confidence to return to their favourite shops."
He added: "Our shopping experience may be changing, but if we all follow the necessary social distancing and hygiene measures and show consideration to those around us, then everyone will be better off."
Economy Secretary Fiona Hyslop said: "Being able to reopen our non-essential retail businesses with necessary safety measures in place is a positive step forward in easing the coronavirus lockdown in Scotland."We each have an important role in ensuring we shop with care and consideration for others, and that rules are adhered to in a responsible manner."