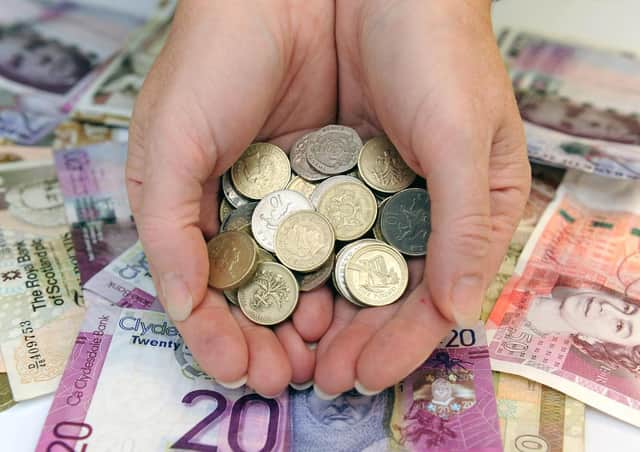 The initiative, which starts from 15 October, is being launched by cash machine network Link and in-store payment services and ATM provider PayPoint.
If successful, it could be rolled out more widely.
It is one of several initiatives taking place under the Community Access to Cash Pilots (CACP) scheme, which is looking at ways to make cash more sustainable.
Other initiatives include deposit schemes for small businesses, shared banking spaces and digital education services.
Under the Link/PayPoint initiative, customers will be able to withdraw precise amounts rather than being restricted to the denominations of notes dispensed by ATMs.
They will not need to make a purchase when making a cash withdrawal.
The Link/PayPoint initiative will initially be piloted in 15 shops across Cambuslang in South Lanarkshire, Denny in Falkirk, Burslem in Staffordshir, and Hay-on-Wye in mid-Wales.
The CACP scheme, which is taking place more widely across the UK, is supported by the banking and finance industry.
John Howells, chief executive of, Link said: "This is a first in the UK and could prove to be an important measure for keeping cash viable.
"Assuming consumers agree this is a useful new channel, it will be important that Government and regulators create an effective regulatory framework to enable a full rollout."
Lewis Alcraft, chief operating officer, PayPoint said: "We're delighted to be part of the pilot scheme as we look to protect access to cash for the millions of consumers that continue to rely on it.
"Additionally, this scheme will bring even greater value and footfall to the participating PayPoint retailers."
The CACP scheme also announced further details of what will happen in nine locations across the UK where initiatives are taking place to help improve cash access.
The pilots will operate for the first six months of the 2021 and will report back their findings in summer next year.
Natalie Ceeney, chairwoman, CACP said: "Cash remains critically important to both individuals and communities across the UK."