City centres facing 'decimation' as home working gains momentum
The continued closure of Scotland's offices could decimate city centre small businesses as high street footfall continues to drop.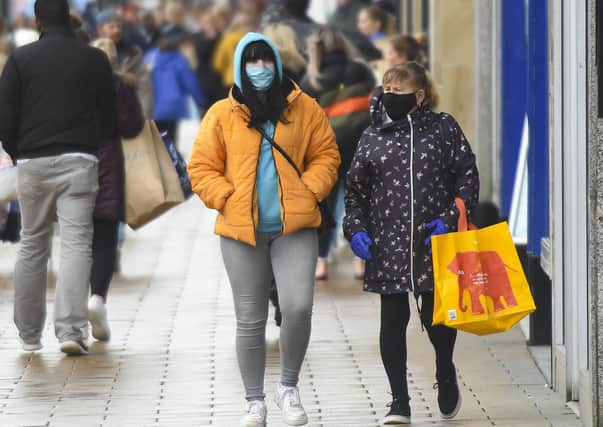 A lack of workers in city centres such as Edinburgh and Glasgow will hit businesses reliant on passing working trade such as cafes and dry cleaners – with an increasing number of firms set to close as the trend for working from home continues.
The office lets sector for large buildings suitable as company headquarters will also collapse as businesses look to downsize amid a permanent sea change in employees working from home.
The Scottish Government's policy is to continue to ban employees from returning to non-essential offices – in a stark contrast to the sentiment put forward by Prime Minister Boris Johnston, who is set to launch a campaign to get workers back in the office, despite fears tht many workplaces are still not "Covid-secure".
The campaign comes after Dame Carolyn Fairbairn, head of business organisation the CBI, warned that city centres could become "ghost towns".
"The costs of office closure are becoming clearer by the day," she said. "Some of our busiest city centres resemble ghost towns, missing the usual bustle of passing trade. This comes at a high price for local businesses, jobs and communities."
David Lonsdale, director of the Scottish Retail Consortium, said data was not showing any signs of footfall returning to city centres in Scotland as office blocks remained empty and workers steered away from public transport. The British Retail Consortium's latest figures showed that footfall on high streets declined by 41.7 per cent year on year UK-wide in August as people continued to work from home.
He said: "While many firms have been investing in making workplaces safer, we are unlikely to see significant growth in shopper footfall while government advice remains to 'work from home' and for 'non-essential' offices to remain closed. This is a real worry for consumer-facing businesses in the run up to the Christmas trading period.
"Unless this changes, more should be done to encourage people to travel and reassure them that public transport is safe. Government should also recognise that, while footfall is so low, many businesses will not be able to manage fixed costs – rent and business rates in particular – and job losses and store closures will follow."
However, economists have warned that even once the pandemic is over, workers are unlikely to fully return to traditional office buildings and claim that small satellite offices close to workers' homes could be the future of corporate real estate in Scotland.
Some believe that small firms such as cafes could follow suit, looking for opportunities in residential neighbourhoods, to serve former office staff now working from their kitchen tables and spare rooms on an almost-permanent basis.
Nick Stamenkovic, senior economist at Royal Bank of Scotland, said: "Big cities have suffered more than small cities and towns and that's primarily because of the shift towards working from home. People are tending to shop more locally, they don't need to travel into town, because they are not working in offices and the bigger towns in particular, Edinburgh, Aberdeen and Glasgow, are suffering disproportionately.
"I think the days of four to five days in the office are looking increasingly like a thing of the past. The longer people get used to this environment the harder it will be to go back to what we think of as normal, pre-Covid 19."
"We can see a shift away from the larger cities and towns and the effects that will have on those particular areas."
He pointed to London, where cafe chain Pret a Manger has warned it will close 30 branches and cut around 1,000 jobs.
He said: "They're so dependent on footfall and spending from the local staff who are based there. If that's not the case any more, if people are working from home more, then there is less demand for that sort of facility. On the other hand, if people are working more at home, it should provide some sort of boost for local amenities, so you might see a shift in demand towards local amenities and towns."
He added: "Office vacancy rates have been rising recently anyway and clearly as working from home becomes more entrenched, demand for big office space will lessen and there will be demand for more flexible office space."
However, Matthew Hopkinson, head of real estate industry consultancy Didobi and the former chief executive of the Local Data Company, which analysed the make-up of town centres, said that companies are likely to retain an office building – but not on the same scale as before the pandemic.
He said: "The really interesting challenge which we've been seeing for the past five years is that a traditional rented office space might only be 30 per cent occupied, so people are paying rent on a bit of space they're not utilising. So, you might create more sharing models around use of office space."
He said that "satellite" offices could be created in small towns and suburbs which would not traditionally have been home to larger 
companies.
He said: "You might get ad hoc space on a localised basis. I think the question is whether the head office – things like accounting functions which have all been there under one roof – do they really need to be there? Companies can have smaller, more functional space open pretty much 24-7."
While some office workers – especially those with childcare commitments when schools were closed during lockdown – have relished the chance to work from home, others have not.
A recent report from Ipsos Mori found that young people were most likely to miss working from an office – citing a lack of suitable work space, missing co-workers and technology most common causes of struggles with working from home.
Mr Hopkinson said: "I think you can't underestimate how much people will be willing to go back to what they know. The problem is that the people who question the need for an office at all tend to be in their 40s, 50s and 60s. They probably live in a house that has enough space, they don't have to worry about little children, they're not in a flat share with four other people all working at a kitchen table. A lot of people working at companies are in their 20s, and the bottom line is they need an office to go back to because that's the only way they're going to learn about business and engage with colleagues."
Stuart MacKinnon, spokesman for the Federation of Small Businesses (FSB) Scotland, said that some small business could look for opportunities in suburbs and smaller towns, where workers are now based.
He said: "If you wander down the high streets, it is the businesses like coffee shops on which you can still see the impact as some old favourites are still closed – whether that is still a temporary situation, we don't know, but that is 
difficult."
Comments
 0 comments
Want to join the conversation? Please or to comment on this article.