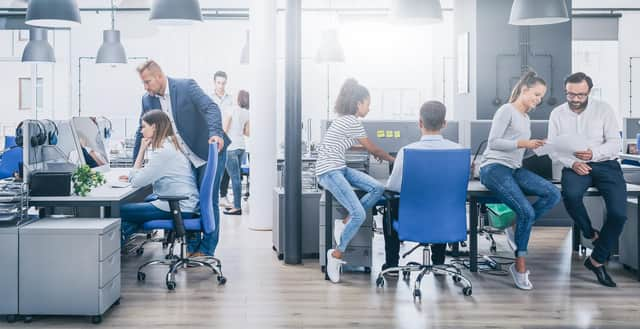 Offices are going to have to adapt their usual way of working after lockdown.
First Minister Nicola Sturgeon this week warned that social distancing will have to be in place for many more months to keep the pandemic under control, even once tight lockdown restrictions have been lifted.
For most businesses, this means a major change in practice. While large companies are planning to keep many employees working from home, allowing only a few key staff to return to work long term, others – especially those which rely on contact with members of the public – are having to entirely redraw the design of their business and manage their accounts accordingly.
Others, like on engineering firm in the Highlands, are following the lead of Chinese firms by introducing technology which screens the temperature of employees when they arrive at work.
The Scottish Retail Consortium will this week publish a definitive guide to retailers to help them implement social distancing measures for the foreseeable future once more shops are allowed to open. Meanwhile, aircraft designers say they have created seats with transparent screens around them to prevent infection in the air for use in a Covid-19 world.
Food businesses say they expect to have to restrict the number of customers allowed in the premises once they are allowed to reopen – and ensure people are seated further apart – which could significantly hit profits.
Angela Jackson, who launched The Wonder Spot café in Edinburgh just months before the lockdown, said she was drawing up contingency plans to remove some seating to ensure social distancing once she is allowed to re-open her doors.
She said: "Right now, it's wait and see, in terms of what restrictions will be in place. We'll almost certainly have to take some tables out. We have the space to do that but not every cafe will. Our main worry is that, once we create enough space for social distancing, we'll be halving our income.
"Hospitality works on pretty tight margins and, unless the government intervenes to support landlords and ensures that our overheads, especially rates and rent, are reduced while we're working to those necessary restrictions, there's a whole sector that is on the precipice of disaster."
Alan McColm, managing director of the Real Food Cafe in Tyndrum, Perthshire, has an added problem. He has had to furlough all 18 of his staff and under government rules, they are not allowed to contribute to the business in any way while not at work.
He said: "My senior managers are key and have been running the business for the past three or four years. Without being able to speak to them and involve them in how the business will work long term before they come back to work full time, will be very difficult."
In the retail sector, smaller shops which have had to shut during lockdown are looking to pharmacies and supermarkets – which have been allowed to remain open - for inspiration on how to maintain social distancing while still allowing customers to spend money.
David Lonsdale, director of the Scottish Retail Consortium, said that the SRC is this week set to publish a best practice guide for member firms on social distancing within shops, targeted at those whose shops have been closed.
He said: "Retailers who have continued to trade from physical stores or online during the coronavirus crisis are taking their responsibilities seriously, investing significantly in social distancing and other health and hygiene measures and adhering to government advice in order to protect staff and customers.
"We are working with retailers to create a further best practice guide, based on the experience of our pharmacy, pet food and grocery members, to help the wider industry be able to re-open stores in a safe way once government indicates they can do so. It's likely that the public will notice changes to their usual shopping routine as other shops re-open, such as systems to ensure social distancing both inside and outside of premises."
Leigh Sparks, professor of retail studies at Stirling University, said that the concept of distancing and preventing customers from touching the items they want to buy was the "antithesis" of modern retailing. Asda last week said it was asking customers to "only touch items they intend to purchase".
Prof Sparks said: "Now, the aim is to get people to shop safely. This means being apart, doing it quickly and seamlessly and avoiding interactions and groups. The more people interact, backtrack, talk or handle products the worse – this is the antithesis of the development of large scale food retailing over the last 60 years. If you browse and touch some products then you could be accused of being anti-social or worse."
In the leisure sector, the future is even more uncertain.
Richard Stirling, managing director of Murrayfield Ice Rink in Edinburgh, had to melt the rink after it closed its doors to the public at the end of March. Figure skaters and the rink's ice hockey team, as well as hobby skaters, have been unable to practice their sport, while almost all staff have been furloughed.
"Looking at the news from Nicola Sturgeon, it seems like it will be a long time before it is easy to open sports venues," Mr Stirling said. "Social distancing on the ice itself is not quite so much of a problem, although it would be difficult for us to restrict numbers – getting people through the doors is how we pay our bills. It's more in the skate hire area and queuing up to get in where there would be challenges."
The Olympic-size rink, next door to Murrayfield Rugby Stadium, costs £13,000 a month in electricity costs to keep the ice frozen.
He said: "For the rink to stay frozen, the fridge has to hum for 24 hours a day. It will take us a month for the clean-up operation to get back to the point where people can use the rink again once we are sure we can open.If we can't have the same number of users we usually have, we will have to decide whether it is financially viable until we can re-open fully. If we had half the numbers we usually had, we would have to double the price, then no-one would be able to afford to come."
He added: "It is the same for all sports venues. Look at the rugby stadium next door. They would have been expecting 60,000 people for the autumn tests, now that will not happen."
In Midlothian, Kristen Hunter, who runs award-winning photo frames business Whisky Frames, is not worried about social distancing her four manufacturing staff.
"We only have four in the workshop and each station is pretty far apart," she said.
However, she knows that restrictions on retailing – both in shops and also at events such as markets, will hit her business.
"We will need to see how shops reopen as our retail partners may have to open later then us. We are trying to quickly pivot to make online sales better and hopefully will get us through to Christmas. I have needed to furlough my staff and will have to bring people back in phases as well as work resumes."
Engineering company SGL Carbon, which is headquartered in Germany but has a base in Muir of Ord in the Highlands, is believed to be the first company in Scotland to introduce fever screening technology at its site. It has also installed a large number of fire door retainers to reduce the touch points on site and changed working practices, such as shift start and end times, one-way pedestrian traffic flow in high foot fall areas and significantly reducing the number of people on site.
Spokesman Stephen Easton said: "We're taking many steps above and beyond government recommendations to ensure the safety of our team. This includes installing cutting edge fever screening technology on site, one of the few predictive and proactive measures available to companies to assess risk before anyone even steps foot on site.
"Early onset signs of Coronavirus is a fever, this highly-accurate and rapid monitoring tool provides an added level of protection and confidence for everyone on site and displays we're committed to doing all we can to prioritise the health of our people. We're thought to be the first firm in Scotland to use such technology."
The cameras were installed at SGL by Inverness-based firm IRN Security that has recently taken delivery of the technology into the UK from China.
Earlier this week, aircraft design firm Aviointeriors revealed plans for a seat with a plastic screen around the head and side, preventing contact with the passenger next to them. The screen, called Glassafe, is transparent to allow communication but will prevent the spread of any viruses between travellers. However, any major investment in the redesign of aircraft is likely to be a struggle for an industry which has been hard hit by what has been a near-shutdown of global travel.
Employment experts say heat guns which measure temperature could become standard for many companies.Neil Maclean, head of employment at Shepherd and Wedderburn said: "Our lawyers are working remotely, supported by our colleagues in IT, BD,Finance, HR and administration, and have continued to meet client needs over the first five weeks of lockdown without any materialinterruption in service so we have no need to rush back to an office environment and will only do so when we are satisfied it can be donesafely and would be more efficient and effective in meeting client demand than our current arrangements.
"Against this backdrop, our Shepherd and Wedderburn experts are already working with clients on plans for their businesses to return to more normal working arrangements. Splitting teams of employees into sub-teams so as to limit the number of interactions colleagues will have, to assist with keeping people sufficiently spaced out in the working environment and to protect against one positive Coronavirus test spreading to a whole business function, is just one of the ideas being explored.
"Whether to test for symptoms - via a temperature heat gun - or whether to insist on the wearing of face masks are issues that businesses will need to consider and resolve, alongside other measures, such as more regular and deeper cleaning schedules, that will need to be part of any plan put in place.