Analysis: should we really become a cashless society?
Coronavirus has accelerated the concept of a cashless society.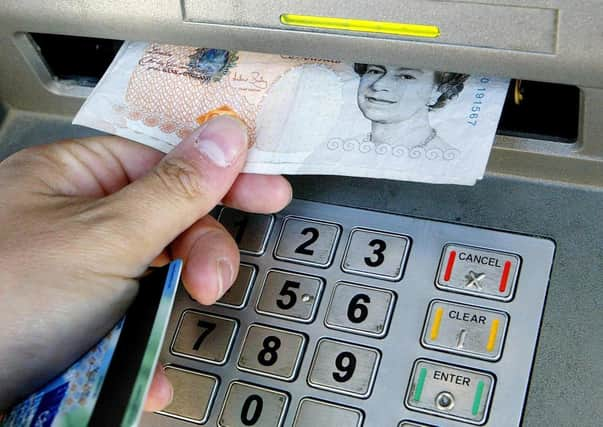 During the peak of the pandemic, consumers were urged to shun physical money as much as possible amid fears that banknotes and coins could harbour the virus - and instead, pay for things with contactless cards, limiting the amount of human interaction needed to purchase everyday goods.
Therefore news from cash machine operator LINK that ATM cash withdrawals plummeted by 65 per cent at the height of the coronavirus pandemic comes as no surprise.
Glasgow city centre saw the biggest drop in cash withdrawals in April, at 70.5 per cent. However, at that time, non-essential shops were shut in Scotland's biggest city, and the majority of people were working from home, perhaps accounting for part of the drop.
Meanwhile, LINK explains, many buildings which house ATM machines were closed during strict lockdown times - such as shops, airports, garden centres and pubs.In other areas of the same city, however, such as north east Glasgow and Shotts, the drop was far less - suggesting a stronger reliance on cash.
The UK has been behind some nations - such as Switzerland - in terms of its reliance on cash and some experts believe that a move towards a cashless society is inevitable in the future.
Various cashless options are available, from contactless card transactions to digital wallets on smartphones such as Apple Pay.
However, what does that mean for people who rely on cash to live every day?
The number of ATMs in Scotland has already been in decline for some time - a trend which has been accelerated by the pandemic. Just this week, the Post Office announced that it would cut 600 cash machines from its network of around 2000 across the UK, following an end to its partnership with the Bank of Ireland - sparking criticism from charities which represent older people.
Many older people do not have access to internet banking and prefer to pay with cash, while those on tight budgets may also find it difficult to pay for everything virtually.
Interestingly, the LINK figures found that throughout the pandemic, people visited cash machines much less often, but took out more money - suggesting that people were limiting their need to increase their risk through contact with "high touch" surfaces such as a cash machine pin pad - but still liked to have some physical money in their pockets.
A report published in August by GoCompare Money revealed that a third of adults were avoiding using cash because of the risk of spreading the Coronavirus.
The average transaction value increased from £68 in February to as much as £86 in May. In September, consumers were still taking out more, taking out an average of £78.
Gareth Shaw, head of money at Which?, says that Scotland was "heavily impacted" by the closure of cash machines during the initial lockdown.
He says: "While some people can turn to digital payments, this simply isn't an option for many - particularly if they are vulnerable or live in isolated communities - and it is vital that these consumers are not abandoned."
A message from the Editor:Thank you for reading this article. We're more reliant on your support than ever as the shift in consumer habits brought about by Coronavirus impacts our advertisers.
If you haven't already, please consider supporting our trusted, fact-checked journalism by taking out a digital subscription.