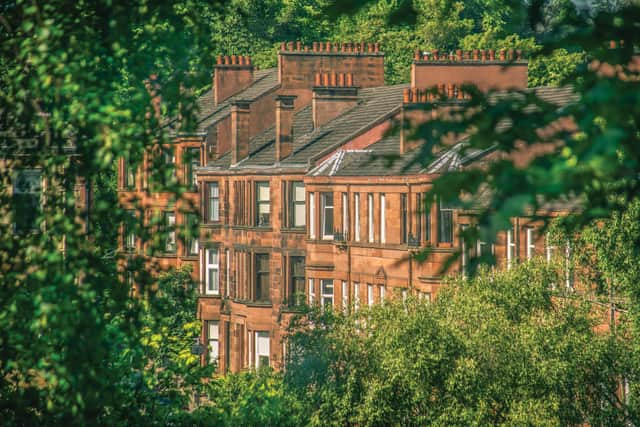 It also discussed how many consumers could be put off investing in environmentally friendly technology, such as ground and air source heat pumps, due to high costs, and the need for construction firms to know that using green products and methods are cost-effective when they are under pressure to build more affordable homes.
In terms of Scottish Government funding, Patrick Harvie, minister for zero-carbon buildings, has put an eye-watering £33 billion price tag on decarbonising heat in Scotland's built environment.
At the launch of Holyrood's Heat In Buildings Strategy in October last year, he said there are "no silver bullets or easy solutions" in greening heat, responsible for about 47 per cent of Scotland's greenhouse gas emissions.
Graeme Hannah, head of sustainability at construction business Robertson Group, told the webinar: "I couldn't agree more with Patrick Harvie's statement. There are no easy solutions– everything is going to be in small increments, but everyone can play a part in acting locally and thinking globally."
Hannah went on to say that different approaches were needed for different types of buildings in Scotland, especially when retrofitting older buildings by adding innovative features to make them more sustainable. This is a particular challenge here, due to large number of tenements in the country's urban areas.
"No one-size-fits-all solution addresses all problems," Hannah said. "We have to form partnerships and develop the skills and technical solutions we need to bring people, businesses and the supply chain along with us."
Lisa Dromgoole, managing associate of legal firm Womble Bond Dickinson, told the webinar that existing regulations and building standards weren't enough to decarbonise the built environment at the speed required.
She explained: "There's lots in the pipeline – proposals for heat networks, various building standards for retrofitting and low-carbon heat, and the creation of the Green Heat Task Force.
"But creating a clear framework is a challenge, because there's never really been one. And it's not just building regulations, but considerations around planning, the types of building, and the
technology available. There's an awful lot to be done to draw the different strands together to reach a wholesale approach."
However, Dromgoole believes that tougher regulations on developers are not yet appropriate.
"My own view is that a stick isn't the best way," she said. "Developers are being asked to build lots of affordable homes because there's a housing crisis, as well as a climate emergency. I think developers are, by and large, taking on board the challenges. I don't think adding more regulation, without incentives, is the best way. These are businesses, at the end of the day, and do what they can within the realms of what they're being asked to do, and the price people are willing to pay. It's not cheap to go green."
Eddie McAvinchey, executive director for sustainable investment at the Scottish National Investment Bank, agreed: "Affordability is definitely a challenge. Unfortunately, it's going to be more of a challenge because the Renewable Heat Incentive is about to be withdrawn. That allowed third-party funders to fund homeowners to install heat pumps. The danger is that heat pumps become an option for the few, not the many. Until we find ways to get funding to the market to help people install them, there will be a cost barrier."
McAvinchey added that there are helpful Scottish Government initiatives, such as the Home Energy Scotland Loan Scheme, and suggested mortgage companies could play a part: "Can we create green mortgages, for example, so there is an option through the mortgage provider to build in the cost of an air source heat pump to be installed when you acquire a property?"
Graeme Hannah pointed out that the pressure to "build greener" was just one consideration for construction companies: "Just about every competitive tender we respond to has an element of carbon reduction or addressing the climate emergency. We must respond robustly and credibly to that, but also deliver social value, in addition to being the lowest cost and the highest quality.
"We're challenged by some customers to respond to the environmental agenda – but not all of them. We are often challenged more by ourselves and our peers than customers."
McAvinchey argued that the supply chain is "absolutely critical" in the shift to greener standards: "We've got to avoid a chicken-and-egg scenario. There is no point creating incentives in the market that will bring in private capital if we don't have products and people available to roll out all the equipment and services needed to actually deliver low-carbon buildings.
"The first step has to be getting the incentives right. That will then help create the market where everybody else will follow, and capital will come in."
Another huge challenge is the skills mismatch, according to Caitriona Jordan, head of retrofit programmes at the Construction Scotland Innovation Centre. She highlighted an industry report which shows that Scotland needs 22,500 new workers in this area by 2028, mainly to improve existing buildings.
"There's a lot happening from apprenticeship level right through to further and higher education and beyond," she said. "We provide excellent funded training through the National Transition Training Fund, offering a real awareness and understanding of low-carbon principles, but from a practical perspective.
"Colleges are keen to adopt low-carbon construction in their curriculum. There is lots happening and it's about spreading messages across Scotland."
Louise McGregor, head of customer engagement and support at Zero Waste Scotland – which encourages more responsible use of products and materials to drive a circular economy, said: "We need to think about the carbon impact of buildings, not only in their use-phase, but in their design and construction – the materials used and the embodied carbon within those materials."
She gave the webinar the example of a house with a 60-year life typically generating half its carbon footprint through being built, and the other half from emissions – including heating and lighting.
McGregor said: "This points us to how we choose and use materials more responsibly to have a much lower impact at that build-stage. It's no good waiting until 2030 or 2045 to start having an impact on the build-stage. It's about a change in mindset.
"There are very few incentives or regulations encouraging reduced material use or material choices. That is starting to change with the national policy framework thinking about circular approaches in the design of buildings, but it's relatively new.
"I don't think we're at the stage of being tough on companies because we haven't encouraged them or given them the incentives to do the right thing."
Warming to the idea of district heating networks
District heating networks are a crucial component of decarbonising the built environment.
They are basically a distribution system of insulated pipes which takes heat from a central source and delivers it to a number of different premises, so everyone gets their heat from the same source.
The Scottish Government has introduced the Heat Networks Scotland Act 2021, which aims to accelerate the deployment of heat networks around the country. The target is to connect 120,000 homes by 2027 and 650,000 by 2030.
Lisa Dromgoole of Womble Bond Dickinson, pictured inset, told the webinar: "Provided there's funding in place, willingness and technologies there, heat networks could be utilised in new developments, whether housing, commercial or mixed-use. Where it's more challenging is retrofitting. That's not really been explored."
Further challenges were the variety of different funds available, and the 25 per cent of Scotland's households considered to be "fuel poor".
"These households are not going to be able to contribute to any kind of development even if that ultimately would assist them," Dromgoole said.
Graeme Hannah of Robertson Group thinks there is real potential in heat networks, but added: "It's a huge logistical and procedural challenge to deliver a solution that works. Getting all the partners on board, the business cases passed, the approval processes and then taking that to the next stage – and working out how you fund that. It's challenging."
The webinar panellists agreed the "quantum leap" needed to install tens of thousands of heat pumps and similar equipment every year meant it had to be made easier for people.
Eddie McAvinchey of SNIB said: "It's about people wanting to make that change, so how can we win hearts and minds so people make this decision for themselves, rather than being forced to do it? It's carrots rather than sticks."
Louise McGregor of Zero Waste Scotland added: "You can't just replace a gas boiler with an air source heat pump, without thinking about your house as a whole. The materials used in the house, and levels of insulation, are really important to make that heat pump work effectively and efficiently."
The Construction Scotland Innovation Centre's Caitriona Jordan said it was crucial that people understood the benefits of improvements to their homes – in terms of improved air quality, better sleep and reduced fuel costs.
Investment support for decarbonisation
The Scottish National Investment Bank (SNIB)was created to plug funding gaps where the private sector isn't providing sufficient investment to businesses or projects that support economic development.
One of its three "missions" is supporting Scotland's just transition to net-zero (the balance between the amount of greenhouse gas produced and the amount removed from the atmosphere) by 2045 – five years ahead of the UK Government target.
SNIB's Eddie McAvinchey, pictured above, told the Decarbonising the Built Environment webinar that the bank has to deploy investment wisely from a total capital pot of £2 billion over ten years, to support decarbonisation.
He said: "We're investing directly into the development of new homes, which will have to have very strong EPC [Energy Performance Certificate] ratings.
Typically, that's been done on a 'fabric first' approach, to ensure the best-quality insulation."
SNIB has made investments into supply chain companies such as IndiNature, which makes insulation products, and Sunamp, which manufactures heat batteries.
"Investment in supply chains is a critical part of what we will do in heat, and other sectors," said McAvinchey. "The bank also provides long-term 'patient' capital that will be needed for many of the solutions in Scotland – particularly heat."
He said the estimated £33 billion of total capital investment needed by 2045 put the role of SNIB in perspective, as it has £2bn to invest over ten years.
"The task is to find novel ways of bringing in private finance as a multiple of the money we make available directly into the market," he explained. "And it's about impact in terms of the emissions reductions that result from our investments. We have some of the answers but not all of them."
Graeme Hannah agreed, telling the webinar: "The public sector won't have the resources to be able to fund this, so we need to bring in private investment – and get the models right."
McAvinchey said he thought there was a private appetite to invest, but added: "More of a nudge is needed in terms of policy and incentives to open up the decarbonisation of heat to the private capital waiting to be invested.
"Scotland has been relatively proactive in trying to stimulate activity, but there's only so much it can do itself. Some activity must be at UK level."
A message from the Editor:
Thank you for reading this article. We're more reliant on your support than ever as the shift in consumer habits brought about by Coronavirus impacts our advertisers.
If you haven't already, please consider supporting our trusted, fact-checked journalism by taking out a digital subscription.