Company awarded contract for new enclosed ground flare at Mossmorran
A leading manufacturing company has announced it has been awarded the contract to design and build a new enclosed ground flare at Fife Ethylene Plant (FEP) at Mossmorran.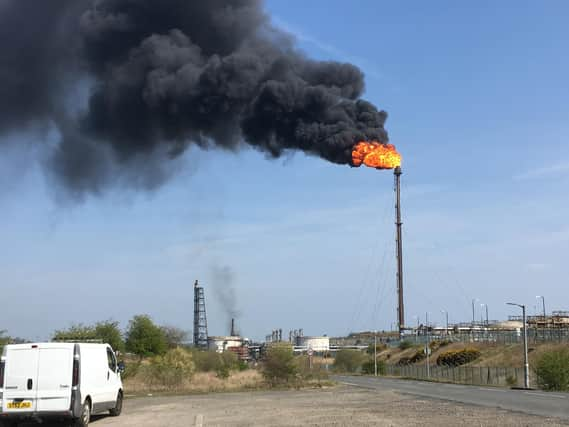 Bosses at Zeeco Europe Ltd said they were delighted to be chosen to deliver the ambitious new project which aims to arrive at the Fife plant in 2022.
Nigel Palfreeman, managing director of Zeeco Europe LTD, said: "Zeeco is extremely proud and pleased to be selected as the supplier of the new enclosed ground flare at Fife Ethylene Plant.
"The EGF stands at the forefront of the latest advancements in proven flaring technology.
"Its design differs greatly from the existing elevated and ground flares at Mossmorran in that the flame itself is enclosed and will not be visible. Based on our current estimate, we expect delivery of the unit to FEP in 2022."
The unit will be designed to operate completely smokelessly without the need for high volumes of steam. Combined, these technologies significantly reduce the light, noise, and vibration sometimes associated with the current flares.
Martin Burrell, plant manager at FEP, said: "The appointment of Zeeco brings our EGF a step closer.
"Having already reduced the original project timeline by a year, the estimated build schedule could now see the unit safely operational a further twelve months earlier than planned.
"While we never want to flare, on those occasions when we need to, it will always be safe.
"Having the best available technology ensures we minimise any potential disturbance to our host communities. It is estimated that at least 98 percent of any required flaring will be safely contained in the new EGF.''
Darton Zink, President and CEO of Zeeco, said: ''We are employing the engineering resources and manufacturing capabilities of our facility here in the UK for this project. Leveraging the full capabilities of our global manufacturing network enables us to promptly deliver a robust system while maintaining the highest quality and safety standards."
The announcement follows three recent weekend protests held at the plant by residents who were highlighting their concerns on the impact of flaring on local communities.
Mossmorran has had a strained relationship with locals after several unscheduled flaring incidents with residents living nearby complaining about the noise and light intrusion it causes.
Thank you for reading this article on our free-to-read website. We're more reliant on your support than ever as the shift in consumer habits brought about by coronavirus impacts our advertisers.
Please consider purchasing a subscription to our print newspaper to help fund our trusted, fact-checked journalism.
https://www.localsubsplus.co.uk/nord/dm/FFP/V