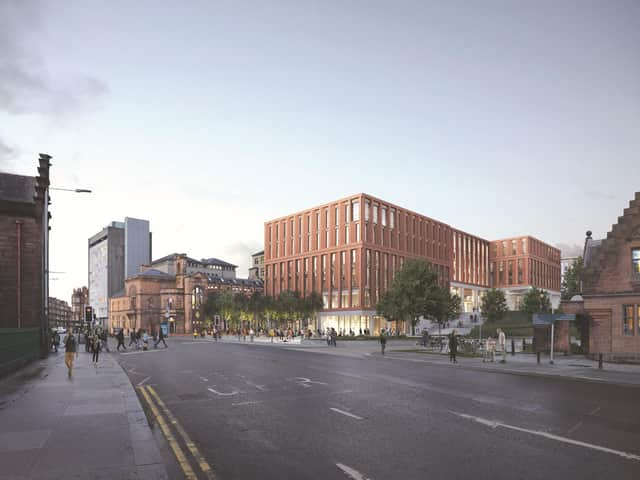 Designed by Hassell, the six-storey building will provide 11,600sq m of specialised teaching and research space for the university's Postgraduate Taught (PGT) student community and state-of-the-art premises for its Adam Smith Business School.
It is the fourth major new building in the university's £1-billion campus development programme, and the first in the plan for PGT students.
The building has been designed to cultivate interaction and collaboration between students and stakeholders in business, organisation and policy.
Construction will begin in July and is expected to be completed in 2022.
Hassell's design features a pre-cast vertical concrete facade which will be cantilevered to create a welcoming, double-height entrance plaza, a central atrium and extensive light wells.
The hub will be organised into three interconnected stacks – for research, collaboration and teaching – and designed to consolidate postgraduate activities and activate circulation.
The research stack, looking out to the city, will contain private workspaces and agile project areas, supported by meeting rooms and social and amenity spaces for visiting researchers, adjuncts and industry practitioners, alongside research students.
The collaborative stack, at the heart of the building, has been designed to encourage informal interaction between students, academics and professionals, to facilitate the former's transition between research and teaching.
The building will also feature specialist teaching areas, including a trading suite and data visualisation room.
It is hoped that the building's Hothouse, a reconfigurable space, will host industry-led activities, including entrepreneurial hackathons, workshops, careers events, and student-led societies, providing the opportunity to re-focus and scale-up the business school's engagement and networks.
The teaching stack, which will face the main university, has been designed to support collaborative, active, and technology-enhanced modes of learning.
Spaces here will be adaptable to accommodate a range of event and content formats.
The teaching stack will also allow for expansion and growth of the business school and the PGT curriculum.
The area surrounding the new building, which will be located on the southern boundary of the university campus, adjacent to Kelvingrove Museum and Kelvin Hall, will be landscaped to create an accessible gateway.
Professor John Finch, head of the Adam Smith Business School, says: "This new development will increase scope for cross-disciplinary collaboration across the university. It will build on the legacy of pioneering thinker Adam Smith by creating spaces for analytical, entrepreneurial and sustainable learning."
Currently, the architecture, design and urban planning practice Hassell is working on a number of other education projects.
In addition to its work at the University of Glasgow, it is designing the Usher Institute innovation hub for the University of Edinburgh.