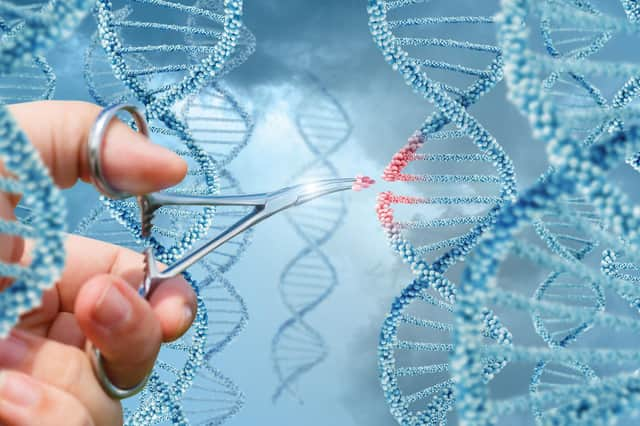 Picture: Natali _ Mis/Shutterstock
What did our pandemic response teach us about helping Scottish biopharma producers tackle cost control and delivery?
It took a total of 24 days from the point at which the SARS-CoV-2 virus was first genetically sequenced in a lab until the first batch of a candidate mRNA Vaccine was created. Just over 18 months later, more than seven billion doses of various vaccines have been distributed globally by manufacturers working in collaboration with healthcare providers to get first, second and now third doses into people's arms and help find a way through the pandemic.
That's astonishing by anyone's standard. Nobody really foresaw the speed of that progress, but now that it has happened in one area to such positive effect, the challenge is to think about how to replicate that pace of success in other therapeutic areas. Because one thing we have learnt to appreciate is that if you can reduce the time taken to get from academic research into new treatments to the stages of development, manufacture and treatment, the easier it becomes to limit costs across the board.
Barry Heavey of Accenture
Indeed, a recent Accenture report – From Billions to Millions: Faster Innovation. Greater R&D Productivity – showed how biopharma companies could potentially reduce the average cost of discovering and developing a treatment by more than US$1 billion, while creating additional future revenue opportunities of up to $450 million per treatment.
In Scotland, the life sciences sector and its partners are making some great progress toward that goal of speeding things up. Yet there's more it can be doing, especially in a relatively small country with tight, collaborative networks in an ecosystem that contains world-class academic researchers, clinicians, biopharma companies and also digital service providers.
What is 'New Science' and how is it shaping strategies for Biopharma companies globally?
New Science essentially refers to the development of innovative healthcare therapies based on a much deeper understanding of the biology of disease, use of novel modalities like gene therapy or novel combinations of existing modalities and technology, such as drugs, devices, diagnostics and digital tools like artificial intelligence (AI) and cloud. Globally, New Science is projected to drive 61 per cent of industry revenues between 2021-26, which represents 81 per cent of the anticipated revenue growth.
Scotland is a great place for the practical applications of New Science to flourish in biopharma. The country has a healthcare system that is already very active in supporting clinical research across a diverse population. Combine this with a world-class cohort of academic researchers, unlocking the fundamentals of biology and pioneering novel treatment approaches such as the application of stem cells.
Add in a burgeoning home-grown tech sector, and you have the ingredients for different stakeholders from diverse backgrounds to try new approaches that accelerate our understanding of how patients can be treated with innovative therapies.
What are the challenges that New Science creates for Biopharma firms?
The key challenge that New Science creates is that many of the new therapies emerging are far more complex than anything that has come before them. These treatments can really precisely target the most debilitating conditions, but the obvious downside to increased complexity is the potential for costs to rise as developers grapple with unforeseen development and supply chain issues – all while facing external pressure from end-users and investors alike to keep development pathways moving faster and faster.
We're also seeing how this can play out in real terms with precision medicines in key treatment areas like oncology. Companies can produce a "batch of one" therapy that can transform the prognosis of an individual patient but they also face the question of scaling up supply chains to do that for lots of different patients in a practical and cost-effective way.
The number of treatment areas that will harness the benefits of precision medicine is set to explode so firms need to respond. Collaboration across the board becomes the key and globally, the biopharma sector is adjusting its working practices – putting collaboration at the centre.
What are the key tech trends enabling firms to do more?
Companies are investing more and more in the range of tools available to reduce costs through adoption of a digital-first approach.
Accenture's own research suggests that globally, 94 per cent of biopharma executives agree that their organisation's business and technology strategies are becoming inseparable or even indistinguishable. The pandemic showed companies the true opportunity of using tech such as digital twins and advanced analytics to unlock the potential of legacy technologies. But the biggest opportunity to do more comes not so much in choosing which tech to use, but in making sure the tools adopted are harnessed to their full potential.
So, the true test of how well technology can help companies operate better and more cost-effectively is to ask how much it has enabled disparate teams to de-silo, share information and work together with true common focus. Yes, technology like cloud is vital in making that happen more smoothly and so too are more advanced security systems to ensure that information sharing proceeds safely. By tying everything together there needs to be an excellent overarching digital framework that facilitates collaboration both within companies and – also externally with supply chains, customers and other stakeholders.
How do we enable life sciences company leaders and employees to have the skills and confidence to make the most of new technologies?
In a sector where collaboration to overcome highly complex challenges is vital, the question becomes: how do we get different individuals and teams working smoothly together at pace?
Every large firm in every high-growth sector essentially has the same challenge. Namely, there are lots of senior, experienced people who are great at their own jobs but who aren't necessarily as well-versed in directing and working with those that have different specialist skills and experience. So, the most successful firms will be those in which people are supported to become truly multi-disciplinary; in which the C-Suite not only directs R&D and IT investment but understands what those teams are doing and has a fundamental grip of how they can do it better.
That's a definite challenge because it pulls people out of their comfort zones. But the potential rewards are huge, so the way to tackle it is by giving people the organisational change management tools to start understanding and empathising with the challenges in each group and then pulling together. Often that can be as simple as ensuring disparate teams are on the same page in how they communicate common issues. Get that right and seemingly insoluble issues can be worked through with the speed required.
How do we best use patient data safely to improve outcomes for users of new treatments?
Scotland is well known for the quality and richness of the data that can potentially be made available to life sciences companies, but clearly this is matched by the need to ensure that information only gets shared without compromising data security and privacy.
Do this safely and responsibly though, through effective joint working between scientists, clinicians, engineers and regulators, and the return for patients can be profound. During the pandemic we saw clearly the rewards that such approaches could achieve, with vaccine developers using AI to leverage public health and third-party data in the US to create equitable vaccine distribution plan and assess the potential of existing and novel treatments for people with severe infections.
There are always challenges to overcome in replicating such schemes here, but there are definite opportunities in terms of addressing systemic population health issues too.
This article first appeared in The Scotsman's Life Sciences 2021 supplement. A digital version can be found here.