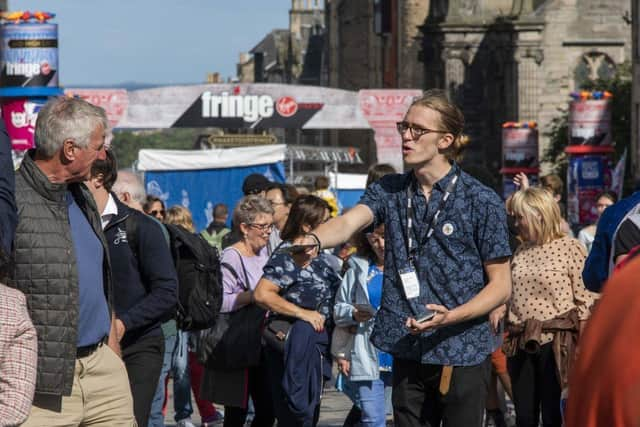 The Capital's festivals contribute more than £300 million annually to the Scottish economy, and while major events such as the Edinburgh Film Festival and the Edinburgh International Festival have experienced recent challenges, the addition of new and rural shows suggests there is growth in the sector.
"There are so many organisations that come into play when looking at the planning and delivery of festivals in Scotland," says Amy Norton, an experienced partner in CMS's real estate team. "That includes local government, independent organisations, Visit Scotland and the communities.
"It can be hard to bring all of those together, but forward planning and collaboration early on is really key to that. While we do tend to focus on Edinburgh in the month of August, it's important to recognise there are lots of events happening elsewhere."
The CMS team points to the growing festival economy in Glasgow, as well as various folk festivals throughout the Highlands and islands.However, hosting rural festivals adds particular challenges as has been seen with the end of the highly-popular T in the Park, and the recent cancellation of the Midnight Sun Weekender.
That event was due to take place on the Isle of Lewis, but was cancelled with only a week to go due to rising costs, slow ticket sales, and difficulties with festival infrastructure.
"The issues faced by Midnight Sun Weekender echo the issues which led to the insolvency last year of the Edinburgh International Film Festival," notes Sian Aitken, a partner in CMS' restructuring and insolvency team.
Norton's views on forward planning are shared by her peer Mark McMurray, a CMS partner in planning who advises developers, landowners, investors and public sector bodies on the delivery of permissions required for major projects.
He maintains there are many economic and tourism benefits from festivals, but warns, if not planned correctly, they can cause disruption due to excess volume, put a strain on local amenities, and create overcrowding in smaller destinations.
He explains: "Quite often these events take a lot of planning, and decisions aren't finalised until shortly before the event. This can lead to the planning process being rushed or, as we have seen with the Edinburgh Christmas market previously, planning not being in place by the time the event is happening. The communities, therefore, don't feel they have been properly consulted and think their considerations aren't taken into account."
He adds: "For those running hotels, BnBs, or other hospitality businesses in the area, the event can be really positive. Organisers should work with the communities and get them involved in it, and demonstrate how they are benefiting rather than them feeling they are being impacted in a negative way."
There is also an imperative to ensure events operate sustainably, with ESG (Environmental, Social, and Governance) becoming an increasingly important issue for both performers and attendees.
Aitken believes that an event's ESG credentials are crucial to obtaining vital funding – whether from government, local authorities or cultural organisation."If you want to apply for grants, you have to increasingly show how your event fits in with things like the UK and Scottish governments' commitments to net-zero.
"In Scotland, the government and local authorities are really pushing that net-zero commitment forward; in the UK the net-zero commitment is by 2050, whereas Scotland is 2045, and the City of Edinburgh Council is 2030. As you get more granular in the locality, you will find there are real challenges around that, and so to get support from those same organisations you have to hit that brief."
Aitken also notes that recent shifts in public opinion and behavioural changes have impacted the financing of these events, particularly with the younger demographic keen to support more environmentally-friendly initiatives.
She adds: "They are increasingly engaged in ESG considerations and really want to provide support to organisations that hit their moral compass and what they believe in, and they don't want to support those that don't do that."
One way organisers can improve on this is being more innovative digitally. Norton maintains that promoters need to establish a strong local digital presence for their events, especially in more remote rural locations.
"When we talk about infrastructure, that goes beyond transport as we now need to ensure good digital infrastructure is in place or can be created," she advises.
"Arts events and festivals are a social thing so you're already focusing on the "S" in ESG by running them. Organisers can further bolster that by increasing the connectivity and make sure the social elements and that "S" are fully maximised.
"We could look at apps and digital marketing, rather than the huge use of flyers that you see so that there is less waste.
"We saw at the Commonwealth Games and Olympics the transport integrated into the ticket price so, by offering people a package, it might be more appealing to say you are paying for your ticket, travel and accommodation in a one-stop-shop. That could be more appealing both for those attending, and also for the service providers and organisers. That would need early co-ordination and collaboration between stakeholders which would surely pay off in the smooth running of any event."
And while there are issues surrounding old and listed venues, the CMS team agrees there needs to be innovation in the way venue operators reduce the cost of energy.
Aitken points to pop group Coldplay's stationary bike-powered concerts, adding: "If there were newer venue spaces or those that are a bit more adaptable, then can solar panels be used in rural areas, or can wind power be used to power events?
"You might be in an old building that is listed, so you can't put solar panels on the roof, but if you are being more engaged and measuring your usage to see where there are peaks and troughs, you can identify savings and more sustainable options.
"There is a direct financial outcome in being more sustainable. These festivals aren't set up to be a couple of year's flash-in-the-pan, they want to be long-term future-proofed, so business resilience being built into the service providers is key."
McMurray concludes: "It all comes back to collaboration and making communities feel they are a part of the event.
"If communities are supportive and feel that they are benefitting from the event, there will be an increased prospect of future-proofing these events and securing a long-term sustainable future from a business perspective."