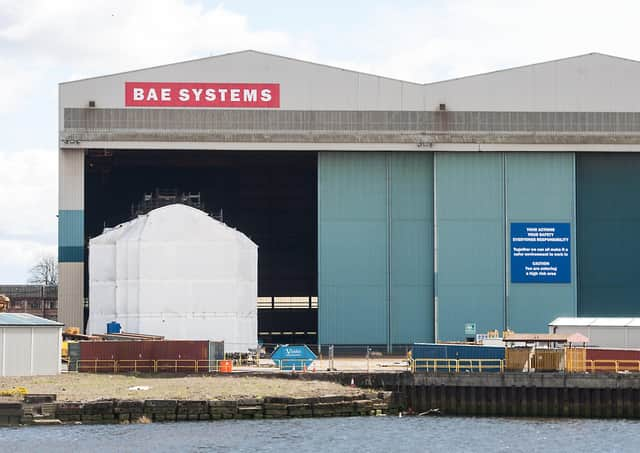 The vast majority of staff at the BAE Systems-owned yards at Govan and Scotstoun have been sent home, bringing construction of two new Type 26 frigates to a halt.
The Scotsman understands the defence giant is currently in discussions with the UK Government over whether work should resume on any of the ships in the interests of national security.
HMS Spey, the fifth and final offshore patrol vessel (OPV) to be built on the Clyde since 2014, was in the process of being fitted out at Scotstoun with a view to beginning sea trials later in the year.
The larger Type 26 frigates are being built in blocks and are at a much earlier stage of their construction.
Work could resume on a low-level, if a safe work pattern can be agreed with staff and unions.
The fourth OPV to be built on the Clyde, HMS Tamar, is currently afloat at the Govan yard's fitting out basin. It has been handed over to the Royal Navy and is due to sail in the coming week.
BAE told The Scotsman that most of its staff - with around 3000 based on the Clyde alone - were now working from home, with a small number continuing on a care and maintenance basis at the yards.
A spokesman said: "The health and wellbeing of our people is our top priority and, in line with the latest Government guidance, our UK based employees are working from home where possible.
"We're working closely with our customers to agree which roles remain essential to be delivered at our sites in support of national defence and security. We're working as quickly as possible to provide clarity and have advised employees to remain at home unless they are needed to support critical customer operations.
"We're thankful for the continued support and co-operation of our employees during this period of unprecedented challenge and uncertainty, as we all play our part in tackling this public health emergency."
The first of the planned Type 26s, HMS Glasgow, is already well under construction at the historic Govan yard.
Once the warship is floated out next year, it will be finished at the BAE facility downstream at Scotstoun.
HMS Glasgow is due to be handed over to the Royal Navy by "the mid-2020s", by which time the wider Type 26 project will be well advanced.
BAE has pumped £100m of investment into its shipyards at Govan and Scotstoun to prepare them for the construction of the first Type 26 frigates, the firm told The Scotsman last year.
The defence giant described the new global combat warship as the "core" of its naval ships division, which employs more than 3,000 staff on the Clyde alone.