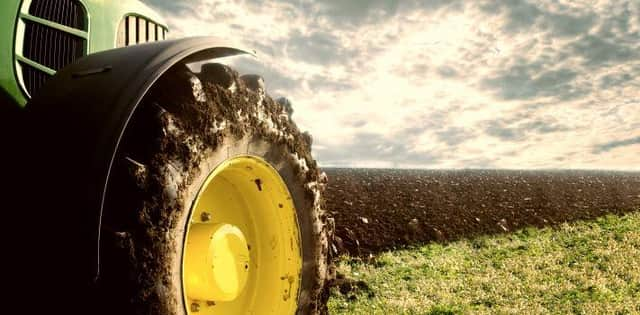 The latest episode of podcast series A Greener World Needs A Plan looks at the complex world of greenhouse gas emissions and carbon footprints in Scottish agriculture.
It finds out why Royal Bank of Scotland (and the wider NatWest Group) has put staff who deal with farmers through climate change training - to increase their knowledge and help signpost support to rural businesses.
"Farmers are incredibly astute and intelligent about these issues. They know what the environment is doing - they literally live in it," says Dr Sarah Ivory of the University of Edinburgh, who devised the training programme for 150 of the Bank's agriculture relationship managers across the UK.
Roddy McLean, Director of Agriculture for the Royal Bank, says climate change has become a massive issue for farmers in recent years. The Bank has a centuries-old record of supporting farmers and currently works with 40% of farm businesses in Scotland.
"I've been aware of climate change issues for 10 years, but it's only the last 18 months or so that it's really been front and centre," he says. "It's a challenge and an opportunity that agriculture has to grasp because of its significance.
"We are spending a lot of time and effort upskilling our managers to understand climate change so they can have positive interactions and help our customers on that journey - to help them understand what the impacts of climate change on farming businesses are, and the impacts that farming is having on climate change."
Mr McLean says the aim is to give relationship managers an "ability to speak sensibly to a [certain] level and be able to say that for more information, you can go here - rather than say 'This is what you have to do.' It's providing signposts to more in-depth, more detailed help."
Dr Ivory stresses: "We have arguments, we have ideas, we have data on what's happened in the past, but the only right answer is working with a farmer to make decisions and move forward on a farm-by-farm basis.
"Our job wasn't to turn [Bank staff] into climate scientists, or even into experts on climate change and farming. It was to give them confidence to have climate conversations with their farmers.
"Sometimes, it can feel like if you don't know everything about climate change, you shouldn't talk about anything to do with climate change. We need to change that. We need people to have enough knowledge that they feel like they've got their hands around some of it so that they can start a conversation."
The University worked with experts including Professor Dave Reay from Edinburgh Climate Change Institute, and Nourish Scotland, who provided a lot of the specialist training.
Dr Ivory says: "One of the things Nourish Scotland talked about was farm differently, farm better, and farm less. For example, you can have less cattle on your farm and that means less methane, but your monetary returns can increase or stay the same. "
Roddy McLean agrees that linking sustainability and profitability is crucial: "If you can show that link to improving profitability and financial performance, which also leads to a reduction in emissions, that is a key driver."
Mark Clark, Managing Director of Angus-based cooperative Grampian Growers, which produces potatoes, flowers and bulbs, mainly for export, says the latest generation of farmers really gets this.
"They live and breathe it and have been brought up more used to sustainability and carbon footprints and carbon audits. They also recognise that a big part of profitability in future will be about environmental standards and compliance. So it's not that it's just a nice-to-have and a nice-to-do, it's going to be really important in terms of farming incomes.
"I think as a business, Grampian Growers is in a good place in terms of being able to source information and invest in the future - but it's going to be hard work. There's no doubt about that.
"But there's a lot of things we can do. It's quite exciting really."
For more information on Royal Bank of Scotland's services to help reach climate goals click here https://bit.ly/3JEgsBc