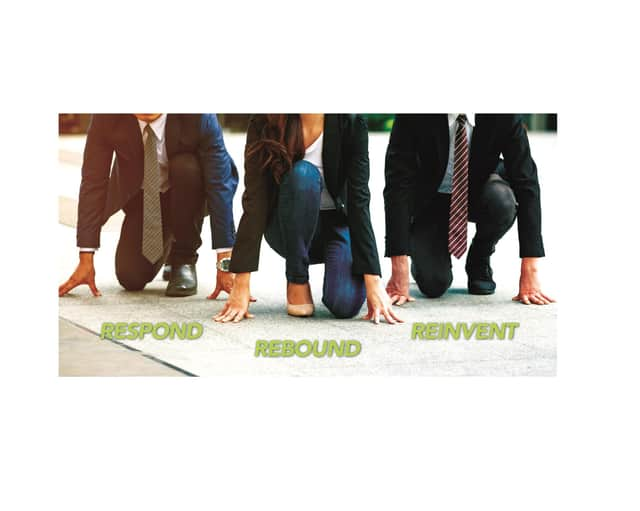 CGI believes that all organisations now need to respond, rebound and reinvent to get over the current crisis
As the year draws to a close, amid signs of hope that the impact of the coronavirus pandemic will start to ease in coming months thanks to the prospect of an effective vaccine, focus is turning to rebuilding the economy.
Covid-19 has brought about unprecedented change with people adjusting to the 'new normal'. It is clear that ways of working have been transformed and many of the shifts in behaviour provoked by the pandemic, including the move to remote working, look like they are here to stay. Digital services, such as online meeting platforms, are now commonplace, and businesses are unlikely to rush back to encouraging employees to travel to face-to-face meetings if remote alternatives are available.
Global IT and business consulting services company CGI believes that all organisations now need to respond, rebound and reinvent to get over the current crisis. These three 'R's are the watchwords identified in a comprehensive white paper recently published by George D Schindler, CGI's president and chief executive officer.
So, how can businesses successfully respond, rebound and reinvent themselves? In the white paper, Improving Business Agility in Unprecedented Times, CGI puts forward answers to this question by proposing a wide-ranging framework for tackling the adverse effects of the crisis and saving the economy – with agility at its heart.
The white paper states: "Unprecedented challenges and opportunities face all industries as they navigate through the global pandemic. What is required to respond, rebound and reinvent in the midst of massive change? Agility."
This need for agility was identified in CGI Client Global Insights, an annual consultative conversation where leaders from the organisation meet with business and IT executives around the world to gather their perspectives on the trends affecting their organisations.
CGI conducted 1,500 consultations before and during the pandemic to discover what capabilities effective leaders need to chart a path through the choppy waters of coronavirus.
Schindler explains: "Businesses are now having to try to deal with the economic fallout caused by the worst health crisis in over 100 years. And in terms of what differentiates effective leaders from their peers when dealing with a crisis, the defining characteristic is that they are more agile.
"Organisations that are outperforming and delivering results invest heavily in innovation management and business agility. As a result, they are in a better position to move quickly in the face of significant economic, market and business changes."
He says that organisations must continue to embrace new ways of working to mitigate the impacts of the pandemic. But CGI's analysis shows that many businesses have a long way to go. While executives placed business agility as the third most important business priority this year, only 18 per cent say their business is highly agile.
"With CGI research indicating that organisations with high business agility outperform their peers by a factor of two to three times in terms of revenue and profitable growth, it's clear that more companies need to focus on increasing their agility to get through these difficult times," adds Schindler.
Along with business agility, CGI has identified a need to rethink the technology supply chain, and a proactive approach to the future of work – for example though more engagement in STEM subjects and ongoing staff skills development – as the other two vital components of responding, rebounding and reinventing. All three elements rely on technology-led adaptation, according to CGI.
"Agile organisations will be adopting new ways of working remotely and digitally, adapting their business models, developing new products and services, collaborating with a wider ecosystem of suppliers, leveraging online channels and pursuing alternative distribution chains," says Schindler.
"We have seen many of these changes made within a very short time, when previously they would have taken months and years to implement. Having a high level of agility has never been more important."
Lindsay McGranaghan, vice-president of CGI in Scotland, is encouraging businesses based in the country to take advantage of the insights outlined in Schindler's report.
She says: "Everyone agrees that 2021 will be the year where we need to rebuild our economy. That is why the agility of businesses to adapt and change is vital. To achieve this, leaders must invest in their work cultures, their operating models and also their technology."
CGI's white paper sets out the specific ways leading organisations are responding, rebounding and reinventing in agile ways to overcome the impacts of Covid-19. It is advising all businesses to consider how they can take the same approach as these leading organisations to recover from the pandemic.
Firstly, as part of the response phase, businesses should strengthen digital sales channels and adapt operating systems.
Schindler says: "During the pandemic, digital sales channels have become the lifeline for obtaining goods and services. Before Covid-19, many organisations had shifted or were shifting their business models from a physical presence to a digital online model. However, others faced challenges in aligning their online capabilities with demand, exposing performance and scalability challenges. For a few, moving online was altogether a new venture.
"Strengthening digital sales channels in an agile style is now an imperative and will remain so even after this crisis passes."
CGI has pinpointed a number of actions for the response phase. These include simplifying offerings and the customer experience; reducing frontline employee tasks; focusing on critical data only; ensuring a safe, trusting culture; moving decision-making closer to the customer; expanding ecosystems; optimising cash reserves and increasing operational reporting.
In the second phase – rebounding – CGI's advice to businesses is to reinstate 'normal' operations while pursuing new opportunities.
"Those with strong agility, collaboration and innovation management will reinstate some operations, but will also look for new opportunities," explains Schindler. "They will tune into external signals and pursue new products and services, as well as new ways of operating."
He goes on to warn that other less agile organisations wanting to return to business as usual will struggle to re-establish their operations because of the enduring impact of the pandemic, particularly when it comes to cash flow.
To get over such barriers, CGI recommends that businesses introduce new agile ways of conducting business. This will enable them to focus on such things as adjusting their operating models; evaluating their business models; leveraging new channels and networks; repositioning brands, products and services and building resilience into their operations.
Thirdly, businesses need to look at reinventing themselves – partly through the effective use of digital technology – to emerge stronger from this crisis.Schindler explains: "It is becoming clear that the world will be different – not only in terms of how businesses reinvent themselves, but also in terms of how we view the world and shape its future.
"Post-pandemic, digital technology will emerge a winner, with companies relying on digital channels, remote working and digital collaboration tools more than ever."
The massive shift to working from home that occurred virtually overnight at the start of the UK-wide lockdown in March has proved more successful – for example, in terms of productivity – than many organisations would have expected. As CGI says in its white paper, this is leading company leaders to ask the question, "Why have we not been working like this all along?"
And once again it will be spry leaders who will be the driving force behind business reinvention. "Agile leaders will leverage their innovation management practices and agile operating models to reinvent their business at pace," says Schindler.
"We will see these leaders move even further ahead of the competition with superior products, services, experiences and operations. Less agile organisations will struggle to balance available resources and priorities."
And CGI has a stark warning for those businesses that lack agility: "We will see them limp along, or even shut down under the weight of recession".
Rather than accept this undesirable fate, CGI says that businesses can build agility by using technology to improve their insights, support innovation and collaboration, automate operations and develop new digital products and services.
It explains that technology should be used in different ways in each of the three phases of recovery to underpin more agile ways of working.
In the respond phase, organisations should implement a rapid agile start-up approach. The white paper says: "Have an experienced scrum team assess the current state of each domain and build a backlog of sprints for each. Each sprint will then deliver capabilities dynamically and agilely, while ensuring quality and a superior user experience."
For the rebound phase, businesses should ensure dynamic product development as they reposition themselves post-pandemic.
And in the re-invent phase, the focus should be on a lean, agile approach as business prepare themselves for future growth, which may require transformation.
Schindler adds: "Many leading organisations have been on this journey to agility for a while, which has not only helped them to respond the pandemic, but will enable them to rebound and reinvent for the future."
McGranaghan concludes: "As well as investing in work cultures and operating models, effective leaders in Scotland must spend time evaluating and adjusting how they work to cope with the constantly changing demands on their organisations that a health crisis like Covid-19 has brought.
"If businesses are willing to enable the latest technological developments to assist their strategies, embrace innovation and automation, and adopt alternative distribution chains, they can gain the resilience they need to thrive in our 'new normal'."