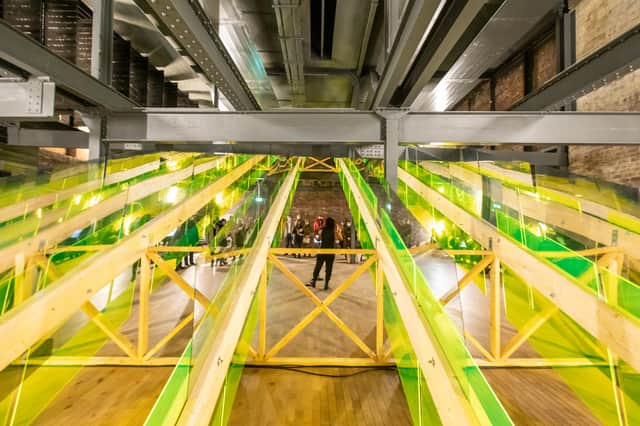 Fruitmarket Gallery. Picture: Chris Scott
A call is now going out to data specialists who can solve a range of challenges set by these leading cultural groups that have been chosen by the programme, a partnership between the University of Edinburgh, Edinburgh Napier University, Codebase and Creative Edinburgh to support individuals and organisations in the region to do inspiring things with data.
The six 'Challenge Projects' taking part in round six of the programme are: Anarkik3D, Edinburgh Festival Fringe Society, Fruitmarket, SkyShows Aerial Ltd, South of Scotland Enterprise and Traverse Theatre.
To help progress the activities of these organisations, Creative Informatics is looking for individuals or SMEs with the skills to work with them to overcome specific obstacles using data and data-driven technologies. The successful 'Challenge Respondents' will receive funding of up to £20,000 and will benefit from being able to retain all or part of the intellectual property for their work, letting them commercialise any products or services they develop.
Traverse Theatre. Picture: Lara Cappelli
Professor Chris Speed, director of Creative Informatics, said: "We are delighted to be working with six diverse organisations across Edinburgh and South East Scotland for our latest round of Creative Informatics Challenge Projects. Our new Challenge Holders are looking to harness the power of data and data-driven technology in a variety of ways to take their work to the next level and develop new experiences for their audiences, visitors and stakeholders.
"We're now looking for individuals or small and medium sized businesses that have the skills to provide solutions to these data-driven challenges. I am looking forward to seeing these projects unfold over the coming months and hope they will inspire other creative individuals and organisations to take advantage of Creative Informatics' funding and development opportunities."
Looking in more detail at each of the Challenge Projects, the diversity of their activities shines through. Edinburgh-based Anarkik3D, a micro software development company, would like to explore the potential of virtual reality (VR) to enhance their 3D modelling programme Anarkik3DDesign.
The challenge is to combine its design software with VR technology to create an interface that provides users with a more immersive experience. The aim is to offer a VR product that is affordable for artists, designers and makers.
Edinburgh Festival Fringe Society, the charity behind the world-renowned Edinburgh Festival Fringe, is looking for a Challenge Respondent to create a platform for capturing, collating and sharing as many Fringe reviews as possible from the multiple channels used by amateur and professional critics.
This new platform will also provide a range of data insights, enabling the Fringe to better support a multitude of media outlets, artists and audiences.
Fruitmarket, a free, public space for culture in the heart of Edinburgh, wants to explore how demographic data gathering can be conducted in a more inclusive and identity-positive way.
Its challenge is to establish a new approach to capturing visitor data that celebrates the varied characteristics of the people that engage with its space.
SkyShows Aerial in Edinburgh is developing state-of-the-art drone light shows with the ambition of becoming the first company in Scotland to offer a package that meets the rigorous safety standards of the UK's Civil Aviation Authority. Its challenge is to develop swarm management software that can define a flight-path for each of its 200 SkyFire drones and synchronise lighting programmes.
South of Scotland Enterprise (SOSE), the economic and community development agency for Dumfries and Galloway and the Scottish Borders, wants to develop a platform or mechanism to let people who engage in creative and cultural activities give feedback on their experiences
in a fun way. It's looking for a Challenge Respondent that can help them to develop an Index of Wellbeing.
Traverse Theatre in Edinburgh, Scotland's leading new writing theatre, has committed to cataloguing and digitising its extensive archives in an accessible way, ahead of its 60th anniversary next year.
Traverse's challenge is to create an online interactive experience.
To date, Creative Informatics, part of the City Region Deal Data Driven Innovation initiative, has invested more than £2 million in the creative industries across Edinburgh and the south east of Scotland.
The application deadline for Challenge Respondents is Friday, 11 February at 5pm.
Visit the Creative Informatics website to view full details for all the Challenge Project listed above.
A message from the Editor:
Thank you for reading this article. We're more reliant on your support than ever as the shift in consumer habits brought about by Coronavirus impacts our advertisers.
If you haven't already, please consider supporting our trusted, fact-checked journalism by taking out a digital subscription.