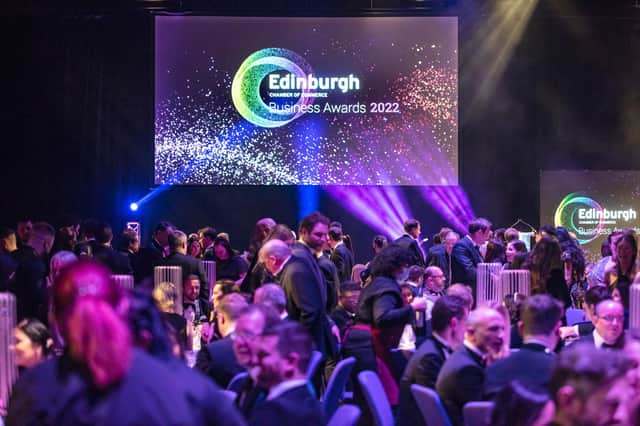 One of the most recent, by law firm Irwin Mitchell, saw growth of 1.1 per cent in the size of our economy by the final quarter of 2023 – the highest growth of any place in Scotland.
And it is the Capital's diverse, knowledge-based economy that drives the resilience which will see a speedier recovery from the difficulties of the next few months.
The innovation and resilience of our businesses drives our economy, and that is why it is tremendous that on March 9 we will celebrate their successes at our annual Edinburgh Chamber of Commerce Business Awards – one of the biggest and best attended business awards in the city with 550 leaders and influencers attending at the EICC.
Our theme for the 2023 event is Think Local, Act Global. Edinburgh is home to many world-renowned brands and companies, and they bring huge investment to the city, as well as making it an attractive place to live, work and visit.
In challenging times, there is an opportunity for us to be bold. Whilst the natural inclination may be to continue with business as usual, we have the chance to truly grow our economy by thinking different and acting global. Entering new markets, forming new relationships overseas and building global brands will bring enormous opportunities.
As ever, the business community has been hugely engaged and supportive with more than 155 entries hitting a record level. In particular, there is enormous competition in categories that demonstrate the wider value businesses bring – such as Responsible Business, Inspiring Partnership, and Net Zero Champion. It is also interesting to note that we have had our highest number of entries for the four years in the International Business category.
Keynote speakers for the event are being announced this week.
The shortlists for the 15 categories have been filled, and these include:
Business Fives; Digital Bricks Learning; Rationale; Zero Consultants; Doubletree by Hilton; Muckle Media; Narro Associates; Specialized Signs; SoConnect; Studio LR; Edinburgh Trams; Jacobs; Leonardo; Lumo; The Royal Zoological Society of Scotland; Edinburgh College; Hillcrest Homes; Into Work; The Black Box Approach; Tidy Green Clean; Bad Dinosaur; Dovecot Studios; Dishoom; Edinburgh Dog and Cat Home; Scotch Whisky Experience; When You Wish Upon A Star; DWF; Edinburgh International Festival; Forth Ports; Skanska; Capella Charity; Mott Macdonald; Tata Consultancy; City of Edinburgh Council; Edinburgh Festival Fringe Society; Edinburgh Napier University; Edinburgh Playhouse; Heehaw; Caritas Neuro Ltd; Resident Rewards Edinburgh; Places Work; Royal Bank of Scotland; Surgeons Quarter; Luxford Burgers; Mediaworks; Balfour Beatty; Edinburgh Science; The Alchemist; Appointedd; Strawberry Lemonade Events; Summerhall Distillery
Capital City Partnership/British Land; Changeworks/Scottish Federation of Housing Associations; Cyrenians/Essential Edinburgh; Edinburgh College/Cadpeople; Edinburgh Napier University/Newborns Vietnam; RHASS/Royal Bank of Scotland
Director of the Year: Cammy Sharif; Clare Lavelle; David Field; Nicola Welsh; Rowan Morrison; Saj Sharif
Young Business Person: Chris Batchelor; Cammy Sharif; John Wright; Khalid Hussain; Nicola Mearns; Sean McKirdy
Emma Reid, Head of Engagement and Marketing, Edinburgh Chamber of Commerce