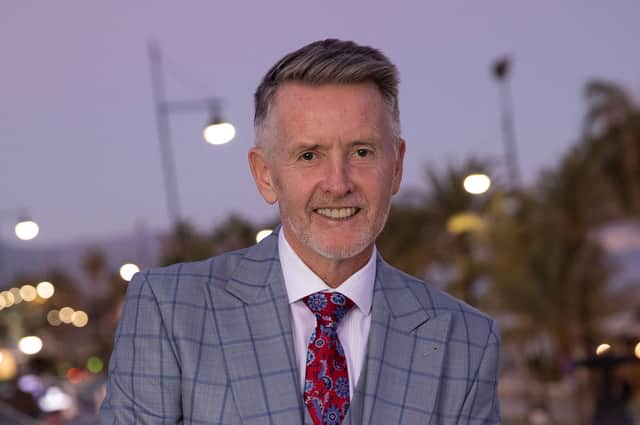 He is also an investor-director with compressor specialist Vert Technologies, chairman of IT firms Miigen and thinkWhere, and co-owner of Tiger Industries. His CV also includes key spells at Weir Pumps, research and development tax specialist Jumpstart, and HR firm Brightwork – and he was in 2017 awarded an honorary doctorate in business administration by Glasgow Caledonian University.
You are a veteran of five recessions – and have highlighted how crisis provides opportunity for businesspeople to be creative and innovate to solve new problems. Can you explain more about this?
Often the status quo can lead to stagnation, where companies vie for market share in a never-changing world. A crisis creates a disturbance that uncovers problems and challenges and often a change to legislation. In the current crisis, the new way of working put the spotlight on to personal protective equipment (PPE).
Many companies pivoted into manufacture of PPE in several days – a process that prior to Covid would have taken at best several months. This taught many firms that innovation is latent in a business and there is no need to wait until there is a crisis to uncover it.
You are chairman of 4icg Group, which last year announced major global expansion ambitions. How have these been affected by the Covid-19 pandemic? I guess there are no imminent plans to send Pursuit Marketing staff to Tenerife again any time soon…
Each of our three group companies has been affected in different ways. Our digital business, Fierce, helped local businesses in the hospitality sector move online, with some marketing, landing pages and an online payment platform linked to a delivery network.
The Software Advisory Service proved robust. We give free advice and guidance to people buying software and technology products and help the suppliers of these technologies gain market access. The overall business took a slight dip, but the biggest change was in the mix of buying transactions. There was a 70 per cent drop in demand for large enterprise software solutions but an enormous rise in both remote working solutions and security software.
In the direct marketing side of the group, Pursuit Marketing, we were much busier than we expected. The large technology businesses did hit the pause button in the early stage, which forced us to look at our staff resource and we had no option but to furlough some people. However, we managed to secure a Covid-19 project, which was essential work and a great bridge getting us over the most difficult of times.
As for Tenerife… we have always looked at innovative ways of making our staff feel valued.
What attracted you to the firm?
The founders and board were all solid, hard-working individuals who knew their market inside out. They had some of the biggest and best companies as customers – Google, Microsoft, Oracle – and were always pitching for new big tech additions. Every other month another tech giant became a customer. I liked that also. They felt I could help, and I knew I could because of my experience. They were extremely fast learners.
Additionally, you're an investor-director with Vert Technologies, chairman of Miigen and thinkWhere and co-owner of Tiger Industries. What led to your involvement in these firms – and how you balance your duties?
Although I am a mechanical engineer by profession, Vert was the first mechanical engineering business in which I invested. I liked the technology, and the recently reshaped board, so one of the cornerstone investors, Equity Gap, asked me to be their investor director, looking after the interests of their other investors.
During a charity climb of Mount Kilimanjaro I talked to my fellow climbers about various things, including the legacy we would leave. Einstein said you can live in eternity through the knowledge and wisdom you pass to subsequent generations.
That thought came back to me when I met a fellow entrepreneur and friend Craig Lemmon, who co-founded a business called Miigen with my old school chum and basketball player Campbell Ferrier. That's when I realised Miigen was the vehicle in which to leave that legacy. I invested and took over as chairman. I have known thinkWhere for years. They were looking for a chairman to take them from public ownership and into private hands.
Tiger Industries is a consultancy that supports individuals selling their business. It identifies strategic buyers. The world of business sales is often populated by the professions and that can be daunting for the business-owner. We act as a bridge, making sure they achieve their own personal goal, financial or otherwise.
Spreading time between companies can be a challenge. It is a bit like having a big family – if they all get ill at once it can be full-on. Covid did mean I was really busy. My approach has always been to devote the time each company needs. This is not always easy, however, as I view my fellow directors in each company as friends and I would rather do what I can for them even if occasionally I have to sacrifice a lazy night by the fire or part of a weekend.
Having had a lot of success, for example with Brightwork and Jumpstart, which of your achievements are you most proud of?
That is a difficult choice because Brightwork produced great returns for the shareholders not only in the exit but throughout the 11 years from start to finish. That was with an established board and management team that did have a head start, buying a business with revenues of £4 million. But they grew that to £38m, which was a fabulous achievement. However, they did all the heavy lifting, so more credit to them than me.
I have to say I am most proud of Jumpstart because this was a business that started as the 2008 recession hit, had no money, no access to debt and investors were all studying their existing portfolio companies to rescue what they could. The business model was such that we got paid nine months after starting work, so it demanded an innovative way to fund normal growth, never mind high growth.
Despite this, within two years we were the fastest growing SME in Scotland from 2010 to 2013. We secured £3.4m of investment shortly thereafter and, five years later we secured a successful exit. I am proud of doing all that with limited resources.
You've also highlighted difficult times – what did you learn from these and were they more formative for you than your high points?
I believe there are only two outcomes in life: success and learning. The deepest learning often comes from mistakes where the pain is greatest. It was painful when I almost lost everything I owned in 1997 and my lesson came from Sir Tom Hunter's advice (which I obviously ignored) to never bet the ranch. I never thought I was betting the ranch, but one contract almost ruined me.
However, the big challenge in life happened five years ago this week when, after a routine exploratory operation, my surgeon Paul said: "I don't need to see the biopsy, Brian, you've got cancer." He added: "It's operable, but let's not go there until we find out how far this has spread." The lesson I learned over the three weeks it took to find no other cancers existed was one I still remember most days.
I realised there was only one destination in life and that was death, Everything else is a journey. So, I make sure every day I am enjoying my journey. My passion is business so I only get involved with people and businesses I like and in which can make a difference.
You knew from an early age that you wanted to be in business – which other entrepreneurs do you admire?
As the son of a waitress and foundryman born into a tenement flat in Stirling, I do like the rags-to-riches entrepreneurs, and Sir Tom Hunter stands out there. Selling trainers from the back of a van is one thing but to take that concept and do what he has done is really extraordinary.
Like him or not, [Facebook boss] Mark Zuckerberg has taken a business from the spare room to the stock market and beyond. I admire that skill and talent.
You studied engineering – what attracted you to this?
I wanted to be a PE teacher. However, my dad was in engineering and I was offered a job that would sponsor me to do engineering at Glasgow Caledonian.
Looking ahead, what would you like to achieve over the next 12 months?
In business, to help 4icg expand into more overseas offices and be dominant in Europe. I want Miigen to be well on the road to a million users, thinkWhere to be taken into private hands, and Vert to secure its final investment that will take it to exit. Personally, I want to learn new skills, continue to exercise every second day and spend time with my wife inspiring the kids and grandchildren to be anything they want to be in life.
A message from the Editor:
Thank you for reading this story on our website. While I have your attention, I also have an important request to make of you.
The dramatic events of 2020 are having a major impact on many of our advertisers - and consequently the revenue we receive. We are now more reliant than ever on you taking out a digital subscription to support our journalism.
Subscribe to scotsman.com and enjoy unlimited access to Scottish news and information online and on our app. Visit https://www.scotsman.com/subscriptions now to sign up. By supporting us, we are able to support you in providing trusted, fact-checked content for this website.