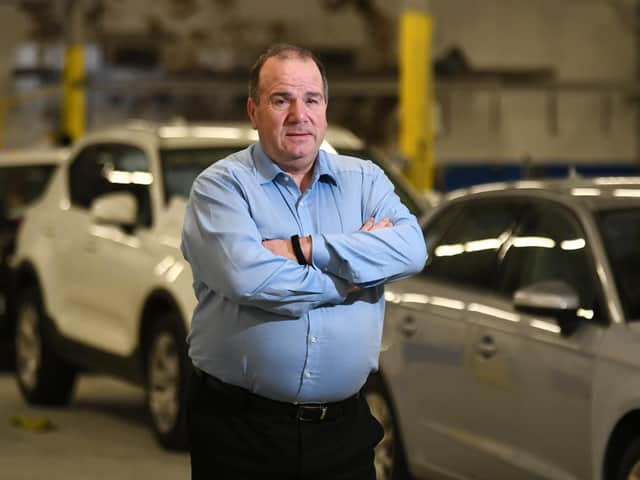 If you come into the schools in Possilpark, the thing thats missing is the ambition, says Facenna. Picture: John Devlin
The co-founder of the family-owned group, which claims to be the largest UK-owned vehicle manufacturer, putting out some 6,000 vehicles each year, is keenly focused on keeping jobs in Glasgow – even though exports to Europe are on the rise and Brexit preparations have necessitated setting up a Polish subsidiary.
"We've set up a Polish company, a Polish bank account and we've been talking with Polish commissions and agencies about opening a factory there, just for Europe, which would be sad because I'd rather keep the jobs here," he says.
"European cars are a small percentage of what we do. I'd rather ship the cars in, convert them here in Glasgow and ship them back, like we do now. But if there's going to be big duties at the border we would need to keep the European cars in Europe and get them converted over there."
The car manufacturing group was established by Gerry and his brother Michael in the early 1990s. The pair, who are also directors and co-owners of Glasgow Tigers speedway team, inherited their family's car sales and repair business in 1965 – still in their teens – after their father passed away, leading the company up to the end of the 80s when the effects of the recession brought the business to its knees.
The Facennas went on to establish a taxi repair venture in 1990 with a loan from their sisters, setting up shop with a team of six. Allied now turns over £155 million a year with a headcount of more than 700 – the vast majority of these staff at its manufacturing and administrative headquarters in the north of Glasgow. Facenna, whose son Peter is now managing director, jokes that the building is like the Doctor's Tardis, with a more modest front disguising the "massive" campus through its doors.
The group has blossomed to supply around 45 per cent of the UK's accessible vehicles, and sprouted multiple branches such as Mobility Superstores, which offers assistive living aids for older and disabled people. It also provides a full range of automotive after-sales services, including service and maintenance, accident repair and nationwide parts distribution for the likes of Peugeot and Vauxhall, while supplying special-purpose vehicles to private and public sector customers throughout the UK and, increasingly, in continental Europe.
Launching in Europe around 18 months ago, at a potentially challenging time due to political uncertainty, was a risk that seems to be paying off, while driving home the value of British-made goods.
Facenna recalls: "There was an opportunity because of where the pound was against the euro. It was very cheap. That's changing slightly and the tax, depending on what the duties are for these vehicles, might kill that market, but we're ready for that.
"One thing I notice going to Europe is that other countries make it very difficult for us to go over there and sell in their market because they want to protect their own manufacturers. We don't do that here. I think there's a lot of opportunities in Scotland and the UK – we buy fire engines and ambulances abroad, can we make them here? China-produced stuff is getting more expensive and the quality is not there. The work ethic in Scotland is terrific compared with some of the places you go elsewhere."
Allied has around 40 sales staff dotted around the UK and three on the Continent, but doesn't yet have offices overseas. Recent expansions have included an initiative supplying modification equipment to a company in Mexico, which then assembled the accessible vehicles and sold them on to the local market.
There's potential for this to solidify into a more concrete joint venture, possibly supplying throughout North America "as long as Donald doesn't put his wall up! We were nearly there with doing something when he got elected so we thought we'd best wait and see what happens," says Facenna. Tie-ups such as this provide further possibilities for tapping into markets further afield, with Allied having stamped its mark firmly in the UK, which is a leading worldwide market for accessible vehicles and other support aids.
From the roads to the racetrack, and beyond
Its growth in the domestic market has benefited from the Motability Scheme, a charity that funds and operates the biggest fleet of accessible vehicles in Europe, with more than 600,000. The scheme – with Barclays, Lloyds TSB, HSBC and the Royal Bank of Scotland – helps with leasing or buying a car, powered wheelchair or scooter to be used by those with disabilities or their carers. There is currently no equivalent on the Continent, and no competitor of a size to rival Allied.
Aside from widening its overseas footprint, the group is pushing ahead with product development and is in talks with competitors based in England. "We're doing all we can do to grow. This year we've started building 15 and 17-seater minibuses thinking that we'd build two or three a week and now we're doing 15 a week." Facenna adds that the firm is currently "looking at two or three competitors down south".
The entrepreneur's ambitions extend beyond the boardroom and on to the racetrack. Facenna is actively engaged in community education and sports initiatives, having bought Glasgow Tigers Speedway and Ashfield Juniors football stadium in 2014 (the Facennas were brought up in Ashfield Street and their father's first business was Ashfield Motors). He has insisted on multiple occasions that the venture is about giving something back to the community, and not about turning a profit.
"It runs at a loss but we bought that to put something back into the community, spent £3 million refurbishing an old stadium and we saved a football team that's been there since 1886. But every year it costs us about £300,000 to run and we need more people in Glasgow to come and see it to save it. And we're getting there – we halved our losses last year and we're attracting more people. Who needs a Celtic v Rangers game when there's Glasgow [Tigers] and Edinburgh [Monarchs]?"
The team's academy hosts several hundred children and Facenna has pledged that "the minute" the Speedway club starts being profitable that will go back into the community. He is also backing Primary Engineer Programmes, an initiative to help young people engage with engineering and consider a career in the sector. Facenna is keen to hit as many schools as possible in the local area, recalling how several years earlier an 11-year-old boy from Inverness designed an electronic trolley to help his granny with her shopping. The innovation is now in the Glasgow Science Centre.
"If you come into the schools here the thing that's missing is the ambition," he says. "And that's what we need to change to get them in employment. For me it's two things: sport, get them out the house into sport; and work, get them into apprenticeships."
He describes a school visit where Allied's production manager came over to talk to the children. "The kids were asking 'Who's that woman?' And I said, 'That's the big boss. See these 150 or so men, that's who's in charge'. And you could just see this wee girl's eyes lighting up, thinking maybe that could be me one day."
Allied recently invested nearly £1m in a new customer relationship management system which will help to "drive new ideas and ventures" and is currently introducing its first robot as part of the production line. A great idea can come from anywhere, Facenna believes, but the knack for having one is something that can't be taught.
He says: "We just come up with different ideas and spot niches that aren't being served properly. Touch wood the bulk of it has all worked. We've got a few ideas men over here. These people can't go to university and get a degree in it – they're just born with it. Each quarter we'll get the parts boys, valeters, everyone in for a meeting and brainstorm. We also have a 'What if' box for suggestions from employees and if we use it they get £50, and the best one of the end of the quarter gets a holiday abroad with his wife."
The target for 2020 is to boost turnover by 10 per cent – a growth margin achieved last year – which would see group revenues rise to around £170m. Facenna is banking on his team, who he credits with the bulk of Allied's success.
"It's really all about the staff," he says. "It's having great people around you because this is not just an individual effort. It's a family business and a lot of our staff have been here for a long time. We've got three 76-year-olds who I just can't get to retire. They're first ones in in the morning as well. One of them tried retiring and came back because he hated it.
"People want to come and work here and that's our goal: we want to be a first choice employer. The kick we get from this is bringing manufacturing back in Scotland."