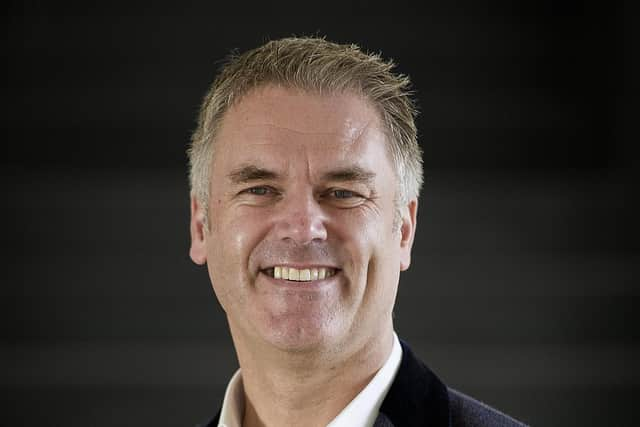 Neate previously spent 18 years with Guide Dogs UK as a guide dog mobility instructor. Picture: contributed.
Gavin Neate in 2011 founded Edinburgh-based Neatebox, which aims to make society more inclusive by developing solutions to address challenges that people with disabilities face every day. Its Welcome app, for example, is designed to improve the interactions between customer service teams and disabled people, aiming to end "arrival anxiety".
Welcome is already used in various venues across the UK, ranging from banks and offices to galleries and hotels, and Neatebox said last week that it is offering the service to supermarkets for free during lockdown to help disabled shoppers. Neate previously spent a decade with the Royal Air Force, before embarking on an 18-year career with Guide Dogs UK as a guide dog mobility instructor.
Why did you decide to set up Neatebox?
The Welcome app is already used in UK venues including galleries, hotels, banks and offices. Picture: contributed.
It was a means to an end, really. I felt that if I didn't address the problem of the disabled crossing roads safely, then no-one would. I was working as a mobility instructor for Guide Dogs for the Blind and I was aware that my clients were using smart technology for all sorts of things. I started thinking about how that could be used to solve other problems disabled people faced in their day-to-day lives.
How would you describe what the business does?
Initially, I just wanted to use a smartphone to automatically trigger the button at a pedestrian crossing. Finding and pressing the button is harder than you might think for the disabled. The idea was to make it easier and safer for all disabled people to cross the road.
I solved this problem with Button, the world's first smartphone-activated pedestrian crossing, which is now used in several locations around Scotland. I was surprised to find that I could influence society and make such a positive difference to the world with my ideas.
I had always thought that innovation and entrepreneurship was preserved for experienced and high-profile business people. The success of Button led to an awakening that I was perfectly positioned to use my personal drive alongside my knowledge of disability and technology to create a whole new generation of digital solutions.
Welcome was a natural extension of Button. As a user approaches a building, the building "knows" they have arrived and venue staff are trained to know how best to interact with them.
What does your role entail?
My role, although you could call it sales, is actually more evangelism, with sales being a by-product. The truth is that when you really, truly believe in something, it's impossible not to sell it just by talking about it. Yes, you need to have an understanding of your audience's need, but ultimately it is articulating this passion that is my primary role and where I can deliver the most value to the company.
My greatest skill was understanding very early on the old business adage that I needed to surround myself with people "better than me".
How did your career progress before this?
I was massively happy as a Guide Dog mobility instructor and could easily have spent the next 25 years there. It's an amazing job. I travelled the world, learning about other countries' work in visual impairment, and at one point even found myself in Croatia for six months, training dogs in a different language.
I literally had no intention of launching a company and running my own business, but Neatebox is more of a calling than a choice.
In February, Neatebox was selected as one of the ten winners of Tech Nation's Rising Stars – how significant a development was this and is it the most pivotal moment so far?
Rising Stars is an amazing competition and winning it has already created opportunities, including an invitation to join Google's Immersion Programme.
But there has never been one moment that has made us, rather it is our ability to stay the course, confident we know what we want to achieve. We put ourselves out there and are consistent in our message and vision, remaining open to any opportunities that come our way. You can't fake integrity and you can't beat hard work.
What impact is Covid-19 having on your business?
Covid-19 is dreadful. It is affecting so many people we know personally, whose lives would be very much in danger were they to contract it. Our apps are designed to support the most vulnerable in society, but with everyone now being vulnerable, our solutions are proving to be an imperative for us all.
A contactless automated button press, which helps people cross the road and open doors, means a virus-free button and door for everyone. The implications for society and for Neatebox are extraordinary.
This proves that when you design for disabled people, you design for everyone. And how fantastic that a disabled access door, created for what some might say is a niche demographic, becomes accessible for everyone. This is a great leveller and surely the future of design-led solutions.
What feedback do you get about your technology from users – individuals and/or organisations?
This is possibly our greatest achievement. By placing user needs at the very centre of interactions, we empower disabled people to be masters of their own destiny.
Historically, the disabled have had things "done for and to" them and this had to change. Disabled people don't want handouts, they want equal opportunity.
Just a few days ago I was contacted on Twitter by a blind gentleman from Cambridge. We discussed both Welcome and Button and he wrote back: "Awesome. Just played the video and the other functions of the Welcome app are amazing. That is something I always dreamt about when going to a place that I'm not entirely familiar with."
He is just one of the people whose lives we are changing. Kim, a powerchair user, said: "I used Welcome and for the first time people ignored my carer, they were talking to me."
This is the stuff that makes me tick and is compounded when a customer service person learning to use Welcome says: "Wow, I felt so nervous before but now I'm buzzing as I know I was doing it right." You can't beat knowing you are solving a problem for not only the disabled person, but for the companies they engage with.
More broadly, how significant is tech in revolutionising disabled people's lives?
The greatest revolution is the one that has been going on under the radar for at least ten years. It is the ability for disabled people to reach out to each other and share experiences and thoughts. I have seen more intelligent conversations regarding disability on disability support groups than I ever saw as a member of a charity and it is this self-empowerment that has and will continue to change the world.
Tech only works when it directly addresses a problem. There is too much "tech for tech's sake" and means it often does not reach the people it could help the most. Too often, we develop a technology and then think, "I wonder what I could use this for" instead of "I've got a problem, I wonder how I could best solve it".
What is the biggest challenge for Neatebox?
Our biggest challenge has always been helping people to see that something could be done better. When steam trains came along, people still argued, "but my horse is faster".
We dared to innovate. We saw that pedestrian crossings weren't fit for purpose, we saw that traditional staff training wasn't working, but others didn't. Our greatest challenge has always been educating others that innovation is needed and bringing them with us.
Over the years, that process of education has worked and at the same time disabled people have become increasingly vocal in demanding equality and opportunity. As society comes round to the growing need for disabled services, our need to educate is reduced and our need to market our solutions grows. Our biggest challenge today is growth and the ability to help as many people as possible.
You officially launched Button and Welcome about three years ago. Where would you like the business to be in three years' time?
I would like to see our apps used in every city and town throughout the UK so that the disabled are able to explore their world safely. And of course, sadly, we are now all too aware of the risk of infection. Our technology has the potential to de-risk hotspots for contamination, the buttons on pedestrian crossings and automatic door handles.
I hope that we can in some small way help everyone – not just the disabled – access streets and buildings safely. True success is societal, so if you ask me what I want for my company, I want it to influence societal growth and promote equality by default for all.
A message from the Editor:
Thank you for reading this story on our website. While I have your attention, I also have an important request to make of you.With the coronavirus lockdown having a major impact on many of our advertisers - and consequently the revenue we receive - we are more reliant than ever on you taking out a digital subscription.Subscribe to scotsman.com and enjoy unlimited access to Scottish news and information online and on our app. With a digital subscription, you can read more than five articles, see fewer ads, enjoy faster load times, and get access to exclusive newsletters and content. Visit www.scotsman.com/subscriptions now to sign up.
Our journalism costs money and we rely on advertising, print and digital revenues to help to support them. By supporting us, we are able to support you in providing trusted, fact-checked content for this website.