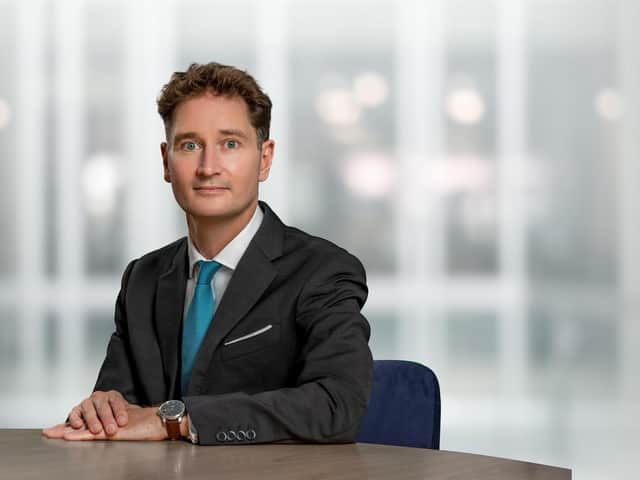 Were helping to navigate through an unprecedented and uncertain period, says Brodies' Nick Scott. Picture: Contributed
Law firm Brodies notes that its story is "rooted in Scotland during an era of Enlightenment when leading Scots thinkers helped to shape the modern world".
A major player on Scotland's legal scene, it can trace its history all the way back to 1739, when Thomas Brodie of the Brodie family of Lethen was admitted as a writer to Her Majesty's Signet.
And the firm in August of last year unveiled a rebrand focused on "Enlightened Thinking".
Managing partner Nick Scott said at the time that the concept "captures the shared story of our firm and symbolises the knowledge, ideas and perspectives that our colleagues apply to their work, to create new solutions and insights that are uniquely suited to each of our clients".
Scott has been in the driving seat for nearly two years, tasked with navigating the firm through both a highly competitive legal sector and political and economic slings and arrows.
While our conversation takes place before the escalation of the coronavirus outbreak, he last week provided an update. "For our clients, we are helping them to navigate their way through what is an unprecedented and uncertain period, by providing informed, relevant thought on the various implications and challenges that coronavirus presents for their businesses.
"As for Brodies, we remain open for business for our clients and colleagues. Our primary concerns are client service and continuity of our own business, as well as ensuring we take the appropriate measures to mitigate any spread of the virus. We're reviewing matters daily, taking the government's guidance and best practice into account, as it emerges."
Scott leads a team of 103 partners and 725 staff "and counting" at the Edinburgh-based organisation, which describes itself as a top 50 UK law firm, and the largest in Scotland measured by income, directory rankings and lawyer numbers.
Brodies – which became a limited liability partnership in 2004 – is present in Aberdeen, Dingwall and Glasgow as well as the Scottish capital, and has a site in Brussels. Its remit encompasses the business areas of arbitration; banking and financial services; employment; energy (renewables and oil and gas); litigation; mergers and acquisitions, private equity and intellectual property; real estate; pensions and benefits; personal and family; and tax.
"We are the leading law firm in our jurisdiction on most objective measures – the job is to make sure that everyone, whether it's clients, industry bodies, journalists, commentators, governmental bodies, all understand where we fit in that marketplace," he says, stressing a focus on providing a high standard of client services.
Its most recent full-year results – for the financial year to 30 April, 2019 – saw it generate record turnover of just shy of £77 million, neck and neck in commercial law firm terms with Pinsent Masons and marking a year-on-year jump of 12 per cent. Profits before partner distributions also saw a double-digit increase, up 14 per cent to £37.4m.
The period also marked the first full financial year under Scott, who took over from the well-kent Bill Drummond, who had been in place for two decades. What was it like following in his footsteps? "It's a great honour, of course," says Scott. "You take an awful lot of confidence from the fact that 100 of the highest-performing lawyers in the Scottish market give you their trust and their confidence to run the firm."
'Law connects you with the community'
Scott's promotion to heading up Brodies – which is chaired by Christine O'Neill – came about after he decided to become a lawyer because of his grandfather. "When I was growing up, you could see the respect with which he was held in the local community. He knew everyone in the town and he helped a lot of the local businessmen and the landowners and the farmers and so on. And so I was always attracted to the law, because it gave you a sense of connection with the community, I guess."
But he ended up training in a somewhat contrasting environment – Clifford Chance in London – one of the so-called "Magic Circle" firms. "A more different type of law firm from the one that my grandfather had set up and run in Cupar you probably couldn't imagine."
Scott joined Brodies in 1999, becoming a partner in 2001. He became part of its strategic and operational boards in 2004, with the tier one ranked real estate lawyer becoming head of this department in 2010. "During his time as head of practice, real estate turnover doubled, with its lawyers involved in many of the largest and most iconic real estate projects in the marketplace," says Brodies.
The firm said last month that it had advised on various major hotel deals in Scotland in the previous three months, worth in excess of £170 million. These include advising Great Century on the purchase of the Fairmont Hotel in St Andrews, as well as helping with the acquisition of the Marine Hotel and Spa in North Berwick for US private equity investor AJ Capital Partners – as well as regarding the sale of the Crowne Plaza in Glasgow.
The business is also making changes to its own real estate, set to move later this year into the top three floors of the new 122,500-square-foot Capital Square office complex on Edinburgh's Morrison Street. This will see staff from its Atholl Crescent and Capital House addresses relocating.
It comes after the firm secured new offices in Aberdeen and Glasgow in recent years – with Scott citing the need for staff to have a working environment "that affords them the very best in modern working practices".
Flying the flag for diversity
He sees his role as being very much about people. "An observation you get in doing this role is, yes, of course you have to track client activity and markets and sectors and try and align yourself with all of that activity externally. But there's only so much control that one can have over that side of things. The biggest thing that you can contribute, and the biggest impact you can have an organisation is making sure that everyone… is supported and has confidence on their own role."
Scott is also a major banner-waver for diversity, sitting on the board of Prime, an alliance of 60 law firms across the UK that is committed to improving access to the legal profession through work experience. Brodies is a founding member, working with schools across the Central Belt, the Borders and the north of Scotland. Prime highlights findings from the Social Mobility and Child Poverty Commission such as that 71 per cent of senior judges having gone to independent schools, and 65 per cent of people believe that who you know is more important than what you know.
"Talent is everywhere – opportunity is not," says Scott, citing the need to make sure that everyone has the opportunity to maximise their career opportunities in the legal industry – not just lawyers, but in other roles in the sector.
"There's a hard-headed business rationale here as well – you do have to reflect customer base and the clients that you're going to serve. If you don't do that, you become commercially irrelevant." Prime not only encourages better opportunities to join the profession, he continues, "it is also to equip the profession to make sure that it's fit for purpose for future generations".
The rapid march of technology is also a hot topic for law firms. Scott says the industry is very similar to others regarding digital and automation. "Technology and software are becoming a very significant part of how we deliver our services," he says, but adds that automation is not fit for everything, nor is it economical, for example.
The firm is keeping a close eye on the issue. "But also – and this is a very clear point that I make to our lawyers – our relationship with our clients is more than just transactional. Our relationship with them is relationship-based. And we will always, always work at being seen to be the trusted adviser of clients – whether they are human beings or corporate organisations. "If you get that piece right, I think there's always a very strong, viable, and enjoyable career and future for the legal profession."
Scott says he inherited a "strong platform" when he took his current role – and says he takes a "tremendous amount of comfort from the resilience of our own clients – if we apply the same resilience to our own business then we should be able to make progress… we don't spend a lot of time thinking about what the competition might be up to".
Brodies in 2016 created a Brexit advisory group to advise clients on the vote's implications.
Now a big focus for the firm is on analysing sources of inbound investment into Scotland, where current major trading routes are, "and of course, navigating in a post-Brexit world – where will be the leading sources of trade to and from Scotland and the United Kingdom and positioning ourselves and having networks and connections and being known in those markets".